On May 17, 2019, Victor J. Dzau received an honorary degree from Western University Schulich School of Medicine & Dentistry.
He was among nineteen distinguished individuals to receive honorary degrees when Western University hosted its 313th Convocation this spring.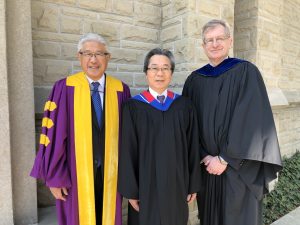 An internationally acclaimed leader and scientist, Victor J. Dzau has made a significant impact through his seminal research in cardiovascular medicine and genetics. The President of the U.S. National Academy of Medicine (NAM), he also serves as vice-chair of the U.S. National Research Council. He is Chancellor Emeritus and James B. Duke Professor of Medicine at Duke University.
After receiving the honorary degree, Dr. Dzau spoke to the graduates. He urged them to develop a strong social consciousness and keep their commitment to patients at the forefront as they embark on a career in medicine.
ABOUT WESTERN
Western delivers an academic experience second to none. Since 1878, The Western Experience has combined academic excellence with life-long opportunities for intellectual, social and cultural growth in order to better serve our communities. Our research excellence expands knowledge and drives discovery with real-world application. Western attracts individuals with a broad worldview, seeking to study, influence and lead in the international community.