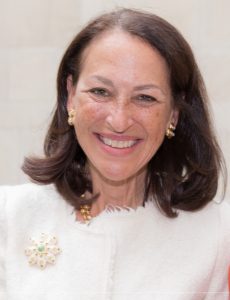 Margaret Hamburg, the foreign secretary of the National Academy of Medicine, has been chosen to serve as president-elect of AAAS. She will begin her three-year term as an officer and member of the Executive Committee of the AAAS Board of Directors at the conclusion of the 183rd AAAS Annual Meeting in Boston on Feb. 21, 2017. Hamburg will also continue her role as NAM foreign secretary.
"More than ever before, society depends on the science and technology that undergird almost all aspects of our lives and will drive the innovations needed to address many of the most pressing problems before us, such as disease, poverty, food and water scarcity, climate change and global security," Hamburg said in her candidacy statement.
"As the world's largest general scientific membership society, the AAAS must continue to distinguish itself as a vital voice for science through clear and convincing communication about the process, progress and promise of science for an array of audiences," she said.
Prior to joining the National Academy of Medicine in 2015, Hamburg served for six years as the commissioner of the U.S. Food and Drug Administration. From 2001 to 2009, she worked for the Nuclear Threat Initiative, first as vice president for biological programs, then as senior scientist. In 1997, President Bill Clinton named Hamburg assistant secretary for planning and evaluation in the Department of Health and Human Services. Prior to that, Hamburg was New York City's health commissioner.
A graduate of Harvard Medical School, Hamburg conducted research on neuroscience at Rockefeller University, studied neuropharmacology at the National Institute of Mental Health and conducted HIV/AIDS policy and research as assistant director of the National Institute of Allergy and Infectious Diseases.
Hamburg has been a member of AAAS since 1988 and was named an elected fellow in 1995.
"Peggy brings to AAAS a distinguished career in science and, importantly, a sophisticated understanding of the many significant challenges facing today's world that call for sustained contributions from those in the world of science and technology, a world she understands," said Rush Holt, CEO of AAAS and executive publisher of the Science family of journals. "Scientific and technological innovations and proven approaches promise to deliver solutions."
Victor J. Dzau, president of the National Academy of Medicine, called Hamburg's election "a testament to her decades of remarkable leadership and service to her field. Throughout her career, she has worked to advance the principle that effective policy must be rooted in strong scientific evidence." Dzau added, "AAAS will benefit immensely, as the NAM has, from her dedication and vision."
Media inquiries: Jennifer Walsh (jwalsh@nas.edu)