Action Collaborative on
Clinician Well-Being and Resilience
Clinician well-being is essential for safe, high-quality patient care.
However, clinicians of all kinds, across all specialties and care settings, are experiencing alarming rates of burnout. Among the most telling of statistics, more than 50 percent of U.S. physicians report significant symptoms. Burnout is a syndrome characterized by a high degree of emotional exhaustion and depersonalization (i.e., cynicism), and a low sense of personal accomplishment at work.
Clinician burnout can have serious, wide-ranging consequences, from reduced job performance and high turnover rates to—in the most extreme cases—medical error and clinician suicide. On the other hand, clinician well-being supports improved patient-clinician relationships, a high-functioning care team, and an engaged and effective workforce. In other words, when we invest in clinician well-being, everyone wins.
Supporting clinician well-being requires sustained attention and action at organizational, state, and national levels, as well as investment in research and information-sharing to advance evidence-based solutions. 
About the Initiative
---
The National Academy of Medicine launched the Action Collaborative on Clinician Well-Being and Resilience, a network of more than 50 organizations committed to reversing trends in clinician burnout. The Collaborative has three goals:
Improve baseline understanding of challenges to clinician well-being;

Raise the visibility of clinician stress and burnout; and

Elevate evidence-based, multidisciplinary solutions that will improve patient care by caring for the caregiver. 
The Action Collaborative is composed of four working groups that will meet over the course of two years to identify evidence-based strategies to improve clinician well-being at both the individual and systems levels. Products and activities of these four working groups include an online knowledge hub, a series of NAM Perspectives discussion papers, an all-encompassing conceptual model that reflects the domains affecting clinician well-being, and a common set of definitions.
Download our one-pager to share >>
Action Collaborative Leadership
Victor Dzau, chair
Darrell Kirch, co-chair
Thomas Nasca, co-chair

Action Collaborative Working Groups
Please click here to view members our four working groups.
Action Collaborative News
---
National Call for Commitment Statements 
To provide an opportunity for organizations across the country to discuss and share plans of action to reverse clinician burnout and promote clinician well-being, the National Academy of Medicine (NAM) is collecting statements describing organizational goals or commitments to action. By sharing your commitment to improving clinician well-being and reducing clinician burnout, you are an active contributor to the NAM's Action Collaborative on Clinician Well-Being and Resilience. To submit a commitment statement, please click here.
New Discussion Paper
On July 5, 2017, the Action Collaborative released a discussion paper entitled Burnout Among Health Care Professionals: A Call to Explore and Address This Underrecognized Threat to Safe, High-Quality Care.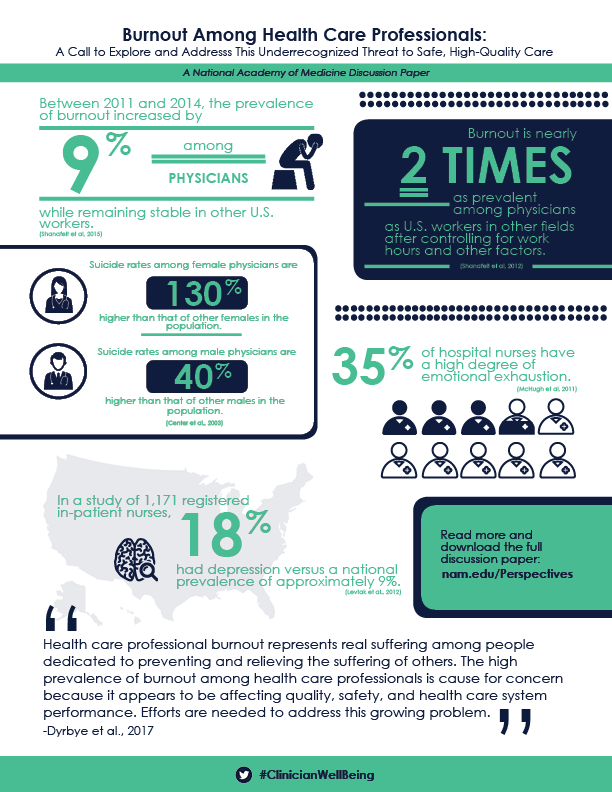 The US health care system is rapidly changing in an effort to deliver better care, improve health, and lower costs while providing care for an aging population with high rates of chronic disease and co-morbidities. Among the changes affecting clinical practice are new payment and delivery approaches, electronic health records, patient portals, and publicly reported quality metrics—all of which change the landscape of how care is provided, documented, and reimbursed. Navigating these changes are health care professionals (HCPs), whose daily work is critical to the success of health care improvement. Unfortunately, as a result of these changes and resulting added pressures, many HCPs are burned out, a syndrome characterized by a high degree of emotional exhaustion and high depersonalization (i.e., cynicism), and a low sense of personal accomplishment from work. Read the discussion paper >>
---
Inaugural Sponsors

ABFM Foundation
Accreditation Council for Continuing Medical Education
Accreditation Council for Graduate Medical Education
Aetna
Alliance of Independent Academic Medical Centers
American Academy of Family Physicians
American Academy of Neurology
American Academy of Pediatrics
American Association of Colleges of Nursing
American Association of Colleges of Osteopathic Medicine
American Association of Critical-Care Nurses
American Board of Internal Medicine and the ABIM Foundation
American Board of Medical Specialties
American College of Emergency Physicians
American College of Physicians
American College of Surgeons
American Congress of Obstetricians and Gynecologists
American Dental Education Association
American Hospital Association
American Medical Association
American Nurses Association
American Osteopathic Association
American Psychiatric Association
American Society of Anesthesiologists
American Society of Health-System Pharmacists
Association of American Medical Colleges (with support from Centers for Disease Control and Prevention)
Council of Medical Specialty Societies
CRICO
Federation of State Medical Boards
IBM Watson Health
Johns Hopkins Medicine
Massachusetts General Hospital
Society for Academic Emergency Medicine and Association of Academic Chairs of Emergency Medicine
Society of Neurological Surgeons
UAB Medicine
UnitedHealth Group
NAM Staff

Charlee Alexander (main contact)
Kimber Bogard
Sharyl Nass
Mariana Zindel

Related Resources

Meeting Recap: July 7 Meeting on Clinician Resilience and Well-Being
Meeting Recap: January 6 Planning Meeting
NAM Perspectives: To download our publications related to clinician well-being, please click here.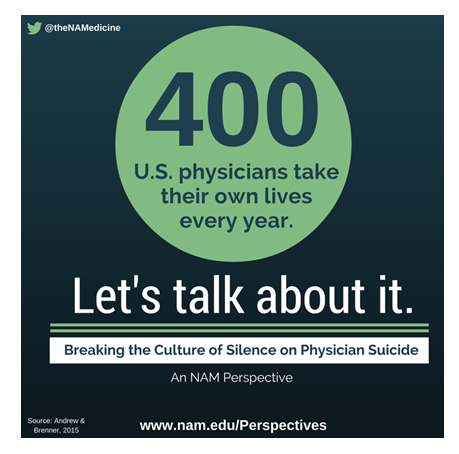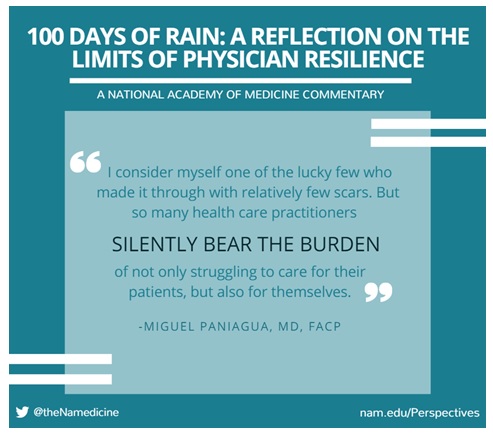 Subscribe to our mailing list to receive the latest updates on this initiative.