The Executive Leadership Network for a Continuously Learning Health System (ELN) works to establish the capacity, infrastructure, and culture necessary to drive continuous learning and improvement within and across health care delivery systems by supporting ongoing communication, collaboration, and synergy among executive-level stakeholders with common investments in continuous learning. In addition, ELN participants are a standing group of ad hoc advisors to the National Academy of Medicine on the issues, strategies, and returns from continuous learning capacities that simultaneously support operational decision making, performance improvement efforts, and the generation of better evidence.
Related NAM Activities
Vital Directions for Health and Health Care

More than 5 years after the passage of the Affordable Care Act, health reform is entering a critical new phase. The health system is strained by increasing demand and unsustainable costs. Too often, care decisions do not align with patient goals or evidence of effectiveness, and Americans experience untenable disparities in health and access to care. At the same time, new technologies and big data are spurring advances in medical science and the practice of care, including precision medicine. Patients are increasingly empowered to take an active role in their health, and community innovators are designing new models that could revolutionize the delivery of care. Increasing emphasis is placed on population health, wellness and prevention. These are the unprecedented challenges — and extraordinary opportunities — the incoming presidential administration must weigh as it charts the next steps for health reform in the United States. Read the series >>
Vital Signs: Core Metrics for Health and Health Care Progress
Thousands of measures are in use today to assess health and health care in the United States. Although many of these measures provide useful information, their usefulness in either gauging or guiding performance improvement in health and health care is seriously limited by their sheer number, as well as their lack of consistency, compatibility, reliability, focus, and organization. To achieve better health at lower cost, all stakeholders – including health professionals, payers, policy makers, and members of the public – must be alert to what matters most. What are the core measures that will yield the clearest understanding and focus on better health and well-being for Americans? Learn more about Vital Signs by visiting nam.edu/VitalSigns.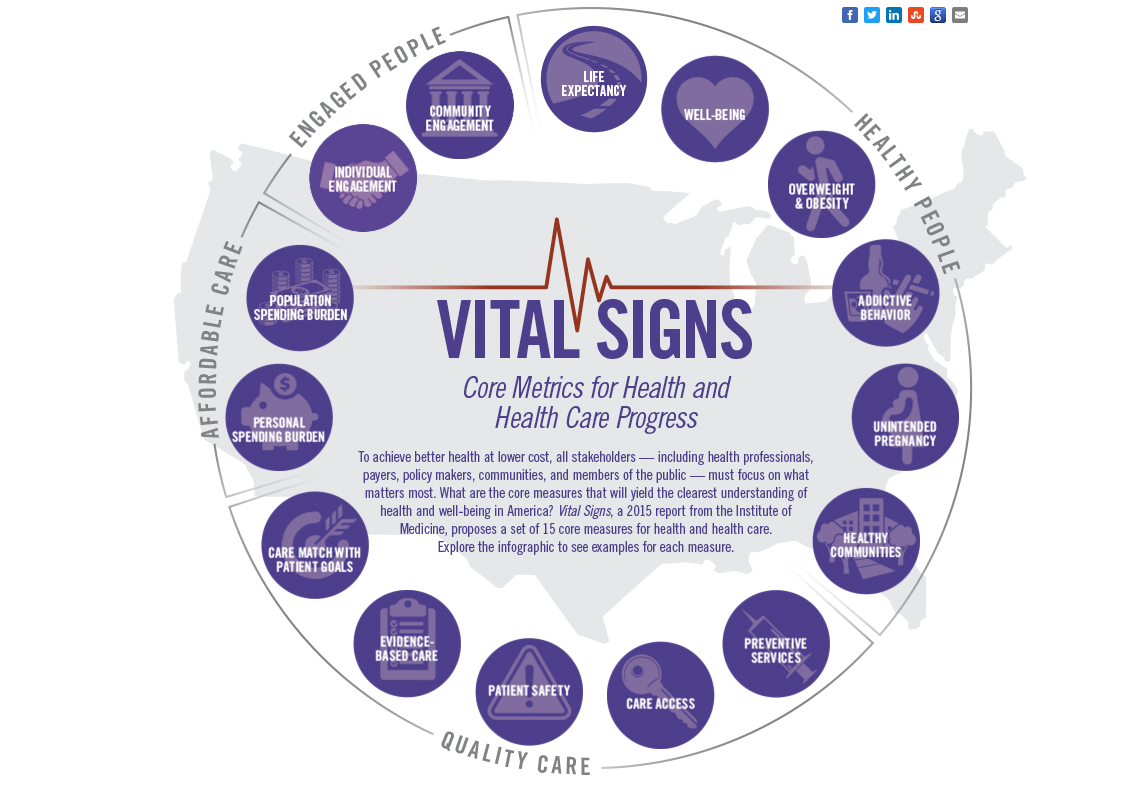 Transforming Health Care Scheduling and Access: Getting to Now
Long waits for treatment are a function of the disjointed manner in which most health systems have evolved to accommodate the needs and the desires of doctors and administrators, rather than those of patients. The result is a health care system that deploys its most valuable resource–highly trained personnel–inefficiently, leading to an unnecessary imbalance between the demand for appointments and the supply of open appointments. Download the Report >>
Generating Knowledge from Best Care: Advancing the Continuously Learning Health System
In this discussion paper, the authors aim to facilitate the growth of learning health environments by highlighting strategies and examples of operational and research collaborations within delivery system settings in the United States. It is the authors' intention that this paper will add to the emerging body of knowledge around learning health systems while also serving as an actionable blueprint for institutions interested in transforming to a continuously learning system. Read the discussion paper >>
Network Updates