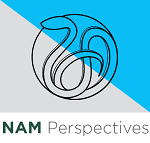 Perspectives
NAM Perspectives are expert commentaries and discussion papers by leading voices in health and health care.
Browse our latest Perspectives below.
Perspectives are not reports of the NAM or the National Academies of Sciences, Engineering, and Medicine and therefore are not subject to their review processes.
Found 244 Results
Page 1 of 49

Research regarding new treatments (drugs, biological products, and high-risk devices) often begins with a broad assessment of disease epidemiology, disease burden, and shortcomings of existing treatments. That research may draw from diverse data sources, inclu ...
Authors: Steven Galson and Gregory Simon
Tags: Drug Discovery and Development, Drug Research, Innovation, Pharmaceuticals
October 18, 2016
---

The National Academy of Medicine Perspective, Breaking the Culture of Silence on Physician Suicide, brought together four unique voices from surgery, nursing, medical training, and the clergy to consider what led Kaitlyn, a young medical student, to take her o ...
Authors: Elisabeth Poorman and Sandeep P. Kishore
Tags: Clinician Resilience, Mental Health, Physician Suicide, Substance Abuse and Mental Health, Suicide
October 04, 2016
---

Increased sharing of health data among all stakeholders in the health system—from patients and advocates to health professionals and medical researchers—is essential for creating a learning health system. Such a system would leverage health data from a variety ...
Authors: Harlan M. Krumholz, Philip E. Bourne, Richard E. Kuntz, Harold L. Paz, Sharon F. Terry, and Joanne Waldstreicher
Tags: Continuously Learning Health System, Data Sharing, Health Data, Health IT, Vital Directions
September 19, 2016
---

Mental health and substance use disorders affect people of all ages and demographics and are extremely burdensome to society. At least 18.1% of American adults experience some form of mental disorder, 8.4% have a substance use disorder, and about 3% experience ...
Authors: James Knickman, K. Ranga Rama Krishnan, Harold A. Pincus, Carlos Blanco, Dan G. Blazer, Molly J. Coye, John H. Krystal, Scott L. Rauch, Gregory E. Simon, and Benedetto Vitiello
Tags: Mental Health, Substance Abuse and Mental Health, Vital Directions
September 19, 2016
---

This paper describes issues and challenges in inventing and regulating new medicines, vaccines, and devices and in integrating these advances into clinical practices as rapidly as appropriate and possible. It describes the landscape of discovery and invention, ...
Authors: Michael Rosenblatt, Christopher P. Austin, Marc Boutin, William W. Chin, Steven K. Galson, Amgen; Sachin H. Jain, Michelle McMurry-Heath, Samuel R. Nussbaum, John Orloff, Steven E. Weinberger, and Janet Woodcock
Tags: Biotechnology, Drug Discovery and Development, Pharmaceuticals, Regulation, Vital Directions
September 19, 2016
---
Page 1 of 49