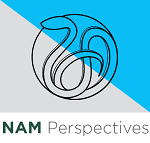 Perspectives
NAM Perspectives are expert commentaries and discussion papers by leading voices in health and health care.
Browse our latest Perspectives below.
Perspectives are not reports of the NAM or the National Academies of Sciences, Engineering, and Medicine and therefore are not subject to their review processes.
Found 250 Results
Page 1 of 50

In this essay, we focus on the potential and promise that intersectionality holds as a lens for studying the social determinants of health, reducing health disparities, and promoting health equity and social justice. Research that engages intersectionality as ...
Authors: Nancy López and Vivian L. Gadsden
December 05, 2016
---

Responsibility for cognitive, affective, and behavioral (CAB) health of children and adolescents (hereafter "youth") has traditionally been shared among families, education systems, communities, and the health care delivery system. Within routine child health ...
Authors: Thomas F. Boat, Marshall L. Land, Laurel K. Leslie, Kimberly E. Hoagwood, Elizabeth Hawkins-Walsh, Mary Ann McCabe, Mark W. Fraser, Lisa de Saxe Zerden, Brianna M. Lombardi, Gregory K. Fritz, Bianca Kiyoe Frogner, J. David Hawkins, Millie Sweeney
Tags: Children Youth and Familes, Children's health, Mental Health, Substance Abuse and Mental Health
November 29, 2016
---

Health disparities result from multifaceted variables including access to health care and discrimination associated with socioeconomic status, education, social support, insurance, race, ethnicity, and gender. The purpose of this paper is to identify lessons l ...
Authors: Jeff Hutchinson, Raquel Mack, Tracey Pérez Koehlmoos, and Patrick H. DeLeon
Tags: Coverage and Access, health equity, Select Populations and Health Disparities, Social Justice
November 28, 2016
---
---

Health equity, the attainment of the highest level of health for all people, is yet to be realized for many populations in the United States. Health equity focuses on diseases and health care services, but is also broadly linked to social determinants, such as ...
Authors: Noreen Mokuau, Patrick H. DeLeon, Joseph Keawe'aimoku Kaholokula, Sade Soares, JoAnn U. Tsark, and Coti Haia
Tags: health equity, Select Populations and Health Disparities, Social Justice
October 31, 2016
---
Page 1 of 50