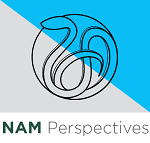 Perspectives
NAM Perspectives are expert commentaries and discussion papers by leading voices in health and health care.
Browse our latest Perspectives below.
Perspectives are not reports of the NAM or the National Academies of Sciences, Engineering, and Medicine and therefore are not subject to their review processes.
Found 261 Results
Page 1 of 53

The United States is poised at a critical juncture in health and health care. Powerful new insights are emerging on the potential of disease and disability, but the translation of that knowledge to action is hampered by debate focused on elements of the Afford ...
Authors: Victor J. Dzau, Mark McClellan, Sheila Burke, Molly J. Coye, Thomas A. Daschle, Angela Diaz, William H. Frist, Martha Gaines, Margaret A. Hamburg, Jane E. Henney, Shiriki Kumanyika, Michael O. Leavitt, J. Michael McGinnis, Ruth Parker, Lewis G. Sandy, Leonard D. Schaeffer, Glenn D. Steele, Pamela Thompson, Elias Zerhouni
March 21, 2017
---

Over the past 50-60 years, biomedical science and technology in the United States have advanced at a remarkable pace, allowing Americans to live longer, healthier lives. And while we have gained tremendous benefit from continuous medical innovation, health car ...
Authors: Mark B. McClellan, David T. Feinberg, Peter B. Bach, Paul Chew, Patrick Conway, Nick Leschly, Greg Marchand, Michael A. Mussallem, and Dorothy Teeter
Tags: Vital Directions
March 17, 2017
---

Health care professionals, including emergency response personnel, face unique occupational health and safety challenges, one of which is exposure to uncontrolled airborne infectious particles. To protect themselves, these professionals rely heavily on N95 fil ...
Authors: Mark Shirley, Linda Hawes Clever, David J. Prezant, and Kerri Rupe
Tags: Health Care Workforce, Quality and Patient Safety
March 17, 2017
---
---

Help us share this discussion paper by using our social media toolkit. Participants and other stakeholders in today's U.S. health care system are striving for the generation of new knowledge to guide care while at the same time they are also managing growing c ...
Authors: Richard Platt, Kathleen Blake, Patricia Franklin, J. Michael Gaziano, Robert Harrington, Adrian Hernandez, Rainu Kaushal, Andrew Masica, Janice Nevin, John Rumsfeld, and Marianne Hamilton Lopez
Tags: Continuously Learning Health System, Leadership Consortium, Learning Health System
March 06, 2017
---
Page 1 of 53