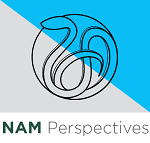 Perspectives
NAM Perspectives are expert commentaries and discussion papers by leading voices in health and health care.
Browse our latest Perspectives below.
About NAM Perspectives >>

The National Academy of Medicine's Perspectives platform extends the National Academies' convening and advising functions by providing a venue for leading health, medical, science, and policy experts to share information and identify opportunities for collaboration. Perspectives are individually-authored papers that do not reflect consensus positions of the NAM, the National Academies, or the authors' organizations. They are not reports of the National Academies.

Perspectives come in two forms: commentaries, or brief, op-ed style opinion pieces; and discussion papers, lengthier articles that present research or report on field activities. Authors are not paid, and submissions must be invited by the NAM.

Perspectives impact the field by spotlighting innovative ideas, sharing expertise and best practices, and promoting dialogue and collaboration among stakeholders. They are frequently cited in media and academic publications, are often adopted in course materials or organizational toolkits, and are the #1 driver of traffic to NAM.edu.

For more information, contact Molly Doyle at mdoyle@nas.edu.
Found 273 Results
Page 1 of 55

The importance of good nutrition practices on health and well-being has been recognized for thousands of years. One familiar quote attributed to Hippocrates, "Let thy food be thy medicine and medicine be thy food," illustrates our long-time appreciation of the ...
Authors: Kristina S. Petersen and Penny M. Kris-Etherton
Tags: Children, Children Youth and Familes, Children's health, Food and Nutrition
May 26, 2017
---

As managed care organizations (MCOs) and accountable care organizations (ACOs) begin to invest in population health improvement, they are faced with significant and diverse challenges. This is especially true in pediatric care; without the leverage of a nation ...
Authors: Katie B. Boyer and Debbie I. Chang
Tags: Community Health, Population Health, Public Health
April 24, 2017
---

Oregon is one of the leading states engaged in innovative health care delivery system reform that includes population health as a central component. Collaboration among key agencies and stakeholders is an important feature of Oregon's reform efforts, and it oc ...
Authors: Jennie Bonney and Debbie I. Chang
Tags: Community Health, Population Health, Public Health
April 24, 2017
---

Empowered by federal, state, and community funding, Washington State has been working for years to enact delivery system transformation to improve the health and well-being of its 7 million residents. In fact, in the 1990s Washington State passed legislation o ...
Authors: Jana Eisenstein and Debbie I. Chang
Tags: Community Health, health equity, Population Health
April 24, 2017
---

Health care organizations can magnify the impact of their community service and other philanthropic activities by implementing programs that create shared value. By definition, shared value is created when an initiative generates benefit for the sponsoring org ...
Authors: Thomas E. Kottke, Nico Pronk, Andrew R. Zinkel, and George J. Isham
April 21, 2017
---
Page 1 of 55