Effective Care for High-Need Patients
       

Opportunities for Improving Outcomes, Value, and Health 
| A Special Publication from the National Academy of Medicine 
Download the Special Publication     Webinar Series   Opportunities for Action
Executive Summary | Key Points | Characteristics of Successful Care Models for High-Need Patients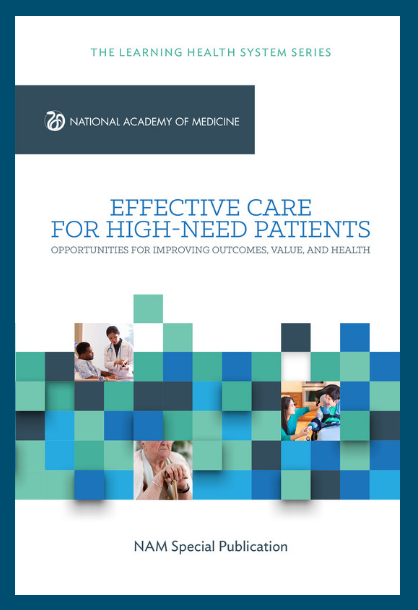 To advance insights and perspectives on how to better manage the care of the high-need patient population, the National Academy of Medicine, with guidance from an expert planning committee, was tasked with convening three workshops held between July 2015 and October 2016 and summarizing the presentations, discussions, and the relevant literature. The resulting special publication, Effective Care for High-Need Patients: Opportunities for Improving Outcomes, Value, and Health, reports and reflects on the following issues: 
Key characteristics of high-need patients

Use of a patient categorization scheme—or a taxonomy—as a tool to inform and target care

Promising care models and attributes to better serve this patient population, as well as insights on "matching" these models to specific patient groups

Areas of opportunity for policy-level action to support the spread and scale of evidence-based programs. The publication concludes by exploring common themes and opportunities for action in the field. 

Improving care for high-need patients is not only possible–it also contributes to a more sustainable health system. But progress will take a coordinated effort from policy makers, payers, providers, and researchers, as well as patients and their loved ones.
Download the Special Publication
Additional Resources 
Executive Summary | Key Points | Characteristics of Successful Care Models for High-Need Patients | Webinar Series 
Understanding how to effectively care for high-need patients requires knowing which factors drive health care need. Because this patient population is heterogeneous, those factors will differ for different segments of the population. Therefore, a taxonomy that segments individuals in a health system's population based on the care they need as well as how often they might need it can help determine how to serve that population more effectively.
Download the conceptual model of a taxonomy for high-need patients.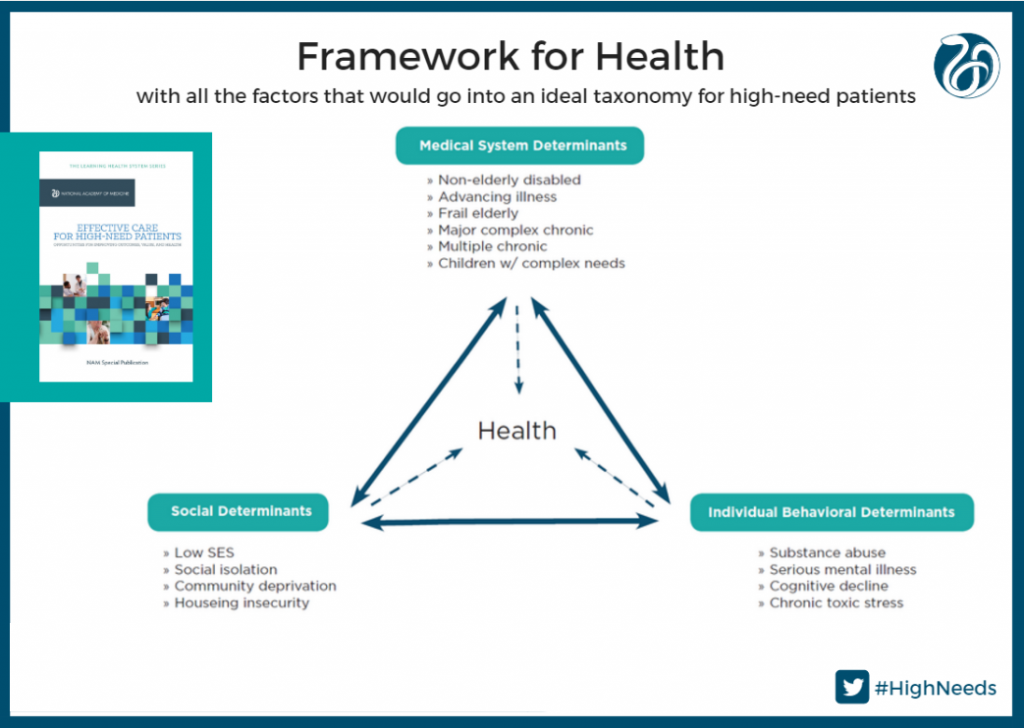 Categorizing high-need patients into smaller groups around which the delivery system can shape appropriate resources and strategies is sensible, given their heterogeneous medical needs, the varying impact of behavioral health issues and social factors on their functional abilities, and the high cost of caring for these individuals. The figure above provides a framework for incorporating a patient's medical, behavioral, functional, and social characteristics. 
Download the framework. 
Meetings
Browse the event pages listed below for access to videos and slide sets from the three public workshops and special publication release event. 
July 7, 2015 | Workshop 1
January 19, 2016 | Workshop 2
October 21, 2016 | Workshop 3
July 6, 2017 | Release event
Webinar series | Recordings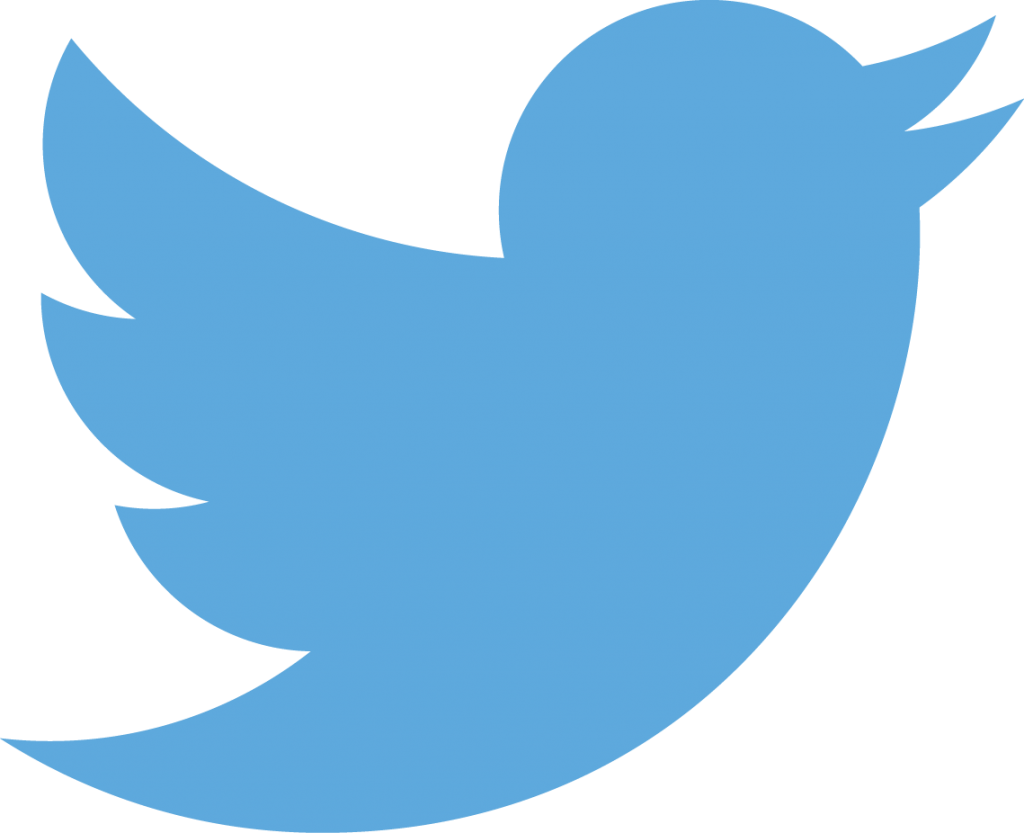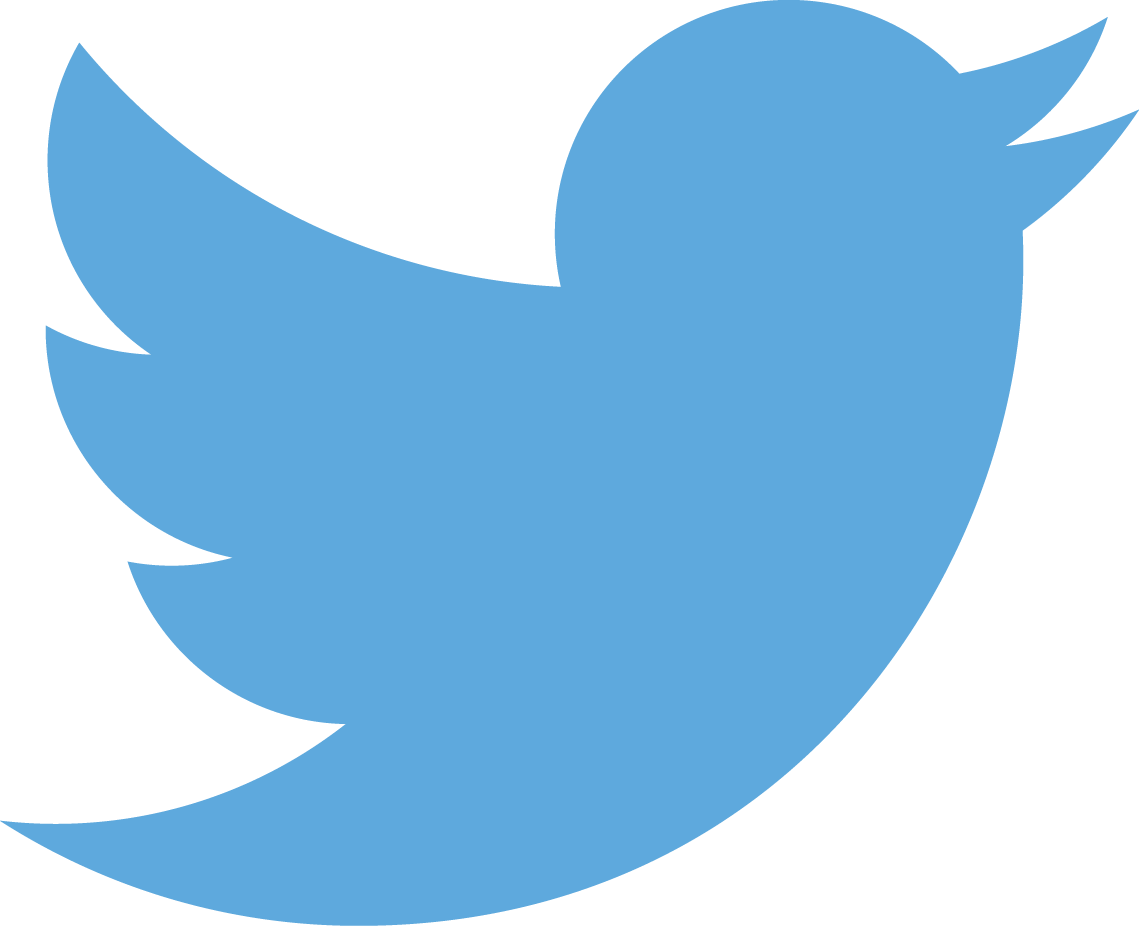 Share your thoughts with us @theNAMedicine using #HighNeeds. Click here for shareable tweets and graphics! 
---
Sponsor
This project was made possible with funding from the Peterson Center on Healthcare. 
Planning Committee for the Workshop Series
Peter V. Long (Chair), President and Chief Executive Officer, Blue Shield of California Foundation
Melinda K. Abrams, Vice President, Delivery System Reform, The Commonwealth Fund
Gerard F. Anderson, Director, Center for Hospital Finance and Management, Johns Hopkins Bloomberg School of Public Health
Tim Engelhardt, Acting Director, Federal Coordinated Health Care Office, Centers for Medicare & Medicaid Services
Jose Figueroa, Instructor of Medicine, Harvard Medical School; Associate Physician, Brigham and Women's Hospital
Katherine Hayes, Director, Health Policy, Bipartisan Policy Center Frederick Isasi, Executive Director, Families USA; former Health Division Director, National Governors Association
Ashish K. Jha, K. T. Li Professor of International Health & Health Policy, Director, Harvard Global Health Institute, Harvard T.H. Chan School of Public Health David Meyers, Chief Medical Officer, Agency for Healthcare Research and Quality
Arnold S. Milstein, Professor of Medicine, Director, Clinical Excellence Research Center, Center for Advanced Study in the Behavioral Sciences; Stanford University
Diane Stewart, Senior Director, Pacific Business Group on Health Sandra Wilkniss, Health Division Program Director, National Governors Association Center for Best Practices
Taxonomy Workgroup
Melinda K. Abrams, Vice President, Delivery System Reform, The Commonwealth Fund
Gerard F. Anderson, Director, Center for Hospital Finance and Management, Johns Hopkins Bloomberg School of Public Health
Melinda J. Beeuwkes Buntin, Chair, Department of Health Policy, Vanderbilt University School of Medicine
Dave A. Chokshi, Assistant Vice President, New York City Health and Hospitals Corporation
Henry Claypool, Policy Director, Community Living Policy Center University of California San Francisco
David A. Dorr, Professor & Vice Chair, Medical Informatics, Department of Medical Informatics & Clinical Epidemiology, Oregon Health & Science University
Jose Figueroa, Instructor of Medicine, Harvard Medical School; Associate Physician, Brigham and Women's Hospital
Ashish K. Jha, K.T. Li Professor of International Health and Health Policy, Director, Harvard Global Health Institute, Harvard T.H. Chan School of Public Health
David Labby, Founding Chief Medical Officer & Health Strategy Adviser, Health Share of Oregon
Prabhjot Singh, Director, Arnhold Institute for Global Health, Mount Sinai Health System
Policy Workgroup
Gerard F. Anderson, Director, Center for Hospital Finance and Management, Johns Hopkins Bloomberg School of Public Health
Tim Engelhardt, Acting Director, Federal Coordinated Health Care Office, Centers for Medicare & Medicaid Services
Katherine Hayes, Director, Health Policy, Bipartisan Policy Center
Sandra Wilkniss, Health Division Program Director, National Governors Association Center for Best Practices