About this Event
Sponsored by the Peterson Center on Healthcare, this webinar series is an extension of the landmark NAM Special Publication, Effective Care for High-Need Patients: Opportunities for Improving Outcomes, Value, and Health.
This webinar featured Boston's Commonwealth Care Alliance, a not-for-profit, community-based health care organization, sharing their experience implementing the One Care program to improve care for dually eligible individuals under age 65 with complex medical, behavioral health, and social needs. This one-hour webinar included a robust discussion with Commonwealth Care Alliance of the practical challenges they have faced in implementing their program, impact on patient outcomes, and opportunities for scaling and spreading.
Speakers: 
Lori Tishler, MD, MPH, is Vice President of Medical Affairs at Commonwealth Care Alliance (CCA), a not-for-profit, community-based healthcare organization dedicated to improving care for individuals who are dually eligible for MassHealth (Medicaid) and Medicare with complex medical, behavioral health and social needs, including persons with disabilities. In her clinical leadership role, Lori is responsible for the oversight and management of medical policy, physician staff, behavioral health integration, clinical network provider engagement and clinical quality initiatives. Lori partners closely with CCA's executive leadership to spearhead and further clinical redesign efforts, ensure quality care delivery and care management, respond to the concerns and needs of medical staff members, implement medical policy and help to drive clinical growth and transformation.
Prior to joining CCA, Lori was Medical Director for the Phyllis Jen Center for Primary Care at Brigham and Women's Hospital in Boston, where she was also an active primary care physician. She managed over 100 physicians and led the medical home transformation.  
Lori graduated from Harvard Medical School and completed a residency in Internal Medicine at Brigham and Women's Hospital. She graduated from Harvard and Radcliffe Colleges with an AB in History and Science and from Harvard School of Public Health with a Masters in Public Health.  
John Loughnane, MD, serves as Chief Innovation Officer for Commonwealth Care Alliance (CCA), as well as Director of Winter Street Ventures, CCA's for-profit health innovation accelerator subsidiary. He has previously served as Senior Vice President of Medical Services as well as Medical Director of Commonwealth Community Care for Commonwealth Care Alliance's Inpatient and Palliative Care Services. While at CCA, he has spearheaded the formation of CCA's Inpatient Medical Service at Boston Medical Center, Community Paramedicine Program, and Life Choices End of Life Program. Before joining Commonwealth Care Alliance, John was Medical Director of Quincy Medical Center's Hospitalist Service and was named as Quincy Medical Center's Physician of the Year in 2007.
John is a graduate of the University of Massachusetts Medical School and completed a family practice residency at the University of Washington, Seattle. He is board certified in Family Practice and Palliative Care and Hospice Medicine.
Malinda Ellwood, JD, is a Health Programs Policy Analyst at MassHealth, focusing primarily on One Care, Massachusetts' capitated Financial Alignment Model and Demonstration to Integrate Care for Dual Eligible Beneficiaries, ages 21 to 64. Prior to joining MassHealth in 2015, she was a Clinical Instructor of Law with the Center for Health Law and Policy Innovation (CHLPI) at Harvard Law School, focusing on improving access to care for individuals living with HIV and Hepatitis C, as well as initiatives on social determinants of health, looking specifically at the intersection of food and medicine.
Malinda also served for two years as a Coffin Family Fellow and staff attorney representing clients in family law matters, with a focus on survivors of domestic violence, with Pine Tree Legal Assistance in Portland, Maine. Before joining Pine Tree, she clerked for the Honorable Justice Jon D. Levy at the Maine Supreme Judicial Court.
Malinda received her B.A. from Bates College where she graduated magna cum laude in 2001, and received her J.D. from the University of Michigan Law School in 2008.
---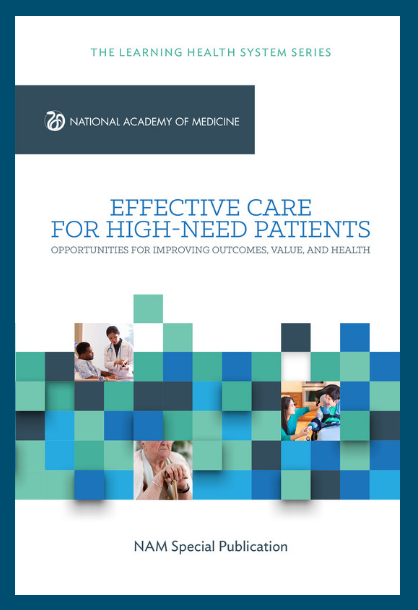 Download the Special Publication
Improving care for high-need patients is not only possible–it also contributes to a more sustainable health system. But progress will take a coordinated effort from policy makers, payers, providers, and researchers, as well as patients and their loved ones. 
Click here to download the Special Publication and view related resources.