Establishing Clinician Well-Being as a National Priority (Meeting #6)
Key Takeaways
Introduction: Taking Action Against Clinician Burnout: A Systems Approach to Professional Well-Being
On December 4, 2019, the Action Collaborative on Clinician Well-Being and Resilience (Clinician Well-Being Collaborative) hosted a public meeting to discuss the consensus report, Taking Action Against Clinician Burnout: A Systems Approach to Professional Well-Being. The objectives of this meeting were to:
Present the findings, conclusions, and recommendations from the consensus report, Taking Action Against Clinician Burnout: A Systems Approach to Professional Well-Being.
Discuss the conceptual framework and foundational principles underlying the report goals, findings, and recommendations.
Gain an understanding of how the report goals and recommendations apply to participating organizations and stakeholder groups, and learn about specific actions across the healthcare system to reduce burnout and foster professional well-being.
Identify the actions that health care organizations, educational institutions, policymakers, health IT vendors, researchers, patients, and the Clinician Well-Being Collaborative can take to advance the consensus report recommendations.
Make commitments to carry forward the consensus report recommendations.
Clinician Burnout as a Societal Issue
George Thibault, Josiah Macy Jr. Foundation, explained why clinician burnout should be urgently addressed, highlighting its impact to society at large outside of the health professions.
Thibault posited three main reasons why clinician burnout is an important societal issue:
An optimally functioning health care system that effectively serves the needs of all patients is possible if all members of the system are functioning at the highest scope of their practice and achieving their maximum potential.
Further erosion of professionalism will undermine clinician-patient relationships and further undermine the public's confidence in health care institutions.
A decline in humanism will diminish all the health professions and contribute to a decline in humanism in society.
He suggests that taking into consideration the organizational and cultural changes put forth by the consensus study report – such as rebalancing work demands with resources, using clinicians to help redesign the system, and aligning organizational and professional values – would help benefit all clinicians and optimize performance of the health care system. Additionally, clinical professionalism is the foundation of the relationship between clinicians, patients, and society, and it creates the basis for trust that leads to the most effective care. Identifying interventions aimed to tackle factors contributing to burnout helps foster an improved state of professional well-being. Furthermore, making human interests the guiding philosophy of the system should be the standard for health professions education and care systems. The way learners and clinicians are treated reflects the values of these systems.
Patient Engagement and Clinician Well-Being
Lisa Stewart, Patient-Centered Outcomes Research Institute, provided a patient-centered perspective on clinician well-being by highlighting the purpose of patient-centered outcomes research according to her:
Having active and meaningful involvement of patients and other stakeholders throughout the research process (research focus, design, data collection, analysis, dissemination, and implementation).
Engaging the patient to make them more prepared to work as partners in their care, where there is mutual benefit, reciprocal relationships, co-learning, transparency, honesty, and trust.
Treating patients as collaborators rather than "subjects" (research participants).
Adding empathy to the conversation, understanding what it's like to be in crisis in a system that seems as though it is not designed to help you.
Stewart highlighted a case example showing the mutual benefit of patient-reported outcomes (PRO):
In "Making Patients and Doctors Happier- The Potential of Patient-Reported Outcomes," published in the New England Journal of Medicine Catalyst, Partners HealthCare conducted 25 qualitative interviews with physicians and non-physician providers, alongside program feedback mechanisms, to analyze how PROs affect providers and patients.
Initially, providers felt that collecting PROs was burdensome and time-consuming.
However, a perceptual shift occurred as comfort levels with PROs increased over time – the interviews suggested providers ultimately believed that PROs could help facilitate new conversations, allow them to better understand patient symptoms, enhance their decision making, and increase the efficiency of the visit. 
Taking Action Against Clinician Burnout: A Systems Approach to Professional Well-Being
Christine Cassel, University of California, San Francisco, and Pascale Carayon, University of Wisconsin-Madison, the consensus study co-chairs, gave an overview of the report and its findings.
Cassel restated the charges of the consensus report:
Examine the evidence regarding the causes of clinician burnout and the consequences for clinicians and patients.
Examine components of clinical training and the work environment that can contribute to clinician burnout.
Identify systems interventions, tools, and approaches to support clinician well-being.
Propose a research agenda to improve the knowledge base.
Carayon reiterated the message at the core of the report: burnout is a complex multi-factorial issue that requires a systems perspective in order to advance appropriate solutions.
The report presents a bold vision for redesigning clinical systems, which includes implementing interventions that target known system factors and requires organizational commitment, infrastructure, resources, accountability, and a culture that supports well-being.
Guidelines for health care organization leaders tasked with designing and implementing well-being systems fall under three categories:
Values, Systems Approach, and Leadership: Align organizational structures with value; use a systems approach to improve professional well-being; and engage leadership at all organizational levels to address clinician burnout and improve professional well-being.
Work Systems Redesign: Enhance the meaning and purpose of work; provide adequate resources and environment to support clinicians' work; design work systems that encourage teamwork, communication, and professionalism.
Implementation Principles: Build infrastructure for a well-being system that has adequate resources; design reward systems that align with organizational and professional values; nurture organizational culture; use human-centered design processes to design, implement, and improve solutions and interventions that address clinician burnout.
The report committee recommends that health care system leaders pursue the following six goals to reduce burnout and foster professional well-being:
Create Positive Work Environments: Transform health care work systems by creating positive work environments that prevent and reduce burnout, foster professional well-being, and support quality care.
Create Positive Learning Environments: Transform health professions education and training to optimize learning environments that prevent and reduce burnout and foster professional well-being.
Reduce Administrative Burden: Prevent and reduce the negative consequences on clinicians' professional well-being that result from laws, regulations, policies, and standards promulgated by health care policy, regulatory, and standards-setting entities, including government agencies (federal, state, and local), professional organizations, and accreditors.
Enable Technology Solutions: Through collaboration and engagement of vendors, clinicians, and expert health information technology system developers, optimize the use of health information technologies to support clinicians in providing high-quality patient care.
Provide Support to Clinicians and Learners: Reduce the stigma and eliminate the barriers associated with obtaining support needed to prevent and alleviate burnout symptoms, facilitate recovery from burnout, and foster professional well-being among learners and practicing clinicians.
Invest in Research: Provide dedicated funding for research on clinician professional well-being.
Present committee members also shared surprising findings they discovered in the process of writing the report: 
There is a need among health care leaders to better understand what a systems approach means.
There is a lack of literature on available system-wide interventions versus literature focusing on individual clinicians, possibly due to a lack of dissemination efforts.
There is a lack of information on burnout among health care colleagues in specific health professions, such as pharmacy and dentistry.
Sponsor Reflections
Two sponsors of the report, Jay Bhatt, the American Hospital Association, and Bernadette Mazurek Melnyk, The Ohio State University, provided their perspectives on the findings, conclusions, and recommendations from the report:
It is important to provide individuals with protective skill building interventions along with addressing the workplace culture and environment because suffering individuals can disrupt a functioning system.
Strong infrastructure that prioritizes wellness is needed in order for health care organizations to create a culture that supports their strategy.
After creating infrastructure, health care organization leaders should engage their clinical workforce, measure well-being and create interventions based on the results, implement team-based interventions or work system redesign, and then evaluate their impact to create a sustainable culture.
Common language is needed among health care stakeholders to design a professional well-being system.
Use a quality improvement approach to meticulously track outcomes and use this to drive strategy forward.
Breakout Discussions: Report Out
Meeting participants participated in small group discussions around the six goals of the consensus report to gain an understanding of how the report goals and recommendations apply to their organizations and stakeholder groups.
Facilitators from each breakout group summarized their small group discussions, and identified system-level actions that could reduce burnout and foster professional well-being: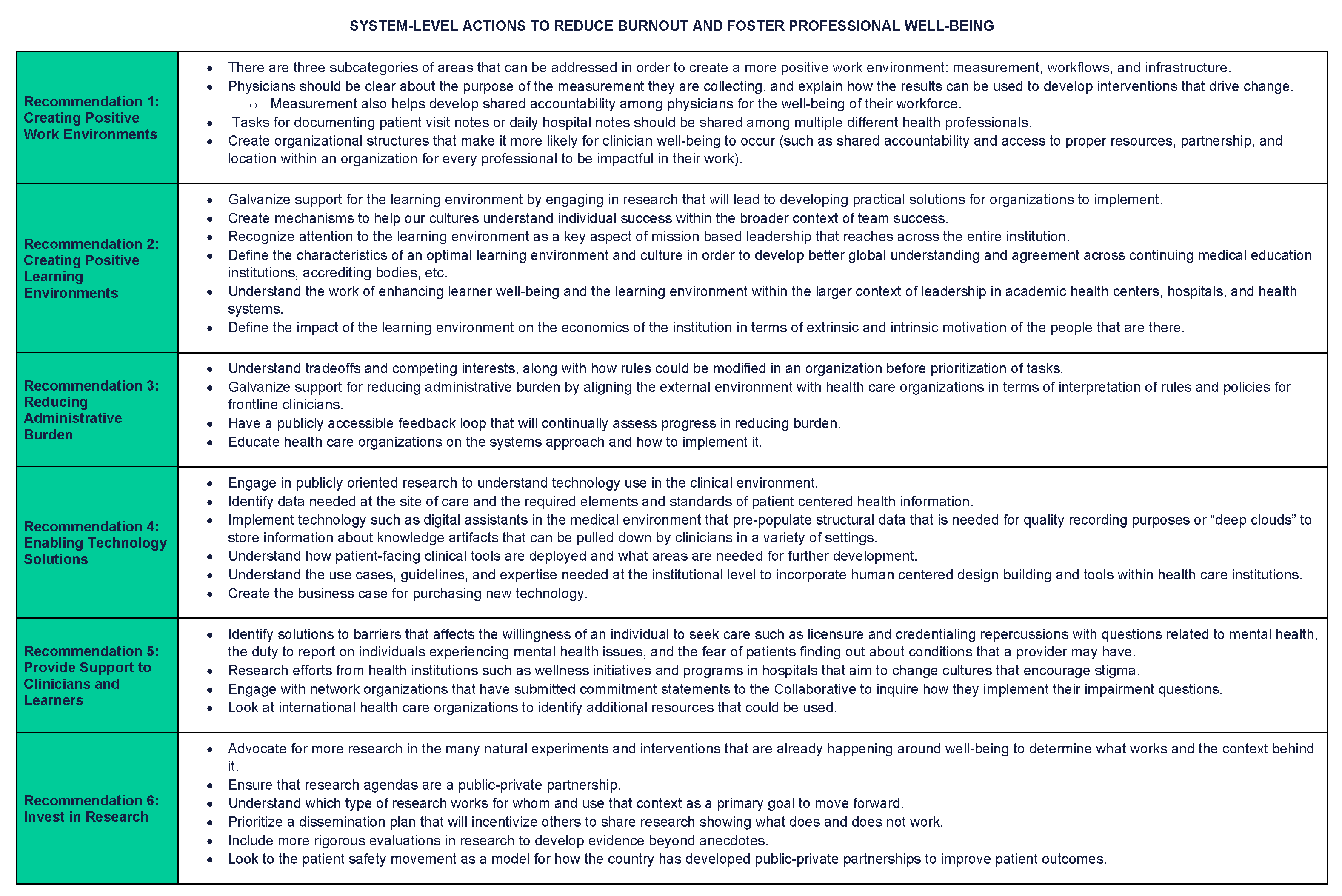 Reflections and Commitments
Jessica Perlo, Institute for Healthcare Improvement (IHI), opened the session by affirming her organization's commitment to addressing the recommendations put forth by the report.
She described IHI's Joy in Work initiative and discussed the following key aspects of their efforts:
As health is more than the absence of disease, joy is more than the absence of burnout.
New mental models are needed to reshape improvement efforts and culture to focus on the system rather than solely the individual, and focus on factors beyond resilience to drive a joyful workforce.
The IHI framework addresses all levels of a health care organization—from individuals to managers and core leaders to senior leaders—and uses quality improvement and implementation science to identify solutions to burnout. 
Perlo also shared IHI's Joy in Work Results Oriented Learning Network, which aims to contribute to the body of knowledge about reducing clinician burnout.
Other organizations shared some of their commitments as well:
Jay Bhatt, American Hospital Association, committed to sharing takeaways from the meeting with members of his organization and encouraging the use of tools and resources from the Action Collaborative.
Steve Singer, Accreditation Council for Continuing Medical Education (ACCME), shared the consensus report recommendations with 1,700 of ACCME's accredited healthcare organizations, and added a wellness track to their annual meeting.
Christine Cassel, University of California, San Francisco, urged meeting participants to use the consensus study report as leverage within their organizations to create leadership momentum on this issue.
Closing Remarks: How Leadership Should Take Action
Congressman Ami Bera (D-CA) wrapped up the day by reflecting on his experience combating clinician burnout as the former Dean of Admissions at UC Davis Medical School and now as a member of Congress. He emphasized several critical areas that were primed for action, such as:
Building tools that allow health care professionals to reflect and protect themselves, such as the Healer's Art curriculum, a course that provides in depth exploration on the values of service, healing relationships, reverence for life, and compassionate care.
Modernizing prior authorization to reduce paperwork burden and streamline patient care.
Reducing administrative burden by improving teamwork so health care professionals can practice to the full extent of their education and training.
Restructuring medical education by possibly offering three years of medical school and one year of clinician practice to reduce debt and incentivize individuals to work in underserved communities.