Event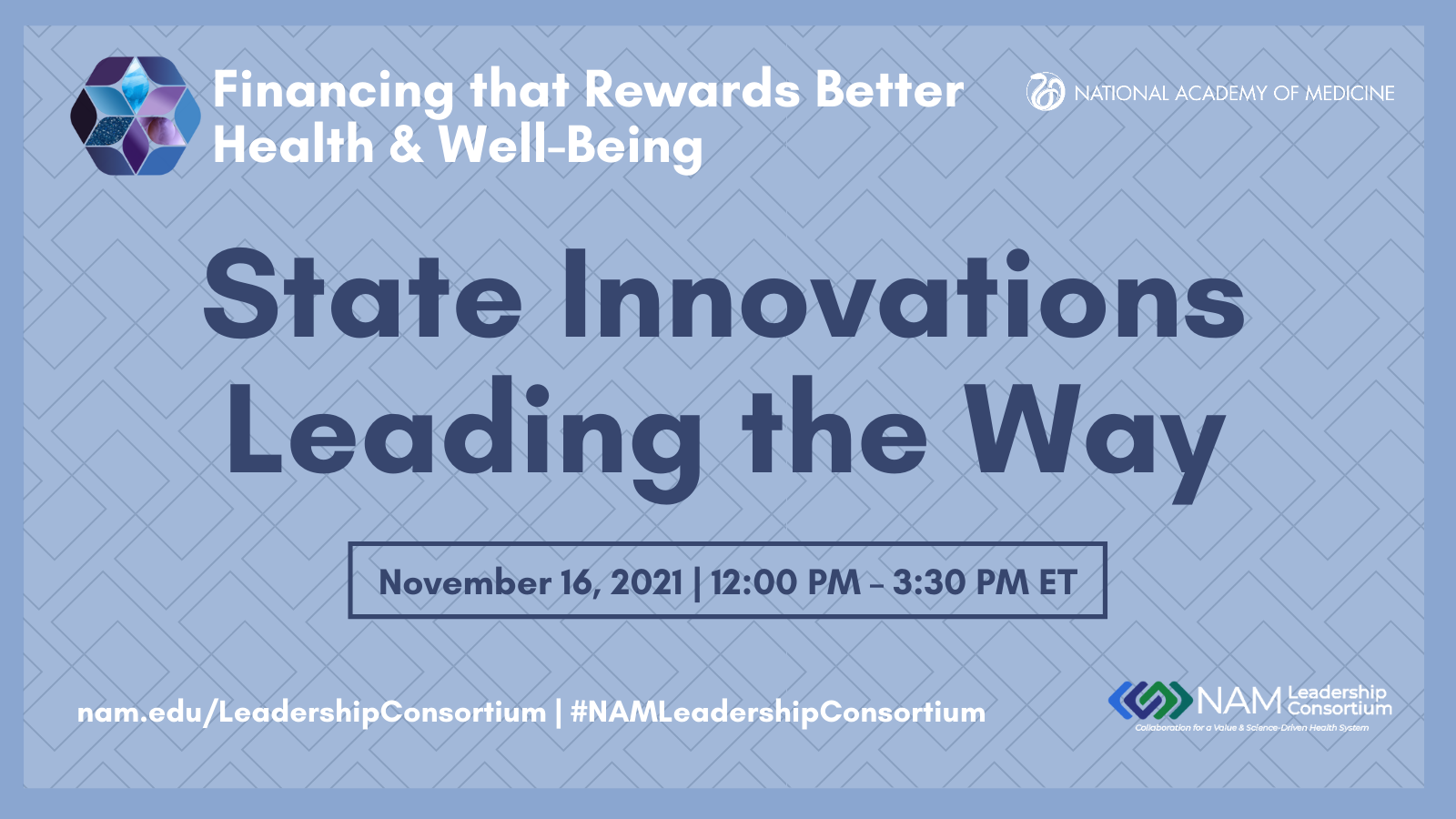 Financing that Rewards Better Health, Equity, & Well-Being: State Innovations Leading the Way
Workshop Date and Time:  November 16, 2021 | 12:00 PM – 3:30 PM ET
Where: Via webinar
The COVID-19 pandemic has highlighted the urgent need to transform our current model of health care financing from a system that rewards the volume of services to one that incentivizes real improvements in personal and population health.
Building on a series of webinars in May/June 2021, the NAM Leadership Consortium shared evidence-based and high-value actions that can be initiated at the state and local level to support whole-person and whole-population health. This can be accomplished by transforming current health financing and payment models to focus on patient outcomes, experiences, and value.
This webinar identified and analyzed the uptake of best practices coming from the Financing that Rewards Better Health and Well-Being initiative and addressed the following key objectives:
Aligned payments: Mechanisms to reinforce accountability for whole-person and whole-population health outcomes.
Technical and communicative capacity: IT and communication infrastructure to facilitate "cross-talk" and optimal use of information.
Enhanced human capital: Skilled workforce in place to operationalize better health outcomes and advanced infrastructure.
This work aligns with the Leadership Consortium's overall aim of advancing a learning health system by determining how incentive structures can best be transformed for health system efficiency, equity, effectiveness, and continuous learning.
Agenda
12:00 pm ET | Welcome & Introductory Comments 
Welcome from the National Academy of Medicine, opening remarks & meeting overview.
Michael McGinnis, National Academy of Medicine
Hoangmai Pham, Institute for Exceptional Care
12:15 pm ET | Urgent State & Local Action to Advance Equity & Population Health
Perspectives on the pandemic moment and the potential for states/localities to leverage mechanisms that sustainably finance and operationalize equity and population health.
Moderator: Michael McGinnis, National Academy of Medicine
Jonathan Blum, Centers for Medicare & Medicaid Services
12:45 pm ET | Evidence-Based Strategies to Advance Health Equity & Wellness
Discussion on evidence-based strategies for empowering the health workforce to eliminate health inequities and strengthen whole-person and whole-population health.
Panel Chair: Joshua Sharfstein, Johns Hopkins University
Denise Smith, National Association of Community Health Workers
Bonnie Silva, Colorado Department of Health Care Policy & Financing
Alex Briscoe, California Children's Trust
Doug Eby, Nuka System of Care
2:00 pm ET | Transformative Infrastructure Investments via Pandemic Relief Mechanisms
Discussion on the use of one-time pandemic relief funding & regulatory flexibilities to invest in sustainable & scalable strategies that support whole person health.
Panel Chair: Cheryl Powell, MITRE
Kody Kinsley, North Carolina Department of HHS
Shavana Howard, Louisiana Department of Children & Family Services
Camille Dobson, ADvancing States
3:15 pm ET | Reactions and Syntheses
Brief comments on the proceedings of the webinar and follow-on questions for panelists present.
Hoangmai Pham, Institute for Exceptional Care
3:25 pm ET | Send-off and Closing Remarks
Concluding observations, highlighted action items, and final thanks to all invited speakers and participants.
Hoangmai Pham, Institute for Exceptional Care
Michael McGinnis, National Academy of Medicine
3:30 pm ET | Adjourn