Event
On Tuesday, September 28, 2021 from 11:00 am-12:30 pm ET, the National Academy of Medicine (NAM) will host a virtual event to publicly launch the Climate Action Collaborative. 
Climate change represents one of the most significant threats to human health in the 21st century. At the 50th Annual Meeting of the National Academy of Medicine in October 2020, NAM president Victor J. Dzau announced a new Grand Challenge on Climate Change and Human Health. As part of the Grand Challenge, the NAM will launch a Climate Action Collaborative to mobilize the full spectrum of actors and institutions in the health community to reduce the health sector's environmental impacts and commit to sustainable transformation.  
Join this meeting to learn details about the new Climate Action Collaborative, and hear remarks from Collaborative co-chairs and health sector leadership on addressing climate change and its related health impacts.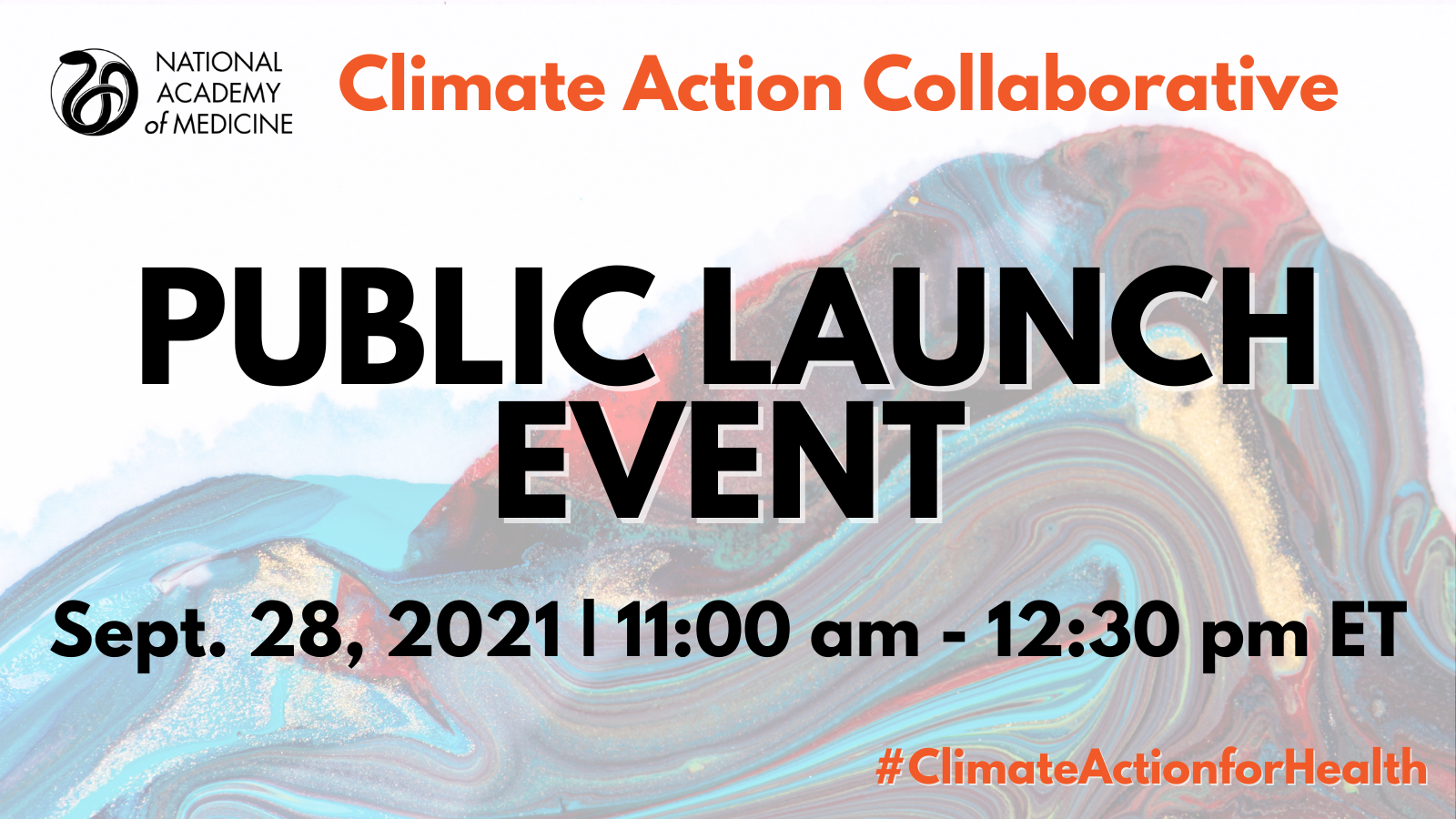 Agenda
11:00 AM Welcome & Opening Remarks
Victor Dzau, MD, National Academy of Medicine
George Barrett, MBA, Cardinal Health
Sir Andrew Witty, UnitedHealth Group
11:10 AM Special Address by Rachel Levine, MD, U.S. Department of Health and Human Services
11:25 AM NAM Climate Action Collaborative Overview
11:35 AM Health Sector Leadership in Addressing Climate Change
Don Berwick, MD, MPP, Institute for Healthcare Improvement
Michelle Hood, American Hospital Association
James Madara, MD, American Medical Association
Beverly Malone, PhD, RN, National League for Nursing
Michelle McMurry-Heath, MD, PhD, Biotechnology Innovation Organization
12:25 PM Summary & Concluding Remarks
Visit nam.edu/ClimateChange for additional details, and join our listserv to stay tuned for the forthcoming launch announcement in advance of the event!