Grand Challenge on Climate Change, Human Health, and Equity
Climate change represents one of the most significant threats to human health in the 21st century. The Grand Challenge on Climate Change, Human Health, and Equity (Climate Grand Challenge) is a multi-year global initiative to improve and protect human health, well-being, and equity by working to transform systems that both contribute to and are impacted by climate change.
The Climate Grand Challenge has five strategic objectives:
Communicate the climate crisis as a public health and equity crisis
Develop a roadmap for systems transformation
Catalyze the health sector to reduce its climate footprint and ensure its resilience
Accelerate research and innovation at the intersection of climate, health, and equity
Reduce climate-related health inequities
Climate Communities Network
An initiative that will bring together community leaders in U.S. regions disproportionately impacted by climate change to work collaboratively on solutions to climate-related health inequities faced by their communities
Action Collaborative on Decarbonizing the U.S. Health Sector
A public-private partnership of leaders from across the health system committed to addressing the sector's environmental impact while strengthening its sustainability and resilience
In recognition of Earth Day 2023, the NAM invited future health professionals to share their visions for how the health sector can address climate change and its impact on human health. We look forward to continuing to work with students and others across the health sector and beyond to address the health impacts of climate change through our Climate Grand Challenge.
Learn about the viewpoints of students who are committed to addressing climate change >>
Featuring the Climate Grand Challenge at the NAM Annual Meeting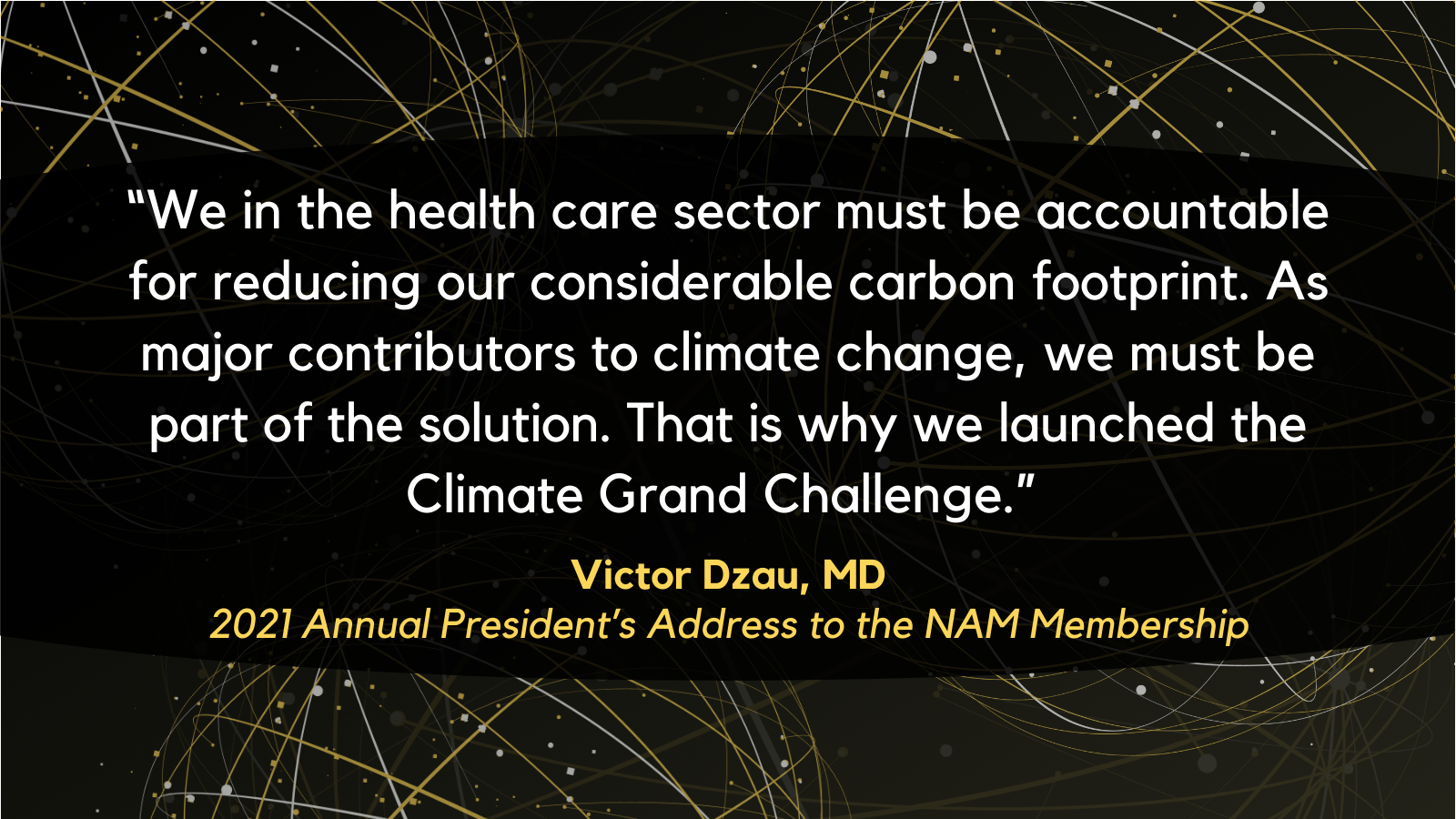 Catalyzing Innovative Projects at the Interface of Human Health and Climate Change: Opportunity Grants
On December 5-6, 2019, the National Academies hosted an expert meeting to present the latest science and new opportunities for research and investment at the intersection of climate change and human health. Co-funded by the Burroughs Wellcome Fund (BWF), the meeting was designed to inform programmatic directions for the NAM and the National Academies. The NAM partnered with the BWF to provide funding for "opportunity grants" to interdisciplinary teams across the National Academies to explore promising ideas at the intersection of climate change and human health. The aim is to stimulate new, interdisciplinary projects across the National Academies, as well as to catalyze broader stakeholder interest and engagement in these issues. Grantees will be conducting their project development activities through November 2020 and will prepare a summary of outputs, impacts, outcomes, and next steps in December.
Learn about the projects funded by the Climate Change & Human Health Opportunity Grants >>
Staff
Chris Hanley, Senior Program Officer
Franque Alexander, Program Specialist
Funmi Chinekezi, Program Officer
Emma Lower-McSherry, Research Associate
Jessica Marx, Program Officer
Justin Massey, Associate Program Officer
Grace Robbins, Associate Program Officer
Samantha Phillips, Communications Officer
Sponsors
AdvaMed
AmerisourceBergen
Association of Academic Health Centers
Association of American Medical Colleges
Burroughs Wellcome Fund
Commonwealth Fund
Eastbay Foundation
Grantham Foundation
Henry Schein​
JPB Foundation​
Mazzetti
McCall MacBain Foundation
McKesson
Medtronic
National League for Nursing
PhRMA
Rockefeller Foundation
The Healthcare Distribution Alliance
Thermo Fisher Scientific
UnitedHealth Group
University of Southern California​
Vizient