Community Health Heroes
An Interview with Melissa Simon

June 2017
Melissa Simon is Vice Chair of Clinical Research in the Department of Obstetrics and Gynecology; George H. Gardner Professor of Clinical Gynecology; and Professor of Obstetrics and Gynecology, Preventive Medicine and Medical Social Sciences at Northwestern University's Feinberg School of Medicine in Chicago, IL. She is also Director of Chicago Cancer Health Equity Collaborative (CHEC). In addition, she is a member of the Roundtable for the Promotion of Health Equity and Elimination of Health Disparities at the National Academies of Sciences, Engineering, and Medicine; and participates in the Care Culture and Decision-Making Innovation Collaborative under the Leadership Consortium of the National Academy of Medicine. Melissa was recently appointed to the U.S. Preventive Services Task Force.
You lead the Simon Research Lab at Northwestern University's Feinberg School of Medicine. How do you partner and interact with the community in your work?
My team and I partner with communities on research, training, and education. For our research work, we focus on women's health through breast and cervical cancer screenings, using patient navigation to deliver treatment and foster survivorship. We've conducted this type of research with many communities around the Chicagoland area, including Latino, African American, and Chinese communities. In addition, we've done a lot of work with improving health care delivery for pregnant women with gestational diabetes or obesity, and helping them practice self-care. We've also done a lot of work with elders and their well-being, examining elder abuse, self-neglect, and depression.
Another big focus for us is education to help improve the health care workforce, including training about health disparities, health inequities, and cancer research education. I mentor students on these topics from the high school level to post-doctoral fellows, clinical residents, and faculty. One of the educational programs I'm very proud of is a massive open online course (MOOC) that I created and launched in April 2015. It's called, "Career 911: Your Future Job in Medicine and Health Care." It's a free online course that's open to the world on the Coursera platform, and intended to be used as a tool to show that the health care workforce has a wide variety of careers that can be an opportunity for almost anyone.
Lastly, as an OB/GYN, I give direct clinical care at Northwestern Medicine to low-income women—women who are publicly insured, or uninsured. 
Why is it important to partner with the communities you work with?
Whenever we're trying to improve the health of any population, we really need to be well informed by that population themselves. They know best about what it takes to be healthy with respect to their own living situation and environment. We as scientists, clinicians, and educators can partner with them by contributing our backgrounds, knowledge, and skill sets, but we also have to combine that with the empathy required to understand fully what it would take to move the needle in a positive direction for that population's health.
 All our research studies have community advisory councils or committees that actively contribute to each of the projects, advising how the project is set up, how it's designed, how it's implemented, how it's evaluated, and how the results are shared.
How does leveraging culture and community help eliminate health disparities?
Culture and community are important because one size does not fit all. You can't take one program that's been successful for one group of people and expect it to work well with another group of people in another location, due to things like culture, environmental resources, social determinants of health, and other factors.
We've received funding to create patient navigation programs that are leveraging a community health worker model. In this model, we hire women from a particular community and then train them how to canvass their community and communicate health messages. For example, we've done this with breast cancer screenings, where we trained the community health workers to educate women about the importance of mammograms and how to get one. The community health workers then helped the women get a mammogram and followed up if there was an abnormal screening test. If they were diagnosed with cancer, the community health workers helped them navigate the world of cancer treatment. We've done this in a variety of settings, such as clinics, referral centers, and hospitals, since we understand that low-income women don't necessarily receive all their health care in one place. In these programs, the navigators move around with each woman until she completes the care that she needs.
This patient navigation work, along with the work of many advocacy, community groups and citywide breast cancer taskforce, helped inform a bill that became a law in our state focused on breast cancer screening and treatment quality, requiring that health centers report their quality metrics. Over the last 10 years, we've seen an improvement in the disparity that existed in Chicago between black and white women for breast cancer mortality, which is not a result of my team's work alone, but we've played a part. There has been a 35 percent decrease in the black-white breast cancer mortality disparity between 1990 and 2013. The disparity ratio of black to white breast cancer mortality was at an all-time high at 1.62, and then it decreased to 1.4. That's still not good, so there's more work to be done.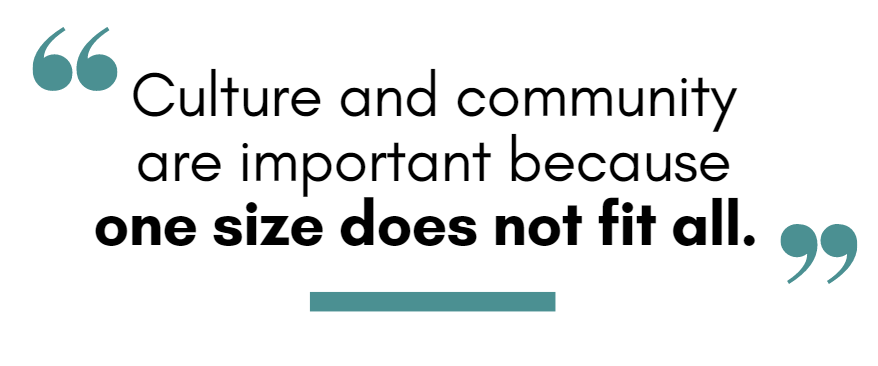 What is the role of prevention in community health?
Prevention is the gold standard. We should all seek to primarily prevent any disease from happening in the first place, and that's even before screening for the usual diseases in a clinic. We have done a poor job of promoting the wellness orientation of primary care in this country, yet it is critical to provide primary care in a frame of well-being. We should emphasize prevention and building ongoing relationships with health care teams, rather than just coming in for an annual exam or specific screening. For example, a prevention approach could be a person who has a strong family history of diabetes interacting with the health care team more frequently around behaviors like supporting healthy nutrition and physical activity. I'm also very alleged to preventive services. I was just appointed to the U.S. Preventive Services Task Force, which is a volunteer body of 16 health care providers and scientists in the country that advises the nation on preventive services.
What are the challenges of a prevention-focused approach?
I think part of the challenge is messaging and communication around how, when, and how often to go to your local physician, other health care provider or health care clinic. Emphasizing the need for wellness visits, rather than just coming in for a specific symptom, concern, ache, or pain would help promote prevention. In essence, we need to move away from the traditional medical model.
We're also in an uncertain era of what's to come in terms of health care policy. Health care is linked to structures of what services are reimbursed and covered within health care plans. All this links to prevention, and so does making sure that there is enough funding to provide preventive services, wellness visits, nutrition counseling, and physical activity review. Those are all things that are traditionally underfunded. Having stronger policies, and reimbursement and coverage of those services, would help promote prevention and wellness.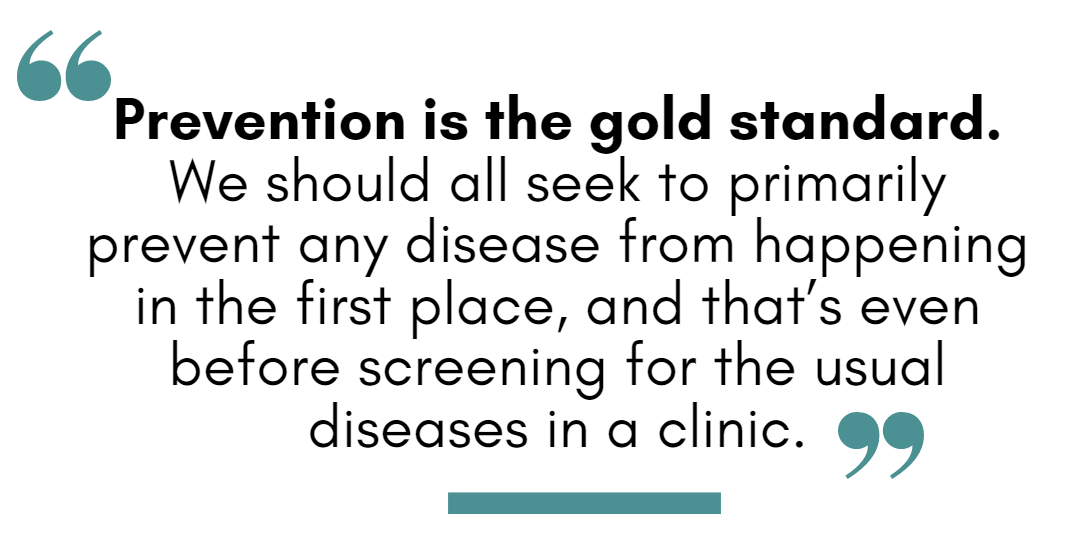 What inspired you to go into this line of work? What's your advice for anyone interested in doing something similar?
I grew up in a very impoverished family in Detroit and I saw first-hand what health inequities were. That helped spawn my passion for wanting to improve population health and champion health equity so that no one would have to experience social injustice and inequities as they try to achieve or maintain their own health. 
My advice: this work is multifaceted and complex, and it takes a true team across numerous sectors and organizations with multiple viewpoints. I highly encourage people who want to pursue a career in this work not to give up, and to harness their passion and leverage it to promote social justice and health as much as they can. Even the little things count in this work. Tenacity, grit and resilience are essential.

What is the biggest lesson you've learned so far about what it takes to promote health and health care equity?
One of the biggest lessons I've learned is that you must approach this work with a high sense of humility and understand that you can learn from everyone, regardless of what their opinion or viewpoint is. It is from that perspective that I've learned to be a better communicator and a better messenger. Doing this helps bridge understanding and connections to people, and helps build relationships, which are the foundation required to move toward equity.