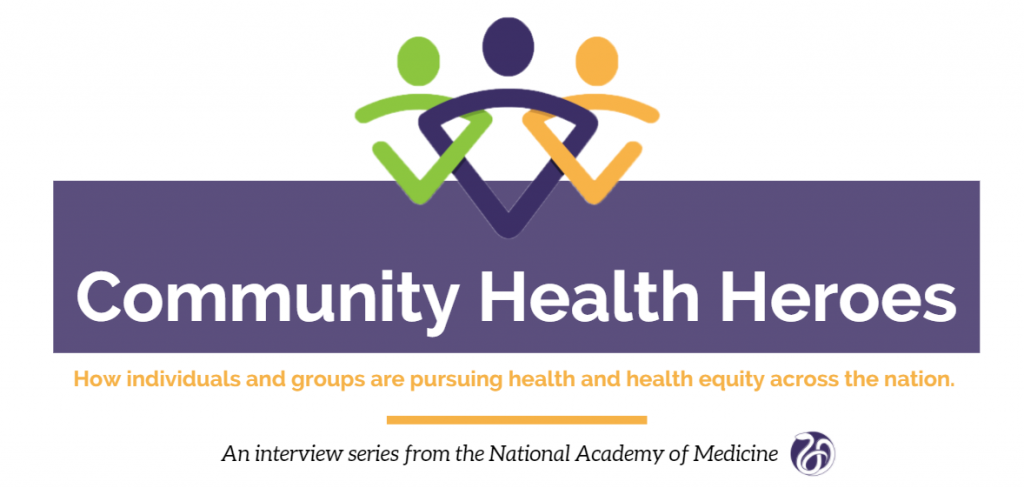 Inspired by the 2017 National Academies report Communities in Action, this series highlights individuals or groups who are working to advance health and health equity in communities across the nation. The series features preventive strategies and programs that are conceived and implemented at the local level and focus on a range of factors that contribute to health, like education, employment, health systems and services, housing, income and wealth, the physical environment, public safety, the social environment, and transportation. Interviewees describe challenges, success stories, and lessons about what has worked for their organizations and communities. The purpose of the series is to share information, support networking, and spark new ideas. The National Academy of Medicine (NAM) does not necessarily endorse approaches described by the interviewees. This series is supported by the NAM's Kellogg Health of the Public Fund and the Robert Wood Johnson Foundation.

Interviews

Laura Belazis
Laura Belazis is director of food access and education for DC Central Kitchen (DCCK), a community kitchen in Washington, DC that develops and operates social ventures targeting the cycle of hunger and poverty. Read why she's a community health hero:
Read the interview
Diane Picard
Diane Picard is executive director of the Massachusetts Avenue Project (MAP), an organization in Buffalo, New York, that works to nurture the growth of a diverse and equitable local food system and promote local economic opportunities, access to affordable, nutritious food, and social change education. Read why she's a community health hero:
Read the interview
Kim Irwin
Kim Irwin is executive director of Health by Design, a coalition of diverse partners working to ensure that communities throughout Indiana have neighborhoods, public spaces, and transportation infrastructure that promote physical activity and healthy living. Read why she's a community health hero:
Read the interview
Colin and Karen Archipley
Colin Archipley and Karen Archipley are co-founders of Archi's Acres, a California Benefit Corporation that uses hydro-organic technology to grow certified organic produce for local residents. They also offer an entrepreneurial incubator program, Archi's Institute for Sustainable Agricultural Training, which provides educational opportunities for the surrounding community, including soldiers returning home from war. Read why they are community health heroes:
Read the interview
Melissa Simon
Melissa Simon is Vice Chair of Clinical Research in the Department of Obstetrics and Gynecology; George H. Gardner Professor of Clinical Gynecology; and Professor of Obstetrics and Gynecology, Preventive Medicine and Medical Social Sciences at Northwestern University's Feinberg School of Medicine in Chicago, IL. Read why she's a community health hero:
Read the interview
Kerene Tayloe 
Kerene Tayloe is a Federal Policy Associate with WE ACT, an organization based in New York, NY, that empowers and organizes low-income people of color to build healthy communities for all.
Read the interview
For additional related resources, please visit our Culture of Health homepage.
Community-based prevention leverages programs and policies oriented to preventing the onset of disease, stopping or slowing the progress of disease, reducing or eliminating the negative consequences of disease, increasing healthful behaviors that result in improvements in health and well-being, or decreasing disparities that result in an inequitable distribution of health. While it may involve services by health professionals, it is not solely based on clinical services. For more information on this issue, check out this
National Academies report
.