Engaging the Next Generation of Leaders in Health and Medicine: Summary of the 2019 NAM Emerging Leaders Forum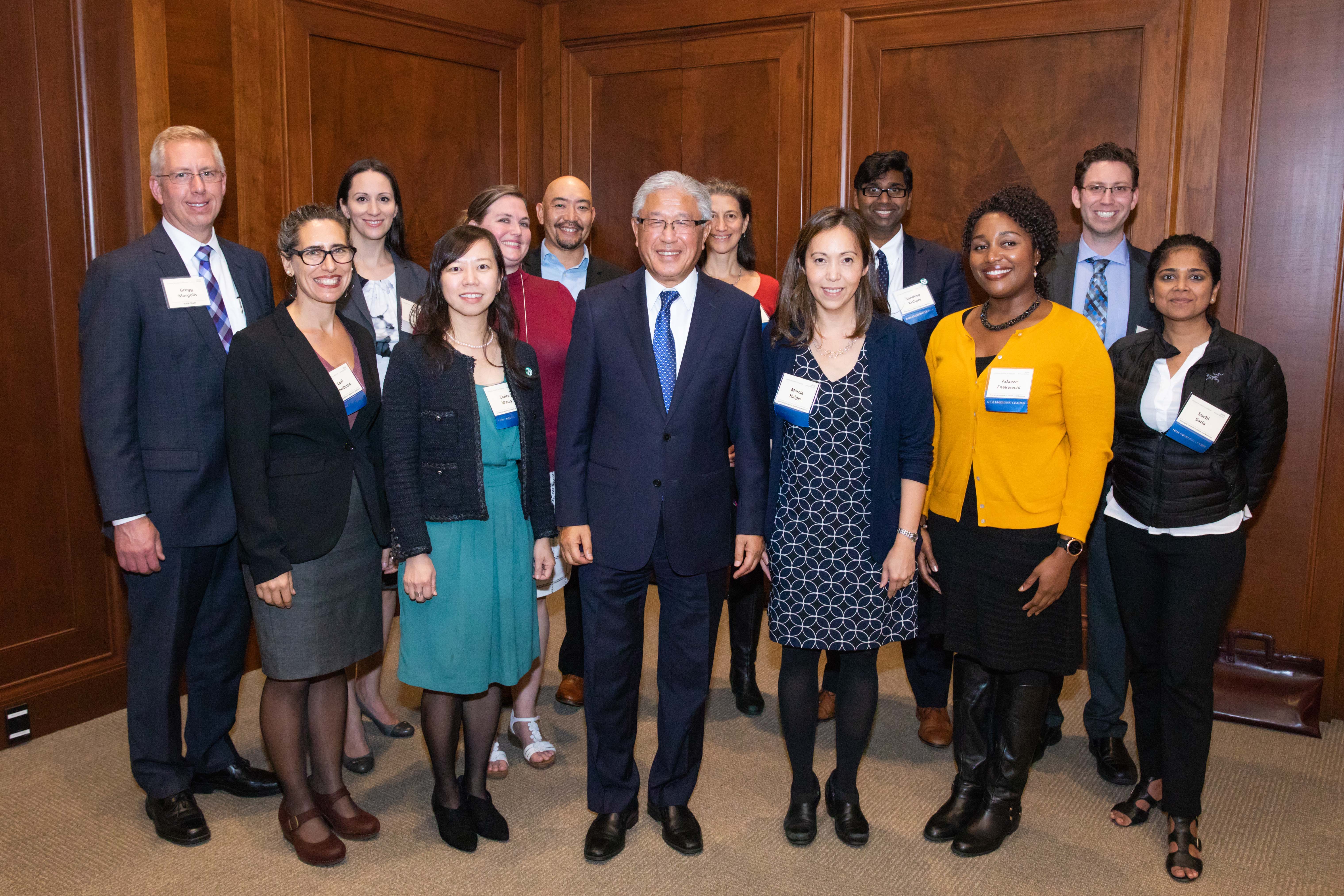 On July 17-18, 2019, approximately 70 emerging leaders and 35 National Academy of Medicine (NAM) members met in Washington, DC, to launch the inaugural Emerging Leaders Forum. This 2-day event is a new activity of the NAM's Emerging Leaders in Health and Medicine (ELHM) Program, which engages exceptional early- to mid-career professionals in health and medicine, NAM leaders and members, and other experts to promote interdisciplinary collaboration and spark new ways of thinking about shared challenges that could lead to transformative change. 
The ELHM Program reflects the NAM's commitment to engage, mentor, and learn from the next generation of leaders in health and medicine. The program is driven by the following five commitments and values inherent to the NAM and its mission:
Mandate for Trusted Advice: Providing the most reliable advice requires engaging those closest to the frontiers, which includes leaders across generations.
Anchor on the Evidence Base: Advancing the evidence base requires insights from those individuals who are producing cutting-edge work.
Stewarding Scientific Advancement: Like other fields, science is now more a networked than a linear process.
Maximizing Impact: Impact is a direct function of informed collaboration among leaders at every level.
Joy in Work: Collaboration and exchange among disciplines and generations is simply more enjoyable and rewarding.
The ELHM Program includes an annual class of ELHM Scholars selected by the NAM in recognition of demonstrate leadership and exceptional professional achievement in biomedical science, population health, health care, and related fields. Currently, there are 30 ELHM Scholars, each of whom has committed to a 3-year term and, as part of their responsibilities, helps to plan the annual Emerging Leaders Forum.  
The Forum: An Opportunity To Collaborate and Evaluate
A planning committee made up of ELHM Scholars (see below) designed the 2019 Forum, with input from NAM leadership, to provide opportunities to present and build upon their own work, identify novel and inventive strategies of tackling commonly shared personal and professional challenges, and network with NAM members and each other. The first day featured a keynote address from NAM President Victor J. Dzau, interactive panel sessions developed by the emerging leaders, lunches with NAM members, and a fireside chat with Francis Collins, Director of the National Institutes of Health (NIH). The second day included small group discussions about cross-cutting areas of interest, designed to tease out and then build upon the interdisciplinary perspectives and unique experiences of the emerging leaders and NAM members.
Keynote Address and Fireside Chat
Dr. Dzau delivered a keynote address on "Ensuring the Translation of Sound Science to Effective Public Policy." He discussed the importance of "science for policy and policy for science," noting that science and policy are becoming more interrelated. Scientists are increasingly asked to demonstrate the value of their work to society; likewise, policy makers are often asked to provide the scientific basis on which their policies are based. As a result, scientific and medical academies, which bridge science and policy, play a critically important role in shaping the future of health and medicine. He elaborated on the work of the NAM and provided several examples of the Academy's efforts to influence science policy through evidence-based reports, dissemination and outreach to key stakeholders, and more.
To demonstrate the importance of "policy for science," Dr. Dzau provided an overview of recent advances in science and technology that are paving the way for exciting new developments in health and medicine. These developments will provide an armamentarium of tools that can revolutionize healthcare and health to be more connected, precise, democratized and people-centered, with better outcomes and improved population health. However, new innovations and technologies carry risks and raise important questions for society related to cost, equity, ethics, regulation, and more. He explained that the NAM is tackling this issue by creating a Committee on Emerging Science and Technology in Health and Medicine, whose remit is to develop a multisectoral framework of governance to guide progress in science and technology and mitigate the associated risk. Dr. Dzau emphasized the importance active policy engagement among scientists and clinicians. He concluded by encouraging the emerging leaders to participate in science policy development.
Dr. Dzau later hosted a fireside chat with NIH Director Francis Collins, which consisted of a wide-ranging conversation about Dr. Collins's own career path, his advice to young leaders, his vision for the NIH, and his perspective on the future of biomedical science. Dr. Collins elaborated on his commitment to patient-oriented research and described the NIH's efforts to confront the opioid epidemic. In addition, he described the NIH's commitment to supporting the next generation of researchers and promoting diversity and gender equality in science. It was a truly inspirational session for all, especially the emerging leaders.
Interactive Panel Sessions
Day 1 panels featured presentations from emerging leader panelists, moderated by an NAM member, on the following topics:
Addressing the Fundamental Causes of Health: Impacting the Root Causes. The panel explored the meaning of social determinants of health and sought to identify and address research gaps related to capturing data, training and connecting people to resources, making the business case for addressing social determinants of health, demonstrating the effectiveness of policies relating to social determinants, and closing the gaps in health equity.
From Prevention to Cure: New Directions and Barriers in the Path of Eradicating Cancers for All. The panel discussed advances in reducing the burden of cancer across discovery, therapeutic development, care delivery, and prevention and early detection.
Accelerating Therapeutic Breakthroughs. The panel examined breakthrough technologies and advanced therapeutics for patient care. It also explored barriers and opportunities in drug discovery and development and how to improve the translation of next-generation therapies.
Global to Local: Health innovations and Shared Learning in the Modern Era. The panel explored "reverse innovation" – how lessons from low- and middle-income country settings can be applied and fit to old and new problems in the United States. In particular, the session highlighted the pitfalls of repeating both policy and programmatic mistakes of the past if we do not learn from communities abroad and demonstrate practical areas of learning and impact.
Making Medicine Work for People: Comparative Effectiveness Research (CER) and Incorporating Patient Voices. The panel focused on two core aspects of CER—research ethics and patient-centeredness—to examine what the research community has learned since 2009 and what challenges remain to develop a robust and sustainable CER enterprise in the United States and internationally.
Big Data in Medicine. This panel explored whether "big data" applications will, in fact, become widely adopted and revolutionary as a function of a variety of factors, some human, some scientific. The panel explored the factors that contribute to the delivery, and difficulties in delivery, of medicine derived from big data to patients.
The World Cafe: Interactive Breakout Sessions
On Day 2, Forum attendees participated in three breakout group discussions, which used an interactive conversation model designed to encourage cross-disciplinary and cross-generational approaches and strategies to identifying the most pressing challenges and the best opportunities to respond to those challenges. The planning committee selected the topics for the breakout discussions, which were:
How to better foster a supportive workplace culture and individual resilience
How to better lead and inspire the next generation of health scientists
How to better encourage team science and develop an interdisciplinary career
Report-outs and action steps developed by participants in each breakout discussion appear below.
Report-Out: How to Better Foster a Supportive Workplace Culture and Individual Resilience
The main challenges and opportunities to fostering a supportive workplace culture and individual resilience are:
Discrimination (bias; microaggression; racism; lack of diverse leadership)

Promote, measure, and incentivize diversity and inclusion
Build the business/performance case
Training, education, and peer support
Leadership, Mentorship, and Sponsorship (lack of leadership, mentorship, and accountability)

Leadership development and formal mentor program
Creating opportunities and succession plans
Adopting best practices
Structure and Incentives (rigid promotion criteria; mid-career structural rut; hierarchical structures; misaligned incentives)

Create funding, structure, flexibility, and incentives to support mid-career growth, professional development, and risk-taking
Develop mechanisms and channels for support and advocacy outside of your hierarchical structure
Build 3-D teams: vertical, horizontal, senior people reporting to junior people; junior people assessing senior people (360⁰ review)
Response to Failure (culture of silence; perfectionism; focus on work over self) Reframe and share successes and failure

Develop a high reliability organization (create a positive and supportive culture; shift from individualism to collectivism to group success and responsibility)
Peer group and mentorship support; resiliency training
Work-Life Integration (social, personal, family, and health related challenges; unrealistic work expectations)

Structural opportunities (flexible work schedule, process and policy improvement
Cultural opportunities (encouraging norms that value work life balance)
Individual/personal opportunities
Social Isolation (siloes; factions)

Support of individual well-being
Physical and social connections
Physical and virtual professional and academic connections
Action Steps
Develop a toolkit/guide for leadership/mentorship/developing high functioning teams in the sciences
Develop a failure and resilience campaign: Ted X Failures and Grand Rounds
Promote "oversampling" for all selection processes (hiring, nominations, etc.) to encourage more diverse application pools
Develop and implement institutional family support program to respond to caregiver needs across the career spectrum
Promote the rotation of leadership positions
Report-Out: How to Better Lead and Inspire the Next Generation of Health Scientists
The main challenges and opportunities to better lead and inspire the next generation of health scientists. 
Access to High Quality Mentoring

Create clear/flexible frameworks for mentoring, incl. how to set shared expectations and goals, and use of technology and tools to facilitate mentorship
Create a business case (value proposition and ROI) for mentorship
Increase training and accountability for both mentors and mentees
Lack of Diversity in Fields and in the Pipeline

Develop evidence-based guidelines for recruitment and admission (incl. reduce the impact of standardized testing on admissions decisions)
Earlier emphasis on pipeline development with an eye to diversity
Increase the diversity of mentors (racial/ethnic/gender/career-stage/multi-sectoral)
al and virtual professional and academic connections
Lack of Training/Exposure to Other Disciplines

Educate, incentivize and hold sponsors accountable
Modularize Knowledge and Resources
Create repositories and support sharing and reuse
Lack of Institutional Support/Resources to Support Broad Professional Development

Seed funding opportunities for junior and senior faculty
Support partnerships with trainees/students and faculty incentives
Update grant review mechanisms with new research ideas
Lack of Support for Team Science

Change funding criteria to encourage team science
Adopt strategies to change culture of siloed/hierarchical science
Change training to provide incentives/opportunities for cross-disciplinary experience
Create guidance on best practices to define and support team science
Pace of Science vs. Technology and Information and Impact on Public Perception

Require that scientists are trained in how to talk to the public
Set expectation that faculty are required to communicate findings to diverse audiences (e.g., pre-print publications, social media, archive work papers)
Encourage adoption of projects to keep science relevant and cutting edge (i.e. industry-academic partnerships; evolving based on knew knowledge)
Evaluate risks and opportunities around open science
Action Steps
Convene stakeholders (professional societies, foundations, academia, funders, etc.) who have developed successful mentoring and sponsorship programs to develop evidence-based mentoring toolkits and frameworks and implementation and evaluation plans. Consider an Action Collaborative as one mechanism
Convene a workshop on evidence-based guidelines for admission, recruitment/hiring, and retention into science initiatives, adopting a holistic approach
Emerging leaders to curate, maintain, and disseminate a repository of opportunities and resources for career advancement, as well as planning convening platforms to enrich and diversify these resources.
Convene domestic and international funders to look at the current landscape and create a forward-looking plan of funding mechanisms to encourage team science and multi-level leadership teams (junior and senior)
Report-Out: How to Encourage Team Science and Develop an Interdisciplinary Career
The main challenges to encouraging team science and developing an interdisciplinary career are:
Funding Streams
Finding and Sustaining Collaborations
Bridging Cultural Differences Across Disciplines and Stakeholders
Lack of or Misaligned Incentives
Instructional Infrastructure
Training Paradigms and Mentorship
Action Steps
Develop a knowledge hub of existing resources and best practices, including existing funding, existing networks, etc.
Develop guidance on best practices for developing university infrastructure conducive to interdisciplinary practice (including models for distributing funding, addressing indirects, and challenges of various models of distribution)
Topic oriented interdisciplinary conferences with explicit goal of catalyzing research and building relationships. Consider encouraging specialty conferences to include panels and conversations about interdisciplinary research/training and funding for attendance
Conference to discuss new metrics for PhD Programs to encourage interdisciplinary training. Address the challenge of developing metrics for measuring interdisciplinary science and assessing resources at institutions supporting team science
Conclusion
Following the 2019 Forum, emerging leader attendees are encouraged to submit discussion papers to the NAM Perspectives series on the basis of insights developed at the event. Planning is already under way for the second annual Emerging Leaders Forum, which will take place in April 2020. Emerging leaders, NAM members, and others interested in supporting the forum or the ELHM Program are encouraged to contact Meg McCoy at mmccoy@nas.edu.
Sohail Tavazoie, M.D., Ph.D., Leon Hess Associate Professor and Head, Elizabeth and Vincent Meyer Laboratory of Systems Cancer Biology, The Rockefeller University (Co-Chair)
Claire Wang, M.D., Sc.D., M.S., Vice President for Research, Evaluation and Policy, The New York Academy of Medicine (Co-Chair)
Paul Christopher, Ph.D., Assistant Professor of Psychiatry and Human Behavior, Brown University
Deidra C. Crews, M.D., Sc.M., Associate Professor of Medicine, Division of Nephrology and Associate Vice Chair for Diversity and Inclusion, Department of Medicine, Johns Hopkins University School of Medicine
Adaeze Enekwechi, Ph.D., President, Impaq, LLC
Lori Freedman, Ph.D., Associate Professor, Department of Obstetrics, Gynecology & Reproductive Sciences, the University of California, San Francisco
Christopher Friese, Ph.D., R.N., AOCN, FAAN, Professor, Department of Systems, Populations and Leadership, University of Michigan School of Nursing
Jordan Green, Ph.D., Associate Professor, Johns Hopkins
Marcia Haigis, Ph.D., Associate Professor in the Department of Cell Biology, Harvard University
Sandeep Kishore, M.D., Ph.D., M.Sc., Associate Director, the Arnhold Institute for Global Health, Icahn School of Medicine, Mount Sinai Health
Mark Neuman, M.D., Assistant Professor of Anesthesiology and Critical Care, University of Pennsylvania
Minal Patel, Ph.D., M.P.H., John G. Searle Assistant Professor, Health Behavior & Health Education, University of Michigan
Suchi Saria, M.Sc., Ph.D., John C. Malone Assistant Professor, Department of Computer Science, Johns Hopkins University
Margaret (Gretchen) L. Schwarze, M.D., M.P.P., Associate Professor, Division Vascular of Surgery, University of Wisconsin
Julie Segre, Ph.D., Chief and Senior Investigator, Translational and Functional Genomics Branch, the National Human Genome Research Institute, the National Institutes of Health
Jacob Sherkow, J.D., Associate Professor of Law at the Innovation Center for Law and Technology, New York Law School
Hanni Stoklosa, M.D., M.P.H., Instructor in Emergency Medicine Brigham and Women's Hospital, Harvard Medical School
Jonathan Watanabe, Pharm.D., M.S., Ph.D., BCGP, Associate Professor of Clinical Pharmacy, University of California, San Diego
Joseph C. Wu, M.D., Ph.D., the Simon H. Stertzer, MD Professor of Medicine (Cardiology) and Radiology, and Director, Stanford Cardiovascular Institute, Stanford School of Medicine
Ramnik Xavier, M.D., Ch.B., Chief of Gastroenterology and Director the Center for the Study of Inflammatory Bowel Disease, Massachusetts General Hospital; Kurt Isselbacher Professor of Medicine at Harvard Medical School; Institute Member, Broad Institute