[message_box title="New! Read Our Interviews with the 2016 Member Awardees" color="blue"]
[/message_box]
Today at the National Academy of Medicine's annual meeting, members Lynn R. Goldman, dean and professor of environmental occupation and health at the Milken Institute School of Public Health at the George Washington University; Donna E. Shalala, president of the Clinton Foundation (on leave from University of Miami, where she is trustee professor of political science and health policy); and Mary E. Woolley, president and CEO of Research!America, were honored for their outstanding service.
"Year after year, these exceptional members have demonstrated their dedication to improving health and advancing science," said National Academy of Medicine President Victor J. Dzau.  "Their service to the NAM and the Academies in so many capacities has been invaluable to our work as we continue to address critical challenges in health and medicine."
Goldman received the Walsh McDermott Medal, which is awarded to a member for distinguished service to the National Academies of Sciences, Engineering, and Medicine over an extended period.  Beginning in 1989 when she became a member of the Committee to Evaluate the Hazardous Materials Management Program of the Bureau of Land Management, Goldman has served continuously on numerous diverse committees, forums, boards, roundtables, and a commission.  Goldman has lent her unique expertise in environmental research and policy to activities that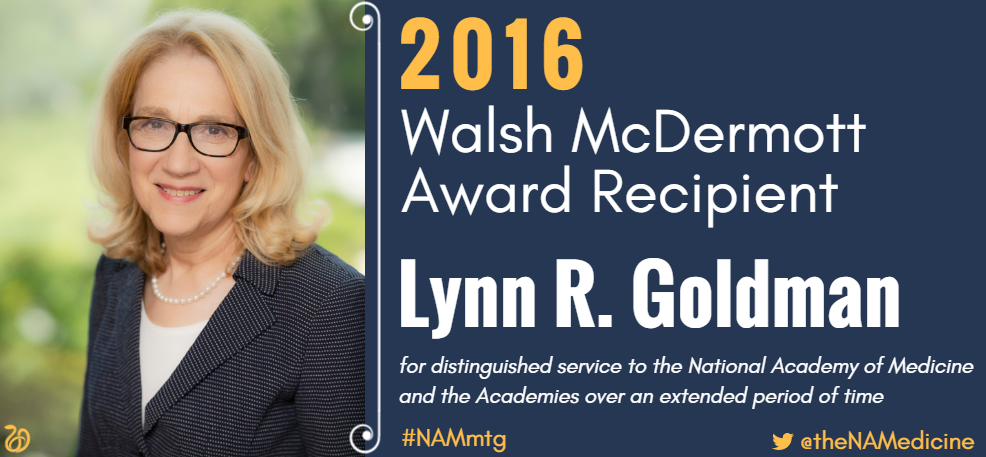 addressed the health of Gulf War veterans, water and wastewater issues, unintended effects of genetically engineered foods, biofuels, climate change, preparedness for catastrophic events, secondhand smoke, shale gas extraction, and the sharing of environmental health data.  In 2016, she is serving concurrently as a member of the NAM Council (and its executive committee), the Governing Board of the National Research Council, and the Report Review Committee.  She is also vice chair of the Roundtable on Environmental Health Sciences, Research, and Medicine and co-chair of the Standing Committee on Medical and Public Health Research During Large-Scale Emergencies.  In addition, she was the lead author for Advancing the Health of Communities and Populations, a "perspective" article that is part of the NAM's Vital Directions initiative. Goldman is an energetic, inclusive, and committed leader who is effective in moving projects forward with creativity and vision. Many NAM members serve on committees and boards, but very few do so at the level reflected in Goldman's record of service. Read our interview with Dr. Goldman by clicking here.
Shalala has been awarded the David Rall Medal, which is given to a member who has demonstrated distinguished leadership as chair of a study committee or other such activity, showing commitment above and beyond the usual responsibilities of the position. Shalala's chairmanship of the Committee on the Robert Wood Johnson Foundation Initiative on the Future of Nursing combined her great insight, respect for science, interpersonal skills, and enormous energy with remarkable instincts for both tactics and strategy. Her leadership role began even before the committee's first meeting, when she insisted that a majority of committee members reflect a variety of perspectives and professional orientations beyond nursing. Shalala guided this diverse an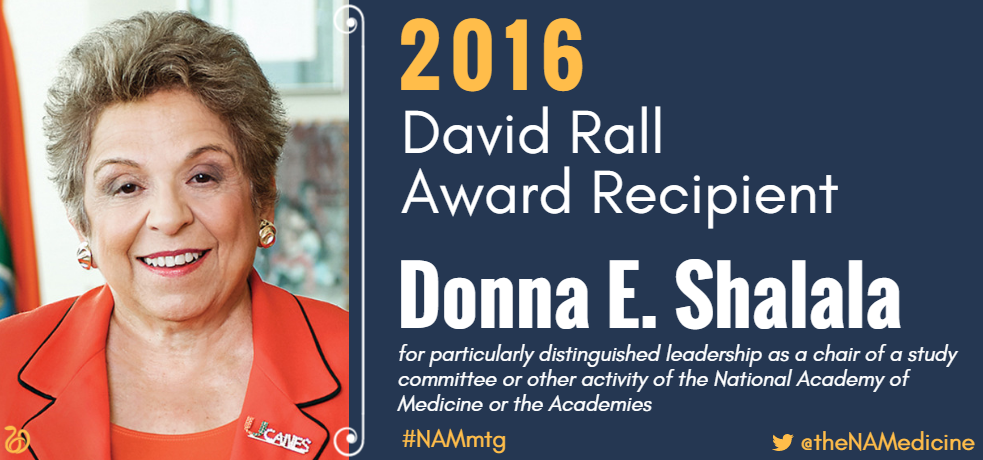 d opinionated committee toward a strong consensus on bold recommendations for immediate, practicable policy solutions that were grounded in defensible evidence and powerful logic.  In a manner characteristic of the extraordinary leadership she has shown in multiple arenas during her career, Shalala fought tough battles that were grounded in evidence. Recognizing the data on nurse practitioners' contributions to health care over the last 40 years and their potential for patient care in the future, she helped make the case for expanding the scope of practice for advanced nurse practitioners.  Additionally, she orchestrated a series of three daylong public hearings that not only helped further inform and educate committee members but also built momentum and a constituency for the committee's forthcoming report.  Shalala's masterful leadership of the committee led to a superb report that forged a movement and is recognized as a game-changer in efforts to expand access to and improve quality of health care and to build a culture of health.  As part of a five-year effort, she continues to communicate about the report and the implementation of its recommendations. Read our interview with Dr. Shalala by clicking here.
Woolley has received the Adam Yarmolinsky Medal, which is awarded to a member from a discipline outside the health and medical sciences who has contributed to the mission of the NAM over a significant period.  Woolley's career has been dedicated to advancing the nation's health as an administrator, educator, and advocate. Early in her career, Woolley was San Francisco project director for the Multiple Risk Factor Intervention Trial, which was then the largest-ever clinical trial funded by the National Institutes of Health.  Since she was elected as a member in 1994,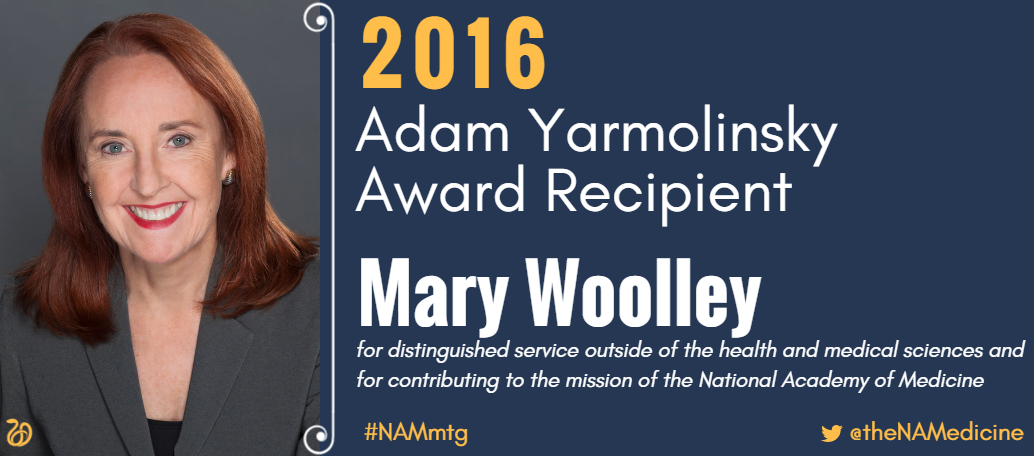 Woolley has served on several roundtables, including as a founding member of the Clinical Research Roundtable and chair of a subcommittee, symposia, and a workshop.  Woolley has also served on the NAM Council and on its Membership Committee as vice chair and section chair.   She has worked with integrity, creativity, skill, and passion to facilitate discussion, discovery, and critical, cross-disciplinary thinking and communication – all aimed at promoting the mission of the NAM and the Academies and supporting medical and health research. Her expertise in the U.S. health and research systems has made her a particularly valuable member of the many committees and boards on which she has served.  In addition to her direct contributions to the NAM and the National Academies as a whole, Woolley has worked on behalf of biomedical science and its appropriate uses and is a leading advocate for biomedical research.  Woolley frequently convenes the leadership of the biomedical community to develop strategies for difficult policy issues. Read our interview with Mary Woolley by clicking here.
For more information on award from the National Academy of Medicine, please click here.