Event
Location: NAS Building2101 Constitution Avenue NW
Washington, DC 20418
Lecture Room
The National Academy of Medicine's Vital Directions for Health and Health Care Initiative has called on more than 150 leading experts across the country to assemble evidence-based strategies for advancing health and health care under the new presidential administration. On March 21, 2017, the NAM will release the conclusive final paper in the Vital Directions series, authored by the initiative's steering committee, which outlines key priorities for action and essential infrastructure needs. Please join us for an interactive discussion that transcends the policy debate and restores needed focus on fundamental principles for advancing health, health care, and scientific progress.
The event will feature remarks from the following members of the steering committee:
Victor J. Dzau, National Academy of Medicine (Co-Chair)
Mark McClellan, Duke-Margolis Health Policy Center (Co-Chair)
Sheila Burke, Harvard Kennedy School
The Honorable Thomas Daschle, Former U.S. Senator
The Honorable Michael O. Leavitt, Former Governor of Utah and Former Secretary of the U.S. Department of Health and Human Services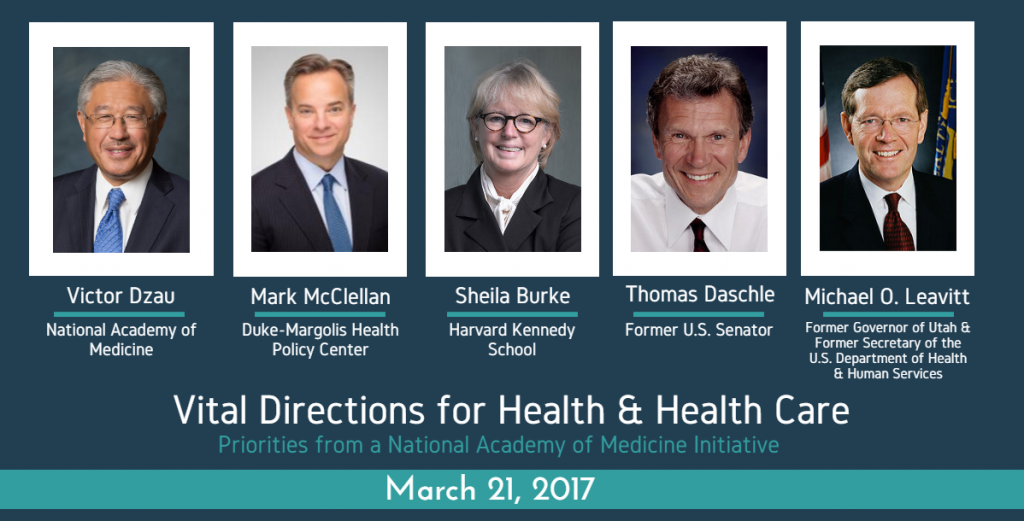 In addition, the event will include a stakeholder discussion panel featuring:
Georges Benjamin, American Public Health Association
Toby Cosgrove, Cleveland Clinic
Deborah DiSanzo, IBM Watson Health
Judy Faulkner, Epic
James Madara, American Medical Association
Sally Okun, PatientsLikeMe
Hemi Tewarson, National Governor's Association
Other panelists to be announced.
A reception will follow the event.
Live video webcast  is available.
Questions? Please email NAMedicine@nas.edu.
The Vital Directions for Health & Health Care initiative is sponsored in part by