Event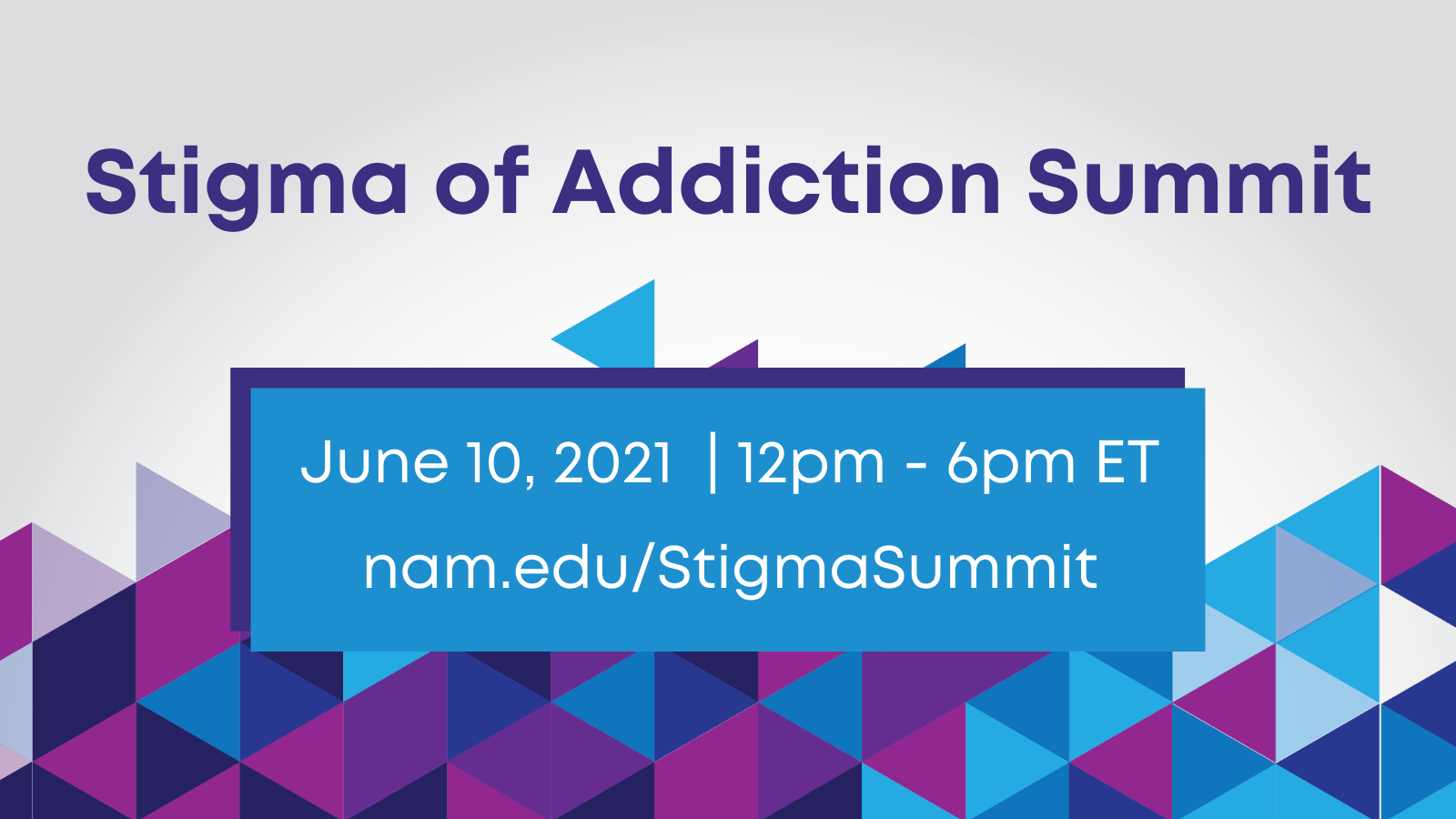 The National Academy of Medicine, Dell Medical School at The University of Texas at Austin, and Shatterproof are pleased to announce the Stigma of Addiction Summit: a half-day, virtual, action-oriented summit entirely dedicated to understanding, addressing, and eliminating the harmful impacts of stigma on people who use drugs. The goal of the Summit is to elevate current efforts at reducing stigma, identify successes and gaps in the evidence base, and prioritize and identify areas for future research and funding with an explicit focus on stigma, which is often touched upon only marginally in broader conversations about addiction. The Summit will be an active and forward-looking sharing of ideas and actions to advance how stigma is addressed and reduced as those with addiction seek and obtain treatment, and will be focused on reaching all stakeholders of the U.S. health ecosystem, including those in clinical service delivery, health system stakeholders, universities and academia, public health organizations, and professional member organizations.
The Stigma of Addiction Summit has been organized by an interprofessional and interdisciplinary planning committee of people in recovery, clinicians, health profession educators, addiction medicine professionals, government stakeholders, and health professional organizations. 
The Stigma of Addiction Summit is free to attend and will be recorded for viewing after the event ends. 
Summit Agenda
Presenters are being finalized – this agenda will be updated in the coming weeks.
12:00pm ET  |  Welcome and Overview of the Day
12:05pm ET  |  Opening Keynote
12:50pm ET  |  Transition to Concurrent Sessions and Logistics Overview
1:00pm ET  |  Concurrent Sessions (choose one to attend)
Session 1.1 – Stigma of Drug Use, Treatment, and Harm Reduction
Session 1.2 – Stigma in the Healthcare Setting
Session 1.3 – Structural Stigma and How Systems Discriminate and Intersect
2:15pm  ET  |  Break
2:45pm ET  |  Concurrent Sessions (choose one to attend)
Session 2.1 – The Role of Advocates and Families
Session 2.2 – How to Intervene or Change Behavior in Real Time
Session 2.3 – Research, Evidence, and Mechanisms for Action
4:00pm ET  |  Innovation Session Video Presentation
4:30pm ET  |  Closing Keynote
5:30pm ET  |  Adjourn
*subject to change*
Call for Innovation Abstracts
The Stigma of Addiction Summit planning committee is pleased to invite individuals, teams, and organizations to submit abstracts showcasing programs, initiatives, strategies, research, courses, products, or solutions about reducing stigma of people who use drugs. Abstracts should be focused on stigmatization within the broader health ecosystem and appeal to one of the following groups: those in clinical service and care delivery, recovery organizations, treatment centers, health system stakeholders, universities and academia, public health organizations, payers, state licensing boards, harm reduction organizations, professional societies, and people with lived experience.
These Innovation Abstracts are intended to help promote promising initiatives that may not yet have received funding or been taken up widely, and also to promote a broader network among those who are working to reduce stigma of people who use drugs. Part of the submission process includes the submission of a contact name, phone number, and email address that will be shared publicly along with the Innovation Abstract.
Submission Process
Abstracts of no more than 4,500 characters, including spaces and punctuation, are due by April 23, 2021 and may be submitted here: https://www.surveymonkey.com/r/stigmasummit. Abstracts will be evaluated based on quality, originality, usefulness, broad applicability, and overall presentation. Accepted abstracts will be grouped into categories to be determined by the reviewers. All accepted abstracts will be published in a Summit compendium and made available to download and read for free in a digital format. Selected authors will be asked to share their work in a brief pre-recorded video (no more than 5 minutes) that will be featured on the Summit YouTube channel. One video per category will be selected as the "top category submission" and shown live during the Summit. Individuals who submitted the "top category submissions" may be invited to participate in a virtual Q&A session following the presentation of their video at the Summit.
Submission Guidelines
The abstract should begin with a title and then list the following questions, in the order presented below, with typed responses as shown on the submission page. Remember, the purpose of this program is to showcase innovations and approaches to reducing stigma of substance use disorders:

What is your project or initiative?
Why did you develop this?
Who is the target audience?
Is this based on established work, or does it draw from other existing work?
How does your project or initiative work?
What are the results? If results are not yet available, what results do you hope to achieve?

As these abstracts will be shared publicly and available for free, do not submit any pre-publication or otherwise confidential information or data.
The Summit committee is dedicated to diversity in the broadest sense possible and highly encourages submissions that reflect diversity in authorship and content.
Abstract must be no longer than 4,500 characters total including spaces and punctuation.
Submit text only (Do not submit graphics, tables, figures, or any information other than text.)
Unfortunately, late submissions will not be accepted.
Planning Committee Members
Victoria Bosman, MS (she/her/hers), Policy Fellow, Pennsylvania Department of Drug and Alcohol Programs

Cheyenne Johnson, RN, MPH, CCRP, Interim Executive Director, BC Centre on Substance Use 

John F. Kelly, PhD, Elizabeth R. Spallin Professor of Psychiatry, Harvard Medical School, Director, MGH Recovery Research Institute

Mike Marshall, (he/him/his), Co-founder & Executive Director, Oregon Recovers

Elena Mendez-Escobar, PhD, Executive Director of Strategy, Boston Medical Center

Joy Rucker, Consultant, Founder, Texas Harm Reduction Alliance

Margot Savoy, MD, MPH, FAAFP, FABC, CPE, CMQ, FAAPL, Chair, Department of Family & Community Medicine, Lewis Katz School of Medicine at Temple University & Temple University Health System, Associate Professor, Family & Community Medicine and Center for Urban Bioethics, Chief Quality Officer, Temple Faculty Physicians, Inc., Program Director, Temple University Hospital Family Medicine Residency Program

Eri Solomon (they/them/theirs), Ambassador, Shatterproof