Event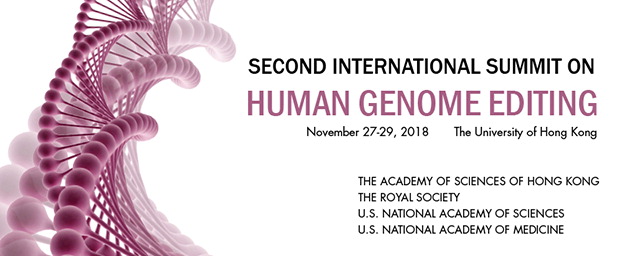 President of the National Academy of Medicine Victor J. Dzau will join Marcia McNutt, president of the National Academy of Sciences, Lap-Chee Tsui, president of the Academy of Sciences of Hong Kong, and Venkatraman Ramakrishnan, president of the Royal Society of London for the Second International Summit on Human Genome Editing. The summit will take place on November 27-29, 2018, at the University of Hong Kong. Registration for in-person attendance is now closed. Registration for attendance via live webcast is still available.
About the summit, Lap-Chee Tsui writes:
"Since the first international summit was held in 2015 in Washington, D.C., research on human genome editing has continued to advance rapidly. However, many questions remain about the science, application, ethics, and governance of human genome editing. Of particular concern is the possibility of heritable genome editing, which would alter the human germline, and applications for purposes other than to treat disease or disability.
The Second International Summit on Human Genome Editing will continue to advance the global dialogue on these issues by bringing together a broad range of stakeholders — including researchers, ethicists, policymakers, patient groups, and representatives from science and medical academies and organizations worldwide — to explore topics including: 1) potential benefits and risks inherent in conducting genome editing research and in considering clinical applications; 2) ethical and cultural perspectives; 3) legal, regulatory, and policy considerations; and 4) public outreach and engagement."
For additional information, please refer to these links: