About this Event

Join the National Academy of Medicine (NAM) on June 12 as it hosts the second webinar in its Culture of Health Program Webinar Series.
Date/Time: June 12, 2019, 3:00-4:30pm EST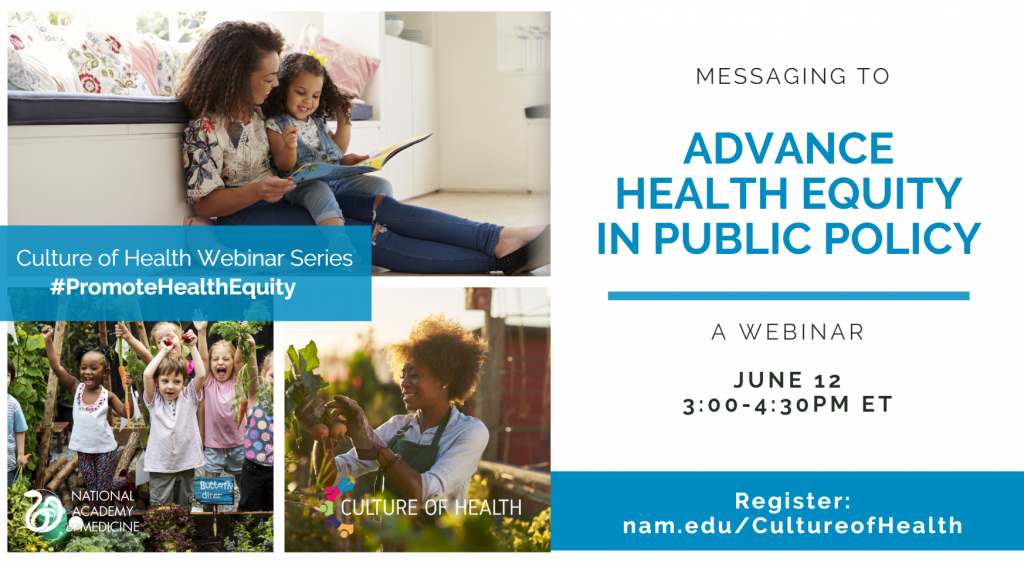 The National Academies report Communities in Action: Pathways to Health Equity concluded that health equity is crucial and health inequity is costly. Communities across the country are deploying action strategies to reduce health inequities. However, it can be challenging to effectively communicate and message the value of health equity and ongoing efforts to diverse stakeholders.
Voices for Healthy Kids, a joint initiative of the Robert Wood Johnson Foundation and the American Heart Association, developed a messaging guide that provides custom-built messages and insights for policy advocates to further the advancement of health equity. This guide provides an overview of shared values and the need to harness these values in mobilizing decision makers to take action.
Join the NAM for a webinar where experts provide research-based tips and techniques for advancing health equity in public policy. A case study will illustrate how value-based messaging has proven effective in creating common ground while unifying communities and decision makers to create needed change. A community representative from WE ACT for Environmental Justice in Harlem, NY will provide reactions to the webinar presentations. 
---
Webinar Objectives
Highlight successful strategies for messaging and communicating health equity in public policy.

Provide an example of a successful communications campaign that effectively utilized evidence-based strategies to engage key stakeholders to advance health equity in public policy.

Identify current research gaps around effective messaging and communication for health equity. 
Audience Q&A will give webinar attendees the opportunity to engage with the webinar speakers.
Webinar speakers include:
John Dreyzehner, Commissioner, Tennessee Department of Health
Jennifer Messenger Heilbronner, Executive Vice President, Metropolitan Group
Ben Schmauss, Government Relations Director for Nevada, American Heart Association
Lubna Ahmed, Director of Environmental Health, WE ACT for Environmental Justice
The webinar is open to the public and will be hosted on Zoom. Please register on this page. Webinar login information will be sent to you prior to the webinar. If is it not sent to you, please access the webinar through the following link: 
https://nasem.zoom.us/j/188013205 OR by phone at +1-646-558-8656. 
Each webinar will be archived and materials will be posted on the Culture of Health Program webpage following the event.
 Questions? Please email Mariana Zindel at MZindel@nas.edu
---
Related Resources from the National Academies
---