---
Report Release Webinars
Report Release – Integrating Social Care into the Delivery of Health Care: Moving Upstream to Improve the Nation's Health | September 25, 2019
How can health systems and care providers better address the social needs of patients and the social determinants of health?This report release webinar will include an overview of the report and discussion of the report's findings, conclusions, recommendations, and key messages. View the event page >>
Report Release – Vibrant and Healthy Kids: Aligning Science, Practice, and Policy to Advance Health Equity | July 25, 2019
This report release webinar included an overview of the new National Academies report and discussion of the report's findings, conclusions, recommendations, and key messages. The report applies neurobiological and socio-behavioral sciences to identify needed policy actions, program development, practice changes, systems reform, and research priorities to advance health equity. The full report can be found here. View the event page >>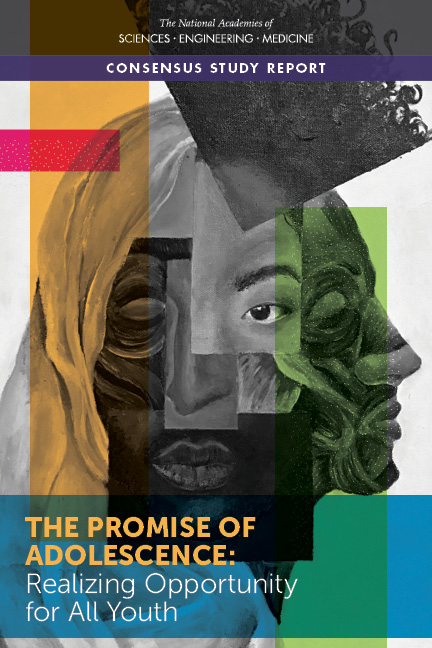 Report Release – The Promise of Adolescence: Realizing Opportunity for All Youth | May 16, 2019
The NAM hosted a public webinar about the new National Academies' report The Promise of Adolescence: Realizing Opportunity for All Youth. The webinar included an overview of the study process and a discussion of the report's conclusions, recommendations, and key messages. The full report can be found here. View the event page >>
Report Release – Communities in Action: Pathways to Health Equity | January 11, 2017
What are the roots of health inequities in the United States? What are some promising solutions communities can use to advance health equity? On January 11, 2017, the National Academies of Sciences, Engineering, and Medicine released its report on Community-Based Solutions to Promote Health Equity in a live event in Washington, DC. The full report can be found here. View the release webinar >>
---
Report Launch Event

The Promise of Adolescence: Realizing Opportunity for All Youth | August 1, 2019
In this report launch, participants will come together with the report's authors to explore how the emerging understanding of adolescent brains and behavior can be applied to systems and society to better serve youth in this exciting developmental stage. Participants can join in person in Washington, DC or remotely via webcast. The full report can be found here. View the event page >>
---
National Stakeholder Meetings
Engaging Allies in the Culture of Health Movement: Stakeholder Meeting #5
October 28, 2019 | Washington, DC On October 28, 2019, the NAM will host the fifth meeting of its ongoing Culture of Health program. The meeting will focus on messaging health equity and the social determinants of health to build a culture of health in the United States. The agenda will be posted shortly. Meeting page
Engaging Allies in the Culture of Health Movement: Stakeholder Meeting #4
March 12, 2019 | Washington, DC On March 12, 2019, the NAM hosted the fourth meeting of its ongoing Culture of Health program to explore the catalytic role of anchor institutions in addressing the social determinants of health and improving health equity in communities across the nation. Participants included senior leaders from universities, hospitals, major employers, and other anchor institutions. Meeting Key Takeaways | Agenda | Meeting page
Engaging Allies in the Culture of Health Movement: Stakeholder Meeting #3
August 8, 2018 | Washington, DC On August 8, 2018, the National Academy of Medicine hosted the third meeting of its ongoing Culture of Health program to engage allies in the Culture of Health movement. Objectives of this meeting were to provide and discuss concrete examples of the successes and challenges in creating programs and policies at the community level, determine which elements and resources would be most beneficial to support communities in advancing their health equity and/or social determinants of health agendas through the use of a digital hub, and to identify strategies to message community efforts and health equity to diverse audiences including local and national funders.  Meeting Key Takeaways | Agenda | Meeting page
Engaging Allies in the Culture of Health Movement: Stakeholder Meeting #2
November 9, 2017 | Washington, DC  The NAM hosted its second public stakeholder meeting for its Culture of Health program November 9, 2017 in Washington, DC. This meeting highlighted recent social movement that have resulted in positive change and offered insights from communities working to build health equity at the local level. The meeting was followed by an evening reception and art gallery where submissions from our nationwide community art project, Visual Health Equity, were on display.   Meeting Summary | Meeting Videos | Agenda | Meeting Page
Engaging Allies in the Culture of Health Movement: Stakeholder Meeting #1
January 25, 2017 | Washington, DC  On January 25, 2017, the National Academy of Medicine (NAM), in partnership with the Robert Wood Johnson Foundation (RWJF), convened its first stakeholder meeting of its Culture of Health Program, entitled Engaging Allies in the Culture of Health Movement. The Culture of Health Program is a multiyear collaborative effort funded by RWJF with the goal of building a nationwide movement to attain greater health equity in the United States. This one-day stakeholder meeting was held two weeks after the release of the National Academies' consensus report Communities in Action: Pathways to Health Equity, and speakers and participants echoed the study's recommendations and emphasized the important role of health equity to various aspects of our society. The meeting encouraged participants to engage in cross-sector dialogue and focus on maximizing opportunities for all Americans to reach their full health potential.  Meeting Summary | Meeting Videos | Agenda | Meeting Page
---
Webinar Series
The Culture of Health Webinar Series will be held over the next year to provide exemplars and resources to help build the capacity of communities to advance a culture of health. The series will host experts working across national, state, and local levels to highlight and share tools and tactics that communities can leverage  to advance health equity.
Webinar 2 – Messaging to Advance Health Equity in Public Policy June 12, 2019 | 3-4:30pm ET
The NAM hosted a 1.5-hour webinar where experts provide research-based tips and techniques for advancing health equity in public policy. A case study illustrated how value-based messaging has proven effective in creating common ground while unifying communities and decision makers to create needed change. Event page >>
Webinar 1 – Defining and Unpacking the Social Determinants of Health and Health Equity November 29, 2018 | 4-5pm ET
The NAM hosted a one hour webinar where field leaders explored the meanings of both social determinants of health and health equity and what it means to apply these terms to enact change in the real world. Webinar recording | Additional resources
---
Meetings of Ongoing Consensus Studies
Click here to view committee meetings of ongoing consensus studies.