Community Health Heroes
An Interview with Colin and Karen Archipley

August 2017
Colin Archipley and Karen Archipley are co-founders of Archi's Acres, a California Benefit Corporation that uses hydro-organic technology to grow certified organic produce, including basil, kale, and herbs. The company uses highly efficient methods that maximize available natural resources, while focusing on local sales distribution channels. Archi's Acres also provides an entrepreneurial incubator program, Archi's Institute for Sustainable Agricultural Training, offering education opportunities for the community, which includes many military service members and veterans.
Photo cred: Archi's Acres
What led you to start Archi's Acres?
Colin: Archi's Acres is a small farm located outside of San Diego that we started in 2006 when I was leaving the military. Karen had been working in real estate, and I planned on doing something similar, but we already had this property and really enjoyed the lifestyle of working with the few hundred avocado trees we owned.
Karen: Back when Colin was on his third tour in Iraq, we got our first water bill for the avocado trees. We were expecting it to be $50 and it turned out to be $850. That's what led us to come up with the idea of using hydroponics, a method for growing plants without using soil, to save this farm.
Colin: After we started down that rabbit hole, it turned into a career.
Why did you think the training program was necessary?
Karen: When Colin came home in April 2006, he embraced the farm, and we started working on our organic certifications. We soon heard that a lot of the people Colin had served with were considering reenlisting because they couldn't find employment that would pay them as well as the military. That's when Colin and I came up with the idea for a training program so other veterans could learn to farm, and use that training to feed themselves and their families. Active duty members can even take our course before they leave the military. We weren't sure military members would embrace it, but they did.
What results have you seen for your graduates so far?
Karen: We've seen a lot of our graduates go on to build their own businesses. One of our graduates, Jason Smith, lives in Alaska and has been in the New York Times several times with his hydroponic- organic farm, Alaska Natural Organics. He's feeding his local community in a place where they only fly in food, which is very exciting. We have alumni that have gone on to become farmers and open restaurants. We maintain strong relationships with alumni through our website, which always offers different employment or land opportunities and general information that can help alumni to build their businesses.
We know there are ways to have a positive impact on health outside of health care settings. Have you seen workforce training affect your students' overall health and well-being?
Karen: We had one student, Frank, who hadn't left his house in five years. At the time, he felt like he was a burden to his family and was dragging them down. He was in the process of separating from his wife, and later told me that he had been thinking of taking his life. That's not unusual around here. He came to our program and initially struggled. When he did his very first business plan presentation, they couldn't even hear him in the back of the room. By the time he finished the program, he was no longer that stiff, shy guy. He's back with his wife and has a great relationship with his daughter. I'm not saying this program did it alone, but somewhere along the way, he was able to develop what he needed to persevere.
A lot of our students didn't know what to do for employment, then went through the program and now have healthy lives. We've had triple amputees take our program and do quite well. It's also naturally therapeutic to be a grower. We're not a therapy program and do not have counselors onsite. The health impact we have is through helping students gain employment by training them to build a business concept through a business plan, leading them to meaningful employment in their communities.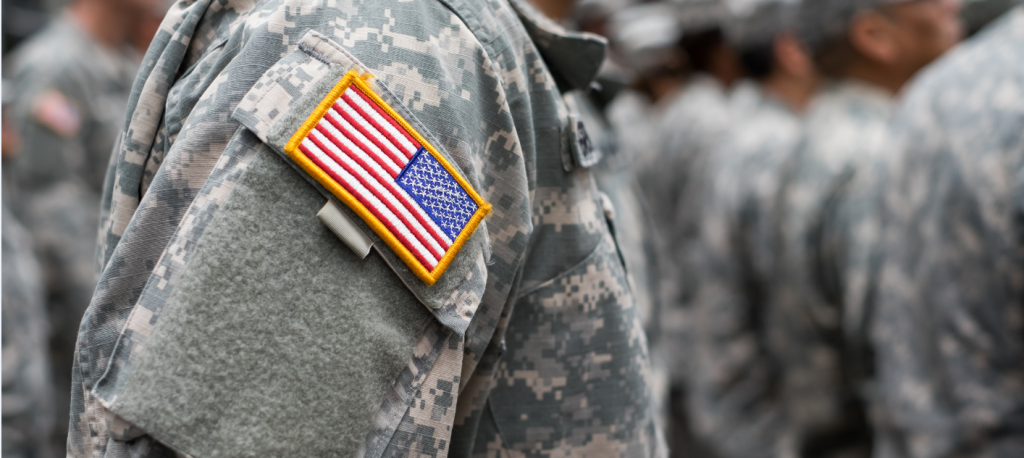 What needs are you meeting for your local veteran community? Why do you think that it's important to, as you put it, give them a "hand up and not a handout?"
Colin: In the military, you lead a different lifestyle compared to that of a civilian – one that could allow you to deploy for the next six months within a few days' notice. You're separated from the general public.
Then, you get disengaged from that way of life when you leave the military, and there's not always reengagement with another community after that. Some get support through organizations like Veterans of Foreign Wars or by volunteering. Other veterans go to school and that leads to a career path. Our path to reengagement was to create this business.
Karen: Any transitioning person needs meaningful employment. From what we've seen, they don't want to have someone feel sorry for them or give them a handout. They want to be able to afford things themselves. That's what we wanted to help them do – have a decompressive lifestyle and an opportunity to earn as much as or little as they want.
Colin: We created a platform that challenges students to become better. When people are challenged and they rise to face it, they enjoy a feeling of accomplishment. We want to make sure our students understand what that feels like so they can go on to meet the next challenge, which we hope is to start that farm, go back to school, or get placed in a job and experience that success.
Besides helping your students and alumni, you're also having an impact on the local community. How do you think a successful for-profit business can benefit the community, and how does your business do this?
Colin: Most small businesses have substantial impacts on the community, one of which is creating jobs. In agricultural business, there's also a huge push for more locally grown and more sustainably grown products, so we try to incorporate the most efficient crop production techniques while creating a locally recognized brand that responds to what our community wants.
All businesses extract value. But there is a way a business can both extract value and add value. Our impact is multiplied through the training program. Many of our students are staying here and creating new farms that have their own economic impact.
Karen: The impact also reaches across the U.S. We have alumni who have moved around the country and we teach them to feed the local market rather than ship across the country or around the world. Our mission is to reinvigorate the family organic farm throughout America.
What are your future goals for Archi's Acres and your training program?
Colin: We're currently building out additional greenhouse space. This will help us prove our model, which is to build small greenhouse farms throughout the U.S. that our graduates can operate. Our hope is for them to have the opportunity and desire to refinance those greenhouses after 5 years. But they can also stay employed if that is a better route for them.
We're also continuing to spread the word about our training program, which is run in partnership with California State Polytechnic University, Pomona. There are a handful of certificates and 17 academic credits that students receive when they complete the program. The Farm Service Agency allows our alumni to become certified borrowers, which means they've completed their certification requirements to access their loans. I want to work with additional universities in the future to train more veterans and expose them to a different lifestyle and great career choices.
What part of your job do you enjoy the most?
Karen: I love the activism. I like standing up for our rights as organic farmers, identifying what small farmers need, and getting involved with groups that can help. I sit on several boards as Archi's Acres, which is an honor, and try to be the voice for small farmers.
I also want organic food to be more affordable, so that people in the U.S. can feed their kids organic food without worrying that they can't pay their bills because of it.
Colin: The freedom that this lifestyle affords us is what I enjoy the most. A lot of responsibility comes with the farm and the business, and plants don't take days off. But we live 18 miles from the coast and certain times of the year we can see the ocean while looking west and snow covered mountains while looking east. I hang out with my wife, dog, and cat all day. It's day-in, day-out work seven days a week, but there's nothing I'd rather be doing. 
                  Photo cred: Glen Robertson