The winners of the sixth annual D.C. Public Health Case Challenge were announced at this year's National Academy of Medicine (NAM) Annual Meeting.  The challenge aims to promote interdisciplinary, problem-based learning around a public health issue of importance to the Washington, D.C. community.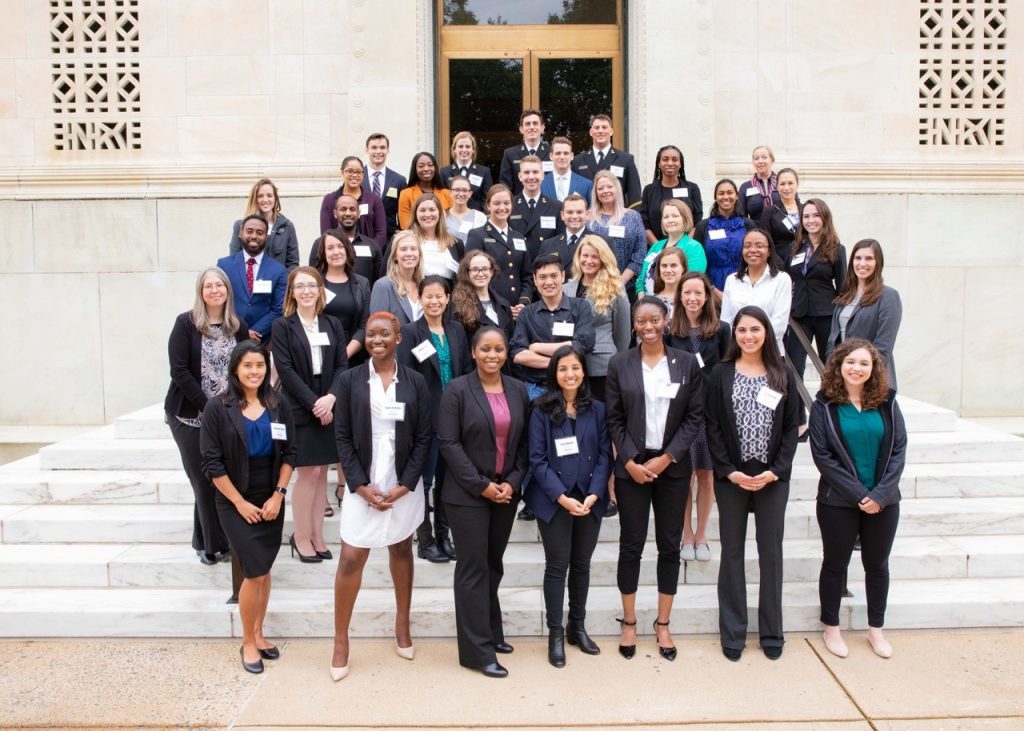 The challenge topic was "Reducing Disparities in Cancer and Chronic Disease: Preventing Tobacco Use in African American Adolescents." The teams from D.C.-area universities- each composed of four to six members from at least three disciplines- were given two weeks to develop a solution to this complex problem with a hypothetical $2.5 million budget to be used during a five-year span. The teams presented their solutions to a panel of expert judges, and teams were evaluated on the interdisciplinary nature of their response, feasibility of implementation, creativity, and practicality.
The 2018 Grand Prize winner was the team from the University of Maryland, Baltimore. Team members Jennifer Breau, McMillan Ching, Dominique Earland, Chigoziem Oguh, Erin Teigen, and Adrienne Thomas proposed a solution titled "D.C. Health Passport Project." The team described a multilevel intervention with a community-based participatory research approach, along with arts and sports programming for youth in D.C.'s Wards 7 and 8.
Three additional prizes were awarded:
Practicality Prize: The George Washington University team's Project ART PAC (Adolescents Resisting Tobacco and Partnering Alongside Communities) proposed a multifaceted intervention that would provide a continuum of support for young people from middle school through young adulthood, using arts education and integration with the existing D.C. Youth Prevention Leadership Corps. (Team members: Melissa Aune, Harriet Fox, An Harmanli, Angelica Jones, and Anastasia Kanakaris)
Harrison C. Spencer Interprofessional Prize: The Uniformed Services University team's Community Empowerment and Advocacy for Smoke-Free Environments (CEASE) described a deep engagement framework spanning a school-based intervention, a community-based component, a media campaign, and policy advocacy. (Team members: Shawna Grover, Breda Jenkins, Guzal Khayrullina, Vidya Lala, Michelle Mandeville, and Tonya Spencer)
Wildcard Prize: The U.S. Naval Academy team's RiseDC solution included a mentorship program involving middle- and high-school students, an SMS smoking cessation intervention for pregnant and postpartum mothers, and mobile and social media components. (Team members: Eric Cal, Garrett Forrester, George Gilliam, Paige Miles, Alex Murray, and Kayla Olsen)
The 2018 panel of judges was comprised of:
Philip M. Alberti, senior director of health equity research and policy, Association of American Medical Colleges; and member, National Academies Roundtable on Population Health Improvement
Otis W. Brawley, chief medical and scientific officer, American Cancer Society; NAM member; and ex-officio member, National Academies National Cancer Policy Forum
Meg Riordan, director for policy research, Campaign for Tobacco-Free Kids
Roland J. Thorpe, associate professor of health, behavior, and society, Johns Hopkins Bloomberg School of Public Health; and director, Program for Research on Men's Health, Hopkins Center for Health Disparities Solutions
Richard W. Valachovic, president and CEO, American Dental Education Association; and member, National Academies Global Forum on Innovation in Health Professional Education [space height="10″]
The D.C. Public Health Case Challenge is co-sponsored by the NAM's Kellogg Health of the Public Fund and the National Academies of Sciences, Engineering, and Medicine's Roundtable on Population Health Improvement, with support from the Global Forum on Innovation in Health Professional Education.