Support the National Academy of Medicine
Invest in the future of health. Your Gift Matters.
Thank You for Participating in Giving Tuesday!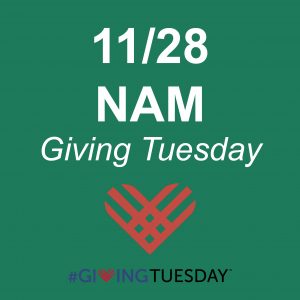 On November 28th, the NAM participated in its fourth annual Giving Tuesday, a global day of giving that celebrates philanthropy.
We'd like to thank all members and friends who generously and collectively contributed nearly $30,000, and thanks to a generous $25,000 matching challenge from Ronald D. Miller ('98) these gifts will have double the impact. These essential flexible funds truly make a difference in our ability to lead, inspire, innovate, and impact the future of health and healthcare. We are fortunate to have exceptional members and friends who contribute their service and support to helping the NAM fulfill its mission.
Thank you again for making this special day of giving and gratitude so meaningful!
---
A Stock Gift Could Be a Great Option for You!
Donating appreciated securities could be a great option for you, especially since markets are reaching new highs. Stock gifts help the NAE advance the engineering profession while saving you capital gains tax and giving you a tax deduction for the full fair market value of your shares. Stock gifts are easy; just give these instructions to your broker.
---
2017 NAM Fall Appeal 
The 2017 NAM Annual Fund fall appeal letter was sent on October 17th. Read the full letter from NAM President Dr. Victor J. Dzau, M.D. here.
---
Donor Spotlight
Bobbie A. Berkowitz, Ph.D., R.N., has never wavered in her commitment to the National Acacemy of Medicine, even before she was elected in 2001. An active member from the start, she most recently serves on the National Academies' Report Review Committee. To read more about Dr. Berkowitz' longstanding dedication to the NAM, follow the link to our Donor Spotlight page.
---
The National Academy of Medicine's (NAM) groundbreaking programs and initiatives are founded on the principles of leadership, innovation, and impact. Through the unparalleled expertise of our membership, our commitment to bold and cross-cutting solutions, and our power to unite stakeholders around urgent priorities, the NAM sets the agenda for global progress in health and health care.
As an independent, nonprofit organization, the NAM relies on philanthropic dollars to fund its work. For example, donations to the NAM support:
Secure online gifts are the fastest way to make a gift, but there are more options to give, read here.
Gifts to the NAM may be unrestricted or designated to support specific goals within the organization. Read more about the programs and initiatives your gift supports.
Learn about the benefits of membership in one of the NAM's philanthropic societies.
---
For more information, or to make a gift, contact Julie Ische, Director of Development, at jische@nas.edu or 202-334-3031.