The National Academy of Medicine (NAM) and Robert Wood Johnson Foundation (RWJF) today named the 2017-2018 class of RWJF Health Policy Fellows.  Beginning in September, six health professionals will spend a year in Washington, D.C., working on health-related legislative and regulatory issues with members of Congress and the executive branch.  They will also engage in seminars and discussions on health policy and participate in leadership development programs.
The fellows were chosen in a national competition for highly accomplished health, behavioral, and social science professionals who have an interest in health policy.  Their experiences in Washington will enrich their understanding of federal policy formation and how federal and state governments relate to the mission of their home institutions and local communities.  The fellowship program will commence with an intensive three-month orientation, followed by a nine-month assignment in a congressional office or the executive branch, where the fellows will be involved in health-related legislation and programs.  After their Washington assignment, the fellows will continue to receive support to sustain their development as health policy leaders.
"This new class of exceptional health policy fellows will be participating in the deliberations over some of the most challenging and critical health and health care issues of our times," said Marie Michnich, director of the RWJF Health Policy Fellows Program at NAM.  "They bring their expertise and commitment to excellence as they engage in service at the highest levels of federal health policy formation."
The 2017-2018 fellows are:
Carrie Colla, Ph.D., associate professor, The Dartmouth Institute for Health Policy and Clinical Practice, Geisel School of Medicine at Dartmouth, Lebanon, N.H.
Robin Fleming, Ph.D., M.N., affiliate assistant professor, department of child and family nursing, School of Nursing, University of Washington, Seattle
Caprice Knapp, Ph.D., associate professor, department of health policy and administration, Pennsylvania State University, University Park
Allison Myers, Ph.D., M.P.H., executive director, Counter Tools, Carrboro, NC
Karin Rhodes, M.D., M.S., vice president for care management design & evaluation, Office of Population Health Management, Northwell Health; and professor of emergency medicine and psychiatry, Hofstra Northwell School of Medicine, Manhasset, N.Y.
Reginald Tucker-Seeley, Sc.D., assistant professor, Leonard Davis School of Gerontology, University of Southern California, Los Angeles[space height="15″]
The RWJF Health Policy Fellows program is one of the nation's most prestigious learning experience at the nexus of health, science, and policy.  Since 1973, this non-partisan fellowship has offered exclusive, hands-on policy experience with the most influential congressional and executive offices in Washington, D.C.  More than 260 fellows have worked hand-in-hand with the best and brightest in federal health policy to gain an insider's perspective of the political process, develop unmatched leadership skills, and build a professional network that lasts a lifetime.  As chancellors and deans at major academic institutions; presidents of professional societies and voluntary health organizations; leaders in local, state and federal government; and experts at think tanks and advocacy groups, fellows transform the nation's health care policy and practice.  For more information, visit www.healthpolicyfellows.org.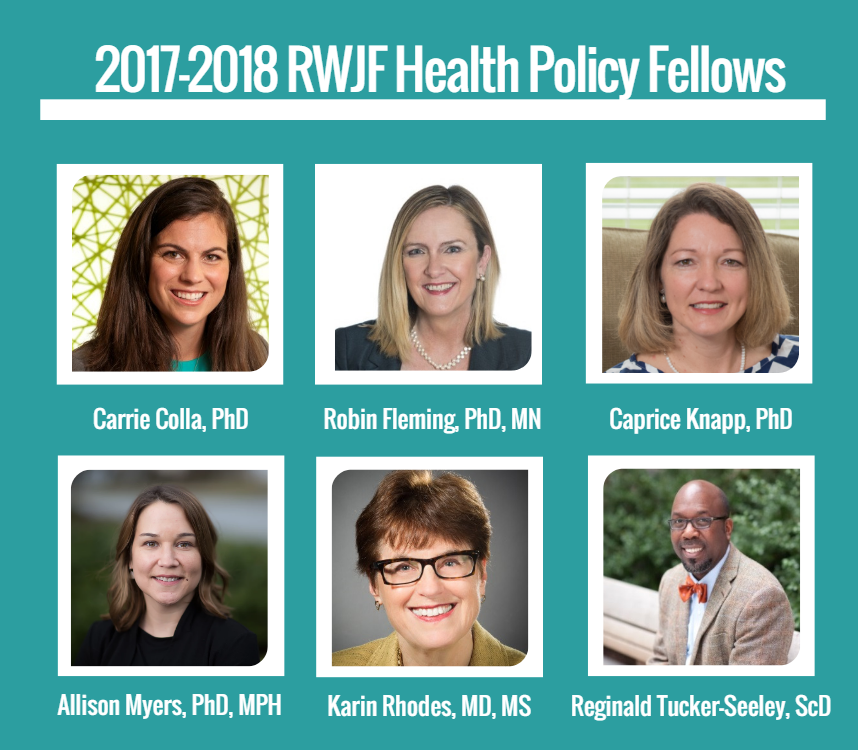 For more than 40 years the Robert Wood Johnson Foundation has worked to improve health and health care, and is working with others to build a national "Culture of Health" enabling everyone in America to live longer, healthier lives.  Follow the Foundation on Twitter at www.rwjf.org/twitter or on Facebook at www.rwjf.org/facebook.
The National Academy of Medicine, established in 1970 as the Institute of Medicine, is an independent organization of eminent professionals from diverse fields including health and medicine; the natural, social, and behavioral sciences; and beyond. It serves alongside the National Academy of Sciences and the National Academy of Engineering as an adviser to the nation and the international community. Through its domestic and global initiatives, the NAM works to address critical issues in health, medicine, and related policy and inspire positive action across sectors. The NAM collaborates closely with its peer academies and other divisions within the www.nationalacademies.org.