The National Academy of Medicine's Leadership Consortium for a Value & Science-Driven Health System provides a trusted venue for national leaders in health and health care to work cooperatively toward their common commitment to effective, innovative care that consistently adds value to patients and society. Consortium Members are leaders from core stakeholder communities brought together by their common commitment to steward the advances in science, value and culture necessary for a health system that continuously learns and improves in fostering healthier people.
"A learning health care system is one in which science, informatics, incentives, and culture are aligned for continuous improvement and innovation, with best practices seamlessly embedded in the care process, patients and families active participants in all elements, and new knowledge captured as an integral by-product of the care experience."
NAM Leadership Consortium Charter, 2006
Innovation Collaboratives
Advancing health and health care through cooperative projects
Innovation Collaboratives engage key stakeholders with similar interests and field responsibilities in cooperative activities to advance science and value in health and health care. These ad hoc convening activities  aim to foster sector information sharing and cooperation in accelerating the evolution of a continuously learning health system, and progress on findings highlighted in prior Academies reports of mutual priority. Innovation Collaboratives currently support activities in four overlapping and complementary areas:
Health and communications professionals working collaboratively on providing science-driven health care and communicating effectively about best practices.
Innovative research scientists and institutions—public, private and academic—working to improve research methods, identify priorities, and stimulate innovation.
Care delivery and health information technology organizations using digital tools to accelerate the effectiveness and efficiency of care, and the real-time development of new knowledge.
Medical, health care, health financing, IT and engineering organizations working to design, develop, test, and evaluate innovative, systems-based approaches to rewarding value and improving care.
Learn more
Participation
Employing an inclusive, "collaborative without walls" approach—balanced with practicality around individual projects—these convening activities bring together stakeholders with mutual interests to harness their substantial talent and expertise in the identification and development of cooperative efforts most practical and strategic to field advancement.
Activities
Projects of the Innovation Collaboratives are participant identified, driven, and supported, with facilitation by Consortium staff. They vary in structure and content to meet the needs of specific issues and challenges. Some focus on identifying issues of common interest and marshaling needed leadership, expertise and resources; others aim at cooperative development of tools needed for progress; and others seek to highlight strategies, through individually authored literature summaries, technical discussions, and cooperative issue reviews. Certain activities lead to proposals for formal workshops and studies for consideration by the NAM and the Academies.
Approach
Consortium activities are both informational and project focused. Projects are participant generated and supported, NAM-staff facilitated, and participant executed and "owned." Products are ascribed to the engaged individuals. They are not products of the NAM or the Academies. Endorsement and use is at the discretion of individual organizations.
Networks
Patient and Family Leadership Network
The Patient & Family Leadership Network (PFLN) supports ongoing communication, collaboration, and synergy among patient and family thought leaders to advance their equal and full engagement across the healthcare continuum: as equal and effective partners in care decisions, at the community and organizational level through continuous improvement initiatives, and at the policy level. Learn more >> 
Executive Leadership Network
The Executive Leadership Network for a Continuously Learning Health System (ELN) works to establish the capacity, infrastructure, and culture necessary to drive continuous learning and improvement within and across health care delivery systems by supporting ongoing communication, collaboration, and synergy among executive-level stakeholders with common investments in continuous learning. Learn more >>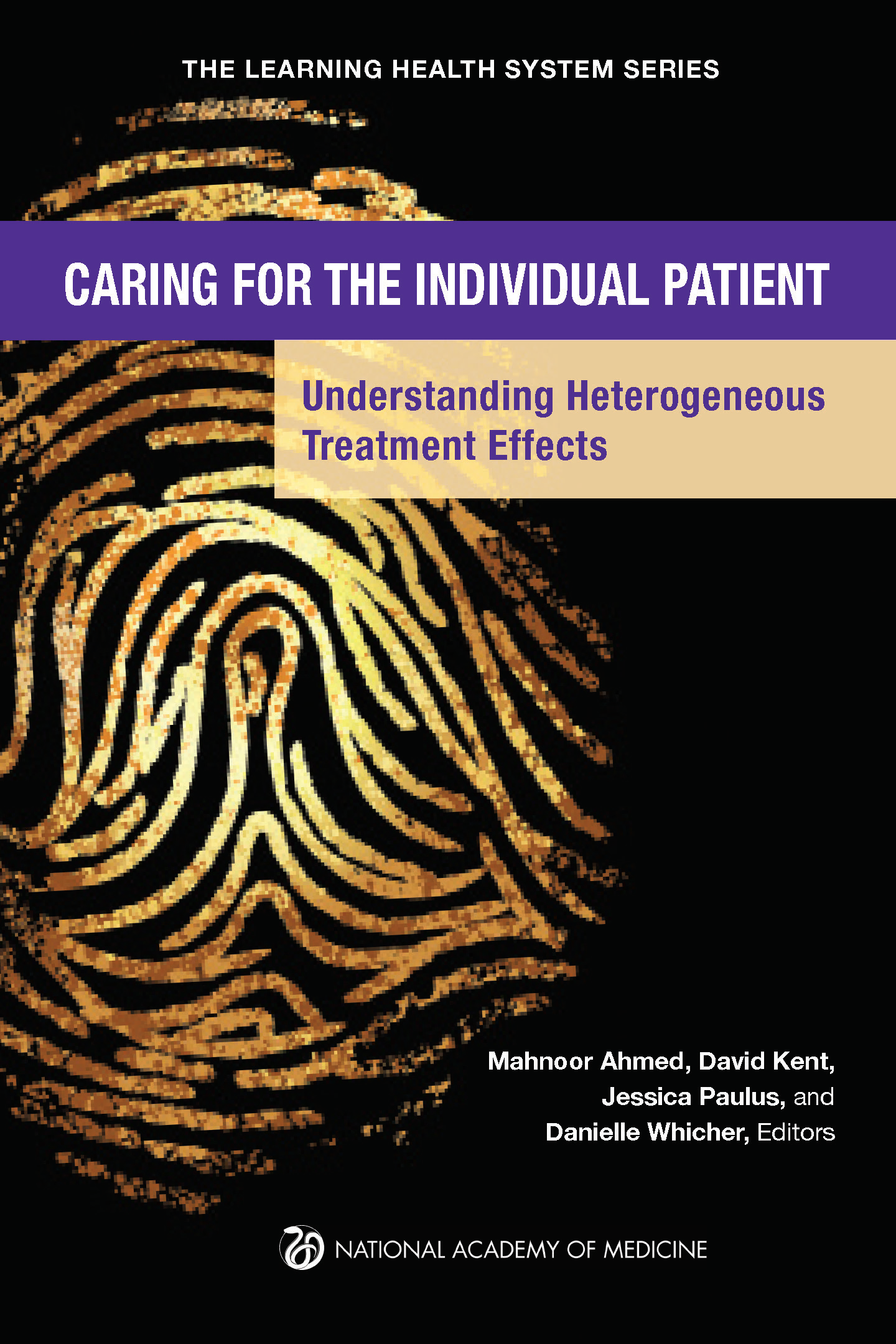 Caring for the Individual Patient: Understanding Heterogeneous Treatment Effects
Evidence-based medicine arose from a clear need and represents a major advance in the science of clinical decision-making. Despite broad acceptance of evidence-based medicine, however, a fundamental issue remains unresolved: evidence is derived from groups of people, yet medical decisions are made by and for individuals. Despite persistent assertions from clinicians that determining the best therapy for each patient is a more complicated endeavor than just picking the best treatment on average, traditional approaches have been overly reliant on the average effects estimated from the outcomes of clinical trials.
For evidence to be more applicable to individual patients, we need to combine methods for strong causal inference (first and foremost, randomization) with methods for prediction that permit inferences about which particular patients are likely to benefit and which are not. Better population-based outcomes will only be realized when we understand more completely how to treat patients as the unique individuals they are.
Download the Special Publication | Key Messages  |  Social Media Toolkit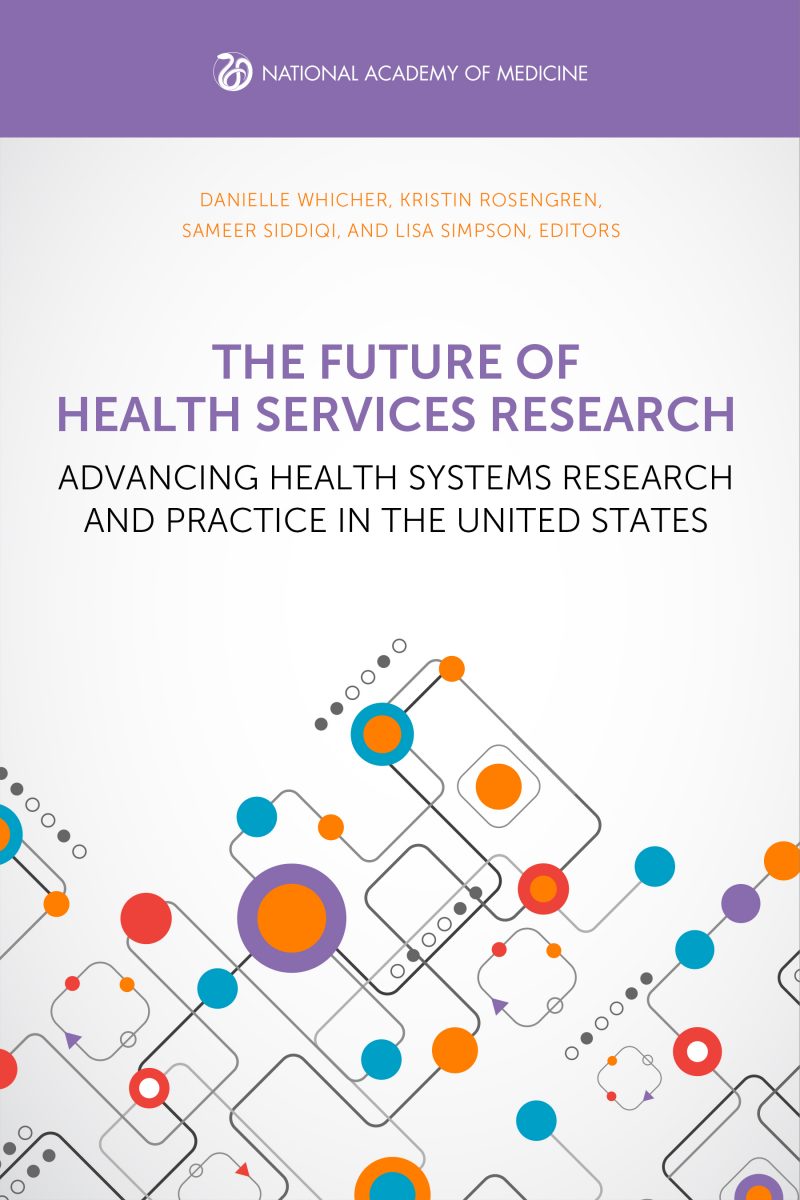 The Future of Health Services Research: Advancing Health Systems Research and Practice in the United States
Health services research is "the multidisciplinary field of scientific investigation that studies how social factors, financing systems, organizational structures and processes, health technologies, and personal behaviors affect access to health care and the quality and cost of health care." Since the 1960s, health services research has provided the foundation for progress, effectiveness, and value in health care. Ironically, at a time in which appreciation has never been higher for both the need and potential from health services research, the political and financial support for sustenance and growth appear to be weakening.
Now is a critical time for the field to articulate its priorities, demonstrate its utility, and transform to meet the needs of a 21st-century health care system. The physical and financial health of the nation is at stake. 
Key Messages |  Social Media Toolkit  |  Infographic  |  Webinar | Visit Publication Website
Procuring Interoperability: Achieving High-Quality, Connected, and Person-Centered Care
Realizing the promise of digital technology will depend on the ability to share information across time and space from multiple devices, sources, systems, and organizations. The major barrier to progress is not technical; rather, it is in the failure of organizational demand and purchasing requirements. Better procurement practices, supported by compatible interoperability platforms and architecture, will allow for better, safer patient care; reduced administrative workload for clinicians; protection from cybersecurity attacks; and significant financial savings across multiple markets.
Faster progress toward interoperability is both essential and possible – and is an organizational obligation that must be acted on now.