Distinguished Nurse Scholar-in-Residence Program
The NAM/AAN/ANA/ANF Distinguished Nurse Scholar-in-Residence program is designed to assist outstanding nurse leaders to play a more prominent role in health policy development at the national level. The program seeks individuals who have the capacity and skills to bring issues of special interest in nursing to greater public understanding and policy attention. As part of the program, the scholar is asked to produce a policy-oriented paper based on her/his area of special interest or become actively involved in a National Academies study related to his/her area of expertise.
The program, initiated in 1992, is supported by the American Academy of Nursing, the American Nurses Association, and the American Nurses Foundation and conducted by the NAM. Each year, one senior nurse scholar is selected from an eligible institution or organization to come to Washington to participate in 1-year program of orientation and work at the National Academies of Sciences, Engineering, and Medicine.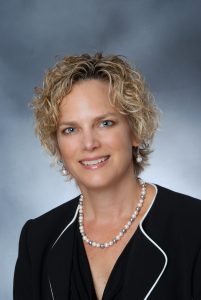 Lori Trego, PhD, CNM, FAAN
2018-2019 Distinguished Nurse Scholar-in-Residence
Lori Trego, PhD, CNM, FAAN, is an associate professor at the University of Colorado Anschutz Medical Campus in the College of Nursing. Trego, a Certified Nurse Midwife and Nurse Scientist, retired from the U.S. Army Nurse Corps in 2015 after more than 25 years of Active Duty Service. She is a subject matter expert on military and veteran women's health and gender-specific health needs, with a broad base of knowledge on women's health issues, post-traumatic stress disorder, and sexual assault. Her current research focuses on promoting military women's health research agenda that will enhance the health of servicewomen throughout their life course. She teaches undergraduate and graduate-level nursing courses in obstetrics, gynecology, leadership, and veteran and military healthcare, and actively promotes inter-professional collaborative efforts to improve health care and education for those providing care to veterans.
Trego received her PhD in Nursing Science and Master's in Nursing from the University of Washington School of Nursing, and her BSN from the University of Delaware.
Past Scholars
2017 Tener Goodwin Veenema, PhD, MPH, MS, RN, FAAN
2015 Suzanne Bakken, PhD, RN, FAAN, FACMI
2014 Sally Cohen, PhD, RN, FAAN
2013 Beatrice J. Kalisch, PhD, RN, FAAN
2012Marla E. Salmon, ScD, RN, FAAN
2010 Pamela F. Cipriano, PhD, RN, FAAN
2009 Julie A. Fairman, PhD, RN, FAAN
2008 Mary E. Evans, RN, PhD, FAAN
2007 Carolyn Williams, PhD, RN, FAAN
2006 Ada Sue Hinshaw, PhD, RN, FAAN
2005 Jacquelyn C. Campbell, PhD, RN, FAAN
2004 Veronica D. Feeg, PhD, RN, FAAN
2003 Angela Barron McBride, PhD, RN, FAAN
2002 Bonnie M. Jennings, DNSc, RN, FAAN
2000 Virginia Tilden, PhD, RN, FAAN
1998 Judith B. Krauss, MSN, RN, FAAN
1996 Nancy E. Reame, PhD, RN, FAAN
1993 Connie Curran, EdD, RN, FAAN
Program Administration
The NAM administers this program with support from AAN, ANA, and ANF.  Inquiries should be directed to:
Gregg S. Margolis, PhD
Director
Health Policy Fellowships and Leadership Programs
National Academy of Medicine
500 Fifth Street, NW
Washington, DC 20001
Phone: (202) 334-1506
Email: gmargolis@nas.edu