Distinguished Nurse Scholar-in-Residence Program
The NAM/AAN/ANA/ANF Distinguished Nurse Scholar-in-Residence program is designed to assist outstanding nurse leaders to play a more prominent role in health policy development at the national level. The program seeks individuals who have the capacity and skills to bring issues of special interest in nursing to greater public understanding and policy attention. As part of the program, the scholar is asked to produce a policy-oriented paper based on her/his area of special interest or become actively involved in a National Academies study related to his/her area of expertise.
The program, initiated in 1992, is supported by the American Academy of Nursing, the American Nurses Association, and the American Nurses Foundation and conducted by the NAM. Each year, one senior nurse scholar is selected from an eligible institution or organization to come to Washington to participate in 1-year program of orientation and work at the National Academies of Sciences, Engineering, and Medicine.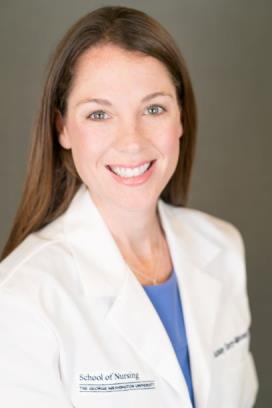 Ashley Darcy-Mahoney, PhD, NNP, FAAN
2020-2021 Distinguished Nurse Scholar-in-Residence
Ashley Darcy-Mahoney, PhD, NNP, FAAN, is a neonatal nurse practitioner and researcher, who has worked throughout her career to advance nursing research, education, and practice, with a focus on neonatology, infant health, and developmental pediatrics. Her research has led to the creation of programs that improve infant health and developmental outcomes for at risk and pre-term infants. As the director of infant research at George Washington University's Autism and Neurodevelopmental Institute, Dr. Darcy-Mahoney advances the body of research in infant health and developmental outcomes in high-risk infants with a focus on understanding the early brain and development trajectories in this population. Her program of research leverages her background in neonatal nursing, behavioral and cognitive assessment and training in neuroimaging to inform an understanding of multimodal social learning and social perception among high risk infants and toddlers. Her work has been funded by many sources including NIH, Office of Minority Health; HRSA; Robert Wood Johnson Foundation; United Way; Macy Foundation) and she has published in high-quality peer-reviewed inter-professional journals. She is a fellow of the American Academy of Nurses, is a Robert Wood Johnson Foundation Nurse Faculty Scholar Alumna, and has recently been named a Modern Healthcare Rising Star in Nursing.
Past Scholars
2019
Allison Squires, PhD, RN, FAAN
2018
Lori Trego, PhD, CNM, FAAN
2017
Tener Goodwin Veenema, PhD, MPH, MS, RN, FAAN
2015
Suzanne Bakken, PhD, RN, FAAN, FACMI
2014
Sally Cohen, PhD, RN, FAAN
2013
Beatrice J. Kalisch, PhD, RN, FAAN
2012
Marla E. Salmon, ScD, RN, FAAN
2010
Pamela F. Cipriano, PhD, RN, FAAN
2009
Julie A. Fairman, PhD, RN, FAAN
2008
Mary E. Evans, RN, PhD, FAAN
2007
Carolyn Williams, PhD, RN, FAAN
2006
Ada Sue Hinshaw, PhD, RN, FAAN
2005
Jacquelyn C. Campbell, PhD, RN, FAAN
2004
Veronica D. Feeg, PhD, RN, FAAN
2003
Angela Barron McBride, PhD, RN, FAAN
2002
Bonnie M. Jennings, DNSc, RN, FAAN
2000
Virginia Tilden, PhD, RN, FAAN
1998
Judith B. Krauss, MSN, RN, FAAN
1996
Nancy E. Reame, PhD, RN, FAAN
1993
Connie Curran, EdD, RN, FAAN
Program Administration
The NAM administers this program with support from AAN, ANA, and ANF.  Inquiries should be directed to:
Gregg S. Margolis, PhD
Director
Health Policy Fellowships and Leadership Programs
National Academy of Medicine
500 Fifth Street, NW
Washington, DC 20001
Phone: (202) 334-1506
Email: gmargolis@nas.edu