Williamson Health and Wellness Center: Williamson, WV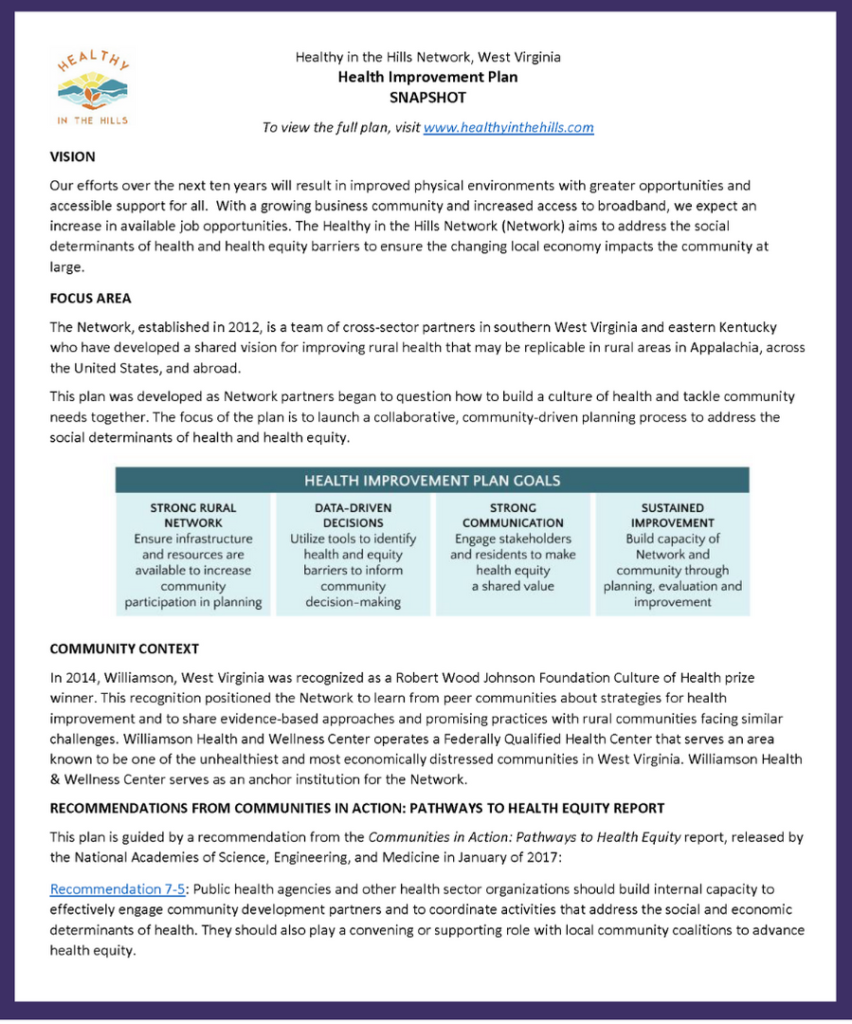 The Williamson Health and Wellness Center, located in West Virginia, developed a Community-Driven Health Equity Action Plan to launch a collaborative, community-driven planning process to foster shared leadership and increase buy-in from community representatives, partners, and stakeholders to reduce health inequities in their community. 
Vision and Goals Excerpt
As Appalachians look towards the future, many communities show a willingness to adapt to change in favor of finding solutions. A flexible attitude and growing trust in the belief that our goals can be attained will mark a cultural shift, one that happens predominantly through our interactions as we work together, intentionally making the time to navigate difficult hurdles. By understanding rural communities and striving to make improvements, our efforts over the next ten years will result in improved physical environments with greater opportunities and accessible support for all. 
The Healthy in the Hills Network (Network), established in 2012, is a team of cross-sector partners in southern West Virginia and eastern Kentucky who have developed a shared vision for improving rural health that may be replicable in rural areas across the United States and abroad.
This plan was developed as Network partners began to question how to build a culture of health and tackle community needs together. The Network recognized that leveraging resources from state and national partners and across county lines in Mingo County, West Virginia and Pike County, Kentucky could lead to creative solutions in building a culture of health.
The plan will provide the Network with a framework to make systemic improvements to address underlying issues that create health disparities. Network goals fall within four focus areas: 1) an engaged rural network, 2) data-driven decisions, 3) strong communications, and 4) sustained improvement.
The Network recognizes that building a culture of health is an active and iterative process, and that by honing the skills of project partners through training and active participation in community projects, the results may be long lasting. Goals include:
1. Engaged Community Network: Ensure infrastructure and resources are available to increase community participation in planning.
2. Data-Driven Decisions: Utilize tools to identify health and equity barriers to inform community decision-making.
3. Strong Communications: Engage stakeholders and residents to make health equity a shared value.
4. Sustained Improvement: Build capacity of the Network and community through planning, evaluation and a commitment to improvement.
Community Context Excerpt
Poverty, unemployment, and a lack of educational achievement affect a community's access to care and ability to engage in healthy behaviors. Without a network of support, families struggle to thrive, and employers are hesitant to launch or expand businesses in the area. The Network exists to fill that gap by addressing the social determinants of health that residents face.
Currently, more than 29% of Mingo County residents live in households with an income below the Federal Poverty Level. Race disparities are apparent in the county; an estimated 40% of Caucasian children live in poverty compared to 72% of African American children. Roughly 13% (1,409 of 10,910) of all county households have no motor vehicles, based on estimates from the latest 5-year American Community Survey. More than 10,000 people in Mingo County (42.4% of the population) receive SNAP benefits and 60.07% of public school students are eligible for free/reduced price lunch. There are 4,559 people, 25.63% of the total county population aged 25 and older, without a high school diploma. Just over 1,000 young people, ages 16-19, are not currently enrolled in school and are not employed.
Williamson Health and Wellness Center is a Federally Qualified Health Center (FQHC) founded in 2011 to serve an area known to be one of the unhealthiest and most distressed communities in West Virginia. It serves as an anchor institution for the Network, providing financial and human capital to support the area's community health improvement journey.
The Network aims to address the social determinants of health and health equity barriers to ensure the changing local economy impacts the community at large.
Learn more about Williamson Health and Wellness Center at www.healthyinthehills.com/health-improvement-journey. 
Disclaimer: Community teams own all aspects of Community-Driven Health Equity Action Plans. While this plan was created using
the National Academy of Medicine (NAM) model for developing Community-Driven Health Equity Action Plans in collaboration with
the NAM Culture of Health Program, it is solely a product of the Williamson Health and Wellness Center.