Perspectives on Health Equity & Social Determinants of Health
|  
A National Academy of Medicine Special Publication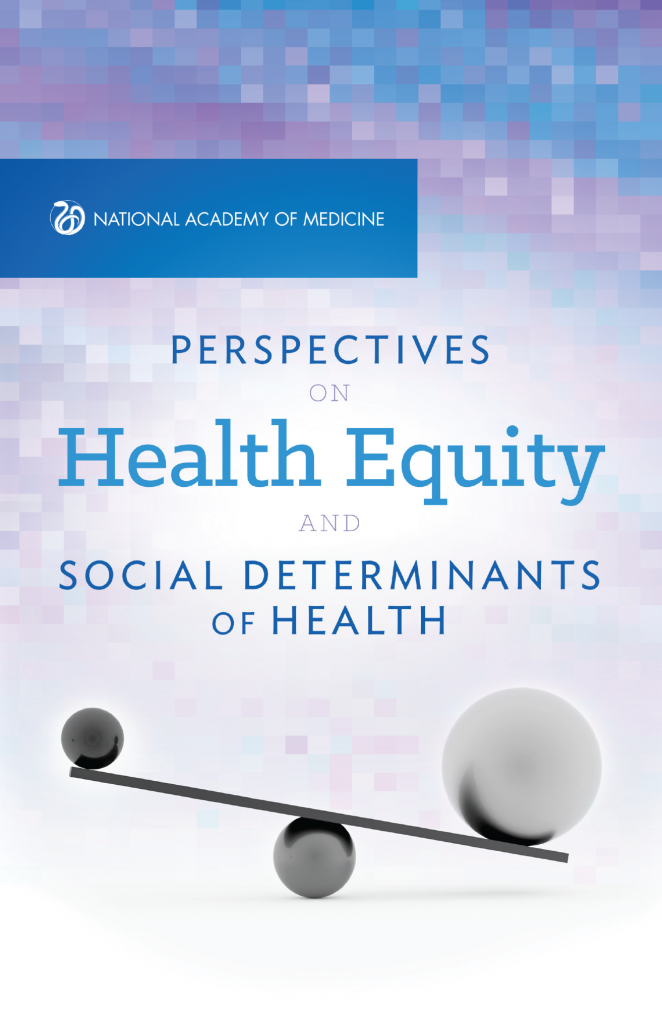 Social factors, signals, and biases shape the health of our nation. Racism and poverty manifest in unequal social, environmental, and economic conditions, resulting in deep-rooted health disparities that carry over from generation to generation. In Perspectives on Health Equity and Social Determinants of  Health, authors call for collective action across sectors to reverse the debilitating and often lethal consequences of health inequity. This edited volume of discussion papers provides recommendations to advance the agenda to promote health equity for all. Organized by research approaches and policy implications, systems that perpetuate or ameliorate health disparities, and specific examples of ways in which health disparities manifest in communities of color, this special publication provides a stark look at how health and well-being are nurtured, protected, and preserved where people live, learn, work, and play. All of our nation's institutions have important roles to play even if they do not think of their purpose as fundamentally linked to health and well-being. The rich discussions found throughout Perspectives on Health Equity and Social Determinants of Health make way for the translation of policies and actions to improve health and health equity for all citizens of our society. The major health problems of our time cannot be solved by health care alone. They cannot be solved by public health alone. Collective action is needed, and it is needed now.
Download the Special PublicationSocial Media ToolkitPurchase the publication
Table of Contents
Health Inequities, Social Determinants, and Intersectionality
Identifying and Implementing Opportunities to Realize Health Equity Through a Life Span Lens of Legal and Policy Research
The Character Assassination of Black Males: Some Consequences for Research in Public Health
Promoting Positive Development, Health, and Social Justice Through Dismantling Genetic Determinism
Philosophical Perspectives on Social Justice: A Framework for Discussing a Children, Youth, and Families Health Policy and Research Agenda
Expulsion and Suspension in Early Education as Matters of Social Justice and Health Equity
Lessons for Health Equity: Military Medicine as a Window to Universal Health Insurance
Principles of Adolescent- and Young-Adult Friendly Care: Contributions to Reducing Health Disparities and Increasing Health Equity
Stories about Black Men in the Media and their Consequences for Health
Challenges and Promise of Health Equity for Native Hawaiians
Fetal Alcohol Spectrum Disorders in African American Communities: Continuing the Quest for Prevention
Urgent Dispatch: Calling on Leadership to Respond to Violence in Black Neighborhoods as a Public Health Crisis
Authors
Carl C. Bell – Jackson Park Hospital and Windsor University
Patrick H. Deleon – Uniformed Services University of the Health Sciences
Angela Diaz – Icahn School of Medicine, Mount Sinai
Karen E. Dill-Shackleford – Fielding Graduate University
Lawrence M. Drake II – LEAD Program Vivian L. Gadsden – University of Pennsylvania
Helene Gayle – Chicago Community Trust
Walter S. Gilliam – Yale School of Medicine
Coti-Lynne Puamana Haia – Office of Hawaiian Affairs
Jeff Hutchinson – Uniformed Services University of the Health Sciences
Joseph Keawe'aimoku Kaholokula – University of Hawai'i
Tracey Perez Koehlmoos – Marine Corps
Richard M. Lerner – Tufts University
Nancy Lopez – University of New Mexico
Raquel Mack –Uniformed Services University of the Health Sciences
Jim Marks – Robert Wood Johnson Foundation
Shantel E. Meek –Administration for Children and Families
Noreen Mokuau –University of Hawai'i
Velma McBride Murry – Vanderbilt University
Ken Peake –Mount Sinai Adolescent Health Center
Dwayne Proctor –Robert Wood Johnson Foundation
Srividya Ramasubramanian –Texas A&M University
Robert Seidel –McDaniel College
Sade Soares –Uniformed Services University of the Health Sciences
Patrick H. Tolan –University of Virginia
Sharon Toomer –BlackandBrownNews.com
Joann U. Tsark –University of Hawai'i, Native Hawaiian Board of Health, and Native Hawaiian Cancer Network
Alford A. Young, Jr. – University of Michigan
Meetings
Armchair Discussions of Social Justice and Equity across the Life Course | May 11, 2015
Engaging Allies in the Culture of Health Movement | January 25, 2017
Sponsor
This project was made possible by support from the NAM's Kellogg Health of the Public Fund.