NAM Perspectives on Clinician Well-Being and Resilience
In December 2016, the National Academy of Medicine announced a new Action Collaborative on Clinician Well-Being and Resilience, aimed at building a collaborative platform for supporting and improving clinician well-being and resilience across multiple organizations, including clinician and consumer groups as well as health care organizations and policy making bodies. Learn more about the action collaborative >>
The following is a list of NAM Perspectives that relate to the issue of clinician well-being and resilience. We hope you find these papers informative in furthering your discussions around this urgent issue. To receive updates as new papers are published, please subscribe to our mailing list.
From the Action Collaborative
Nurse Suicide: Breaking the Silence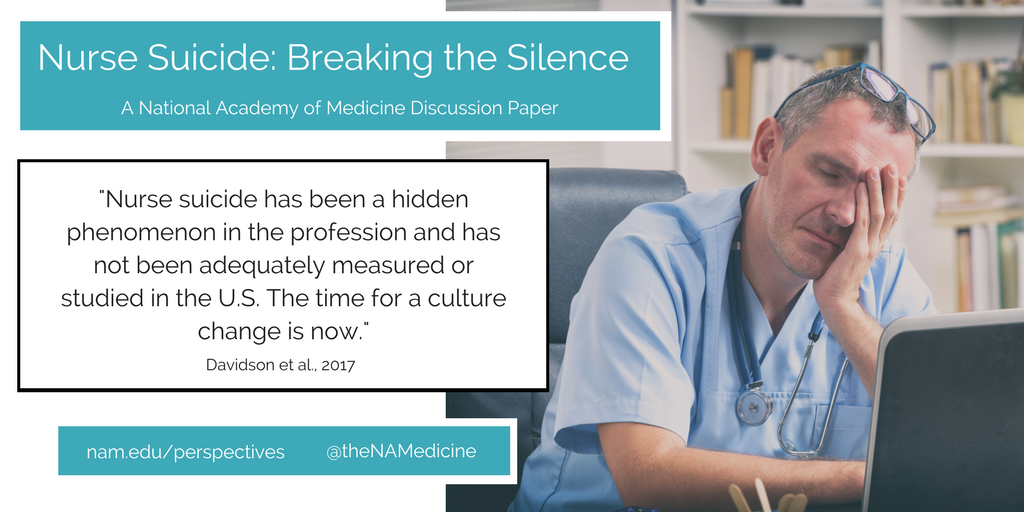 Although burnout, depression, and suicide in nurses are beginning to be recognized as a significant threat to our health care system, we cannot report the rate at which nurses die by suicide because this data is not accurately tracked. We also know through first-hand accounts that nurse suicide is rarely discussed and not often addressed institutionally. In our new discussion paper, the authors share their insights and the insights of those who have been personally affected by the loss of a colleague, relative, or friend in an effort to encourage formal tracking of data on nurse suicide, as well as focus attention on this critical issue. Read the discussion paper>>
Burnout Among Health Professionals: A Call to Explore and Address This Underrecognized Threat to Safe, High-Quality Care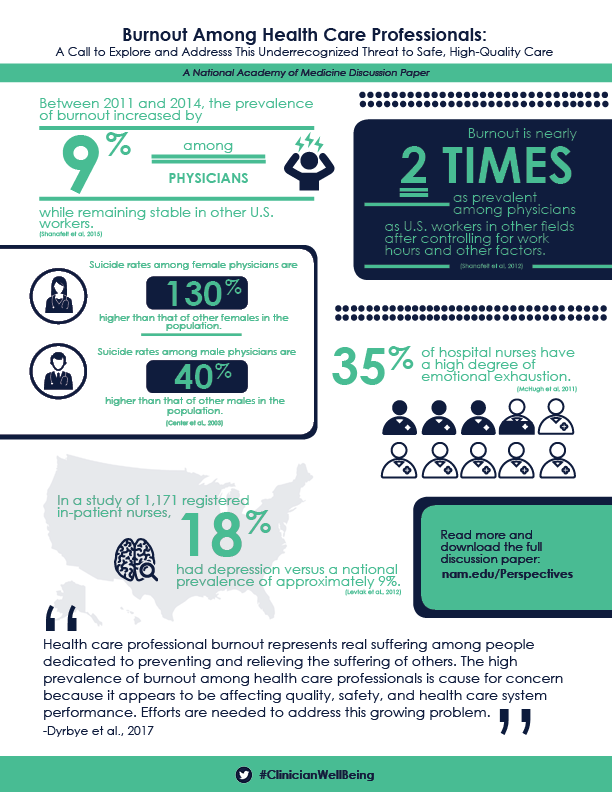 The US health care system is rapidly changing in an effort to deliver better care, improve health, and lower costs while providing care for an aging population with high rates of chronic disease and co-morbidities. Among the changes affecting clinical practice are new payment and delivery approaches, electronic health records, patient portals, and publicly reported quality metrics—all of which change the landscape of how care is provided, documented, and reimbursed. Navigating these changes are health care professionals (HCPs), whose daily work is critical to the success of health care improvement. Unfortunately, as a result of these changes and resulting added pressures, many HCPs are burned out, a syndrome characterized by a high degree of emotional exhaustion and high depersonalization (i.e., cynicism), and a low sense of personal accomplishment from work. Download the discussion paper >> 
Culture of Silence Series
An interprofessional group of members of theGlobal Forum on Innovation in Health Professional Educationare working together to illuminate issues concerning stress and burnout of health professionals and the role of health professional education to mitigate the negative effects of prolonged stress.Learn more about the Global Forum >>
Sandeep Kishore and several other members of theGlobal Forum on Innovation in Health Professional Educationwanted to draw attention to the problem of medical student and physician suicide. Kishore and three others wrote a discussion paper,Breaking the Culture of Silence on Physician Suicide,which was published by the National Academy of Medicine (NAM). This paper draws attention to the tragedy of stress and suicide in health professional students and practitioners, specifically focusing on doctors and surgeons. The authors of this NAM discussion paper called for others to bring their voice to the conversation around depression and suicide in doctors and doctors in training as part of the Culture of Silence series.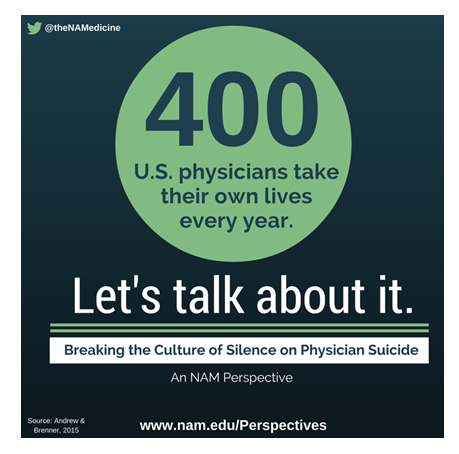 Breaking the Culture of Silence on Physician Suicide
By Sandeep Kishore, Douglas E. Dandurand, Angela Mathew, and David Rothenberger
I Felt Alone but I Wasn't: Depression is Rampant Among Doctors in Training
By Elisabeth Poorman and Sandeep P. Kishore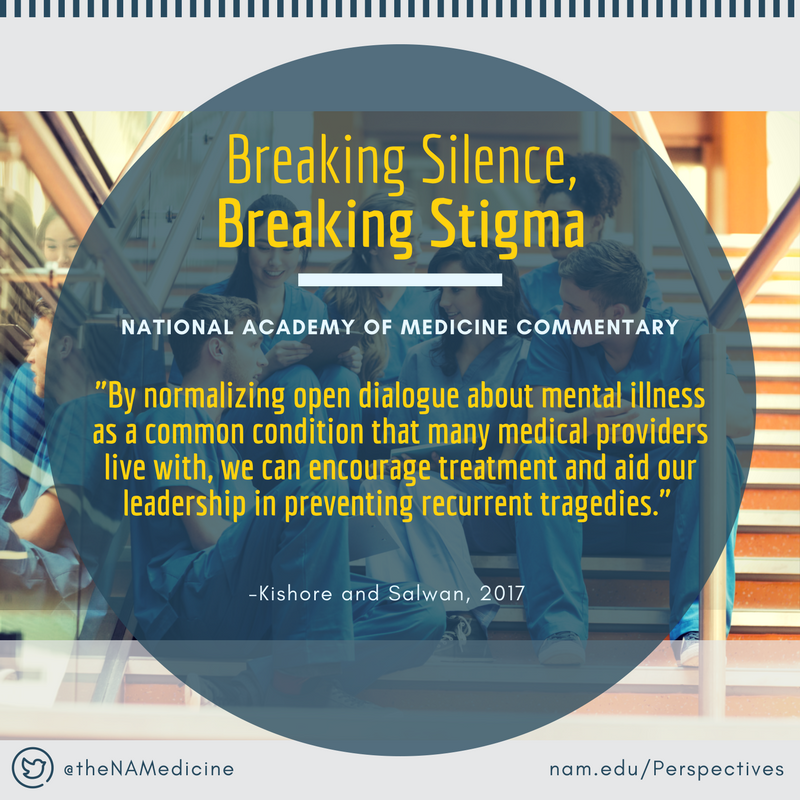 Breaking Silence, Breaking Stigma 
By Jasleen Salwan and Sandeep Kishore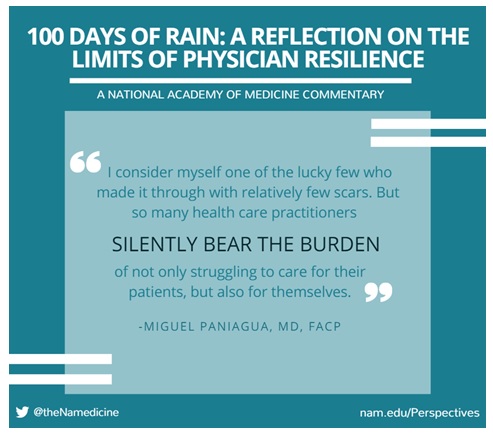 100 days of Rain: Reflections on the Limits of Physician Resilience
By Miguel Paniagua
Stress and Wellness in Health Professions Education Series 
Students, trainees, faculty, and health professionals all affirm that stress in the health professions has a direct human toll on productivity, efficiency, quality, and the human capital of the workforce. A strategic move is necessary to shift the paradigm and create a new normal—one that is life affirming, health oriented, and drives durable changes for the next generation. To develop a foundation for dialogue among the professions, individual members of the Global Forum on Innovation in Health Professional Education from various health professions volunteered to write perspectives that summarize the types of stresses affecting their profession. These authors examine systems-level stressors from each of their individual perspectives, and explore how their profession responds to stress within education and practice.
A Multifaceted Systems Approach to Addressing Stress Within Health Professions Education and Beyond
By Darla Spence Coffey, Kathrin Eliot,
Elizabeth Goldblatt
,
Catherine Grus, Sandeep P. Kishore, Mary E. (Beth) Mancini,
Richard Valachovic
,
and Patricia Hinton Walker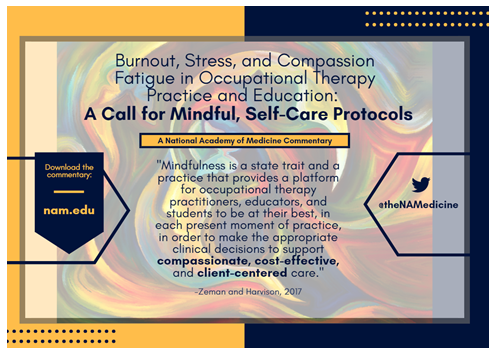 Burnout, Stress, and Compassion Fatigue in Occupational Therapy Practice and Education
By Emily Zeman and Neil Harvison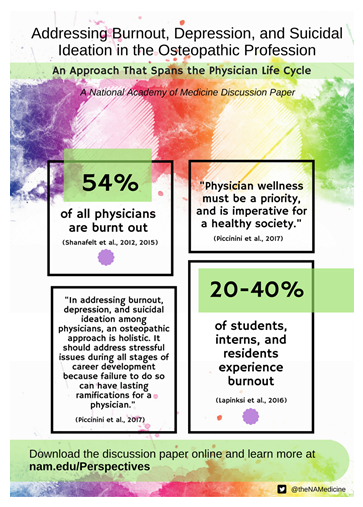 Addressing Burnout, Depression, and Suicidal Ideation in the Osteopathic Profession: An Approach That Spans the Physician Life Cycle
By Piccinini et al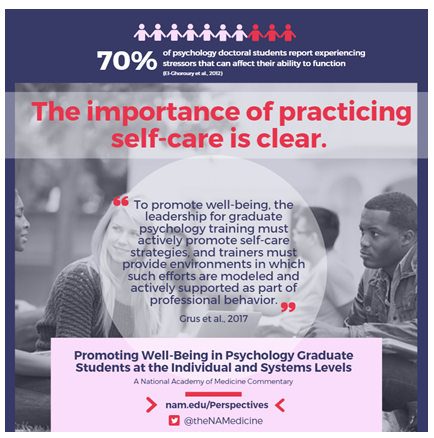 Promoting Well-Being in Psychology Graduate Students at the Individual and Systems Levels
By Grus et al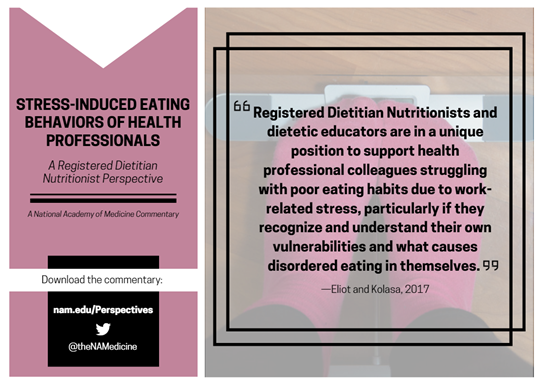 Stress-induced Eating Behaviors of Health Professionals: A Registered Dietitian Nutritionist Perspective
By Kathrin Eliot and Kathryn Kolasa
Back to Action Collaborative Homepage