Past Recipients of the Rhoda and Bernard Sarnat International Prize in Mental Health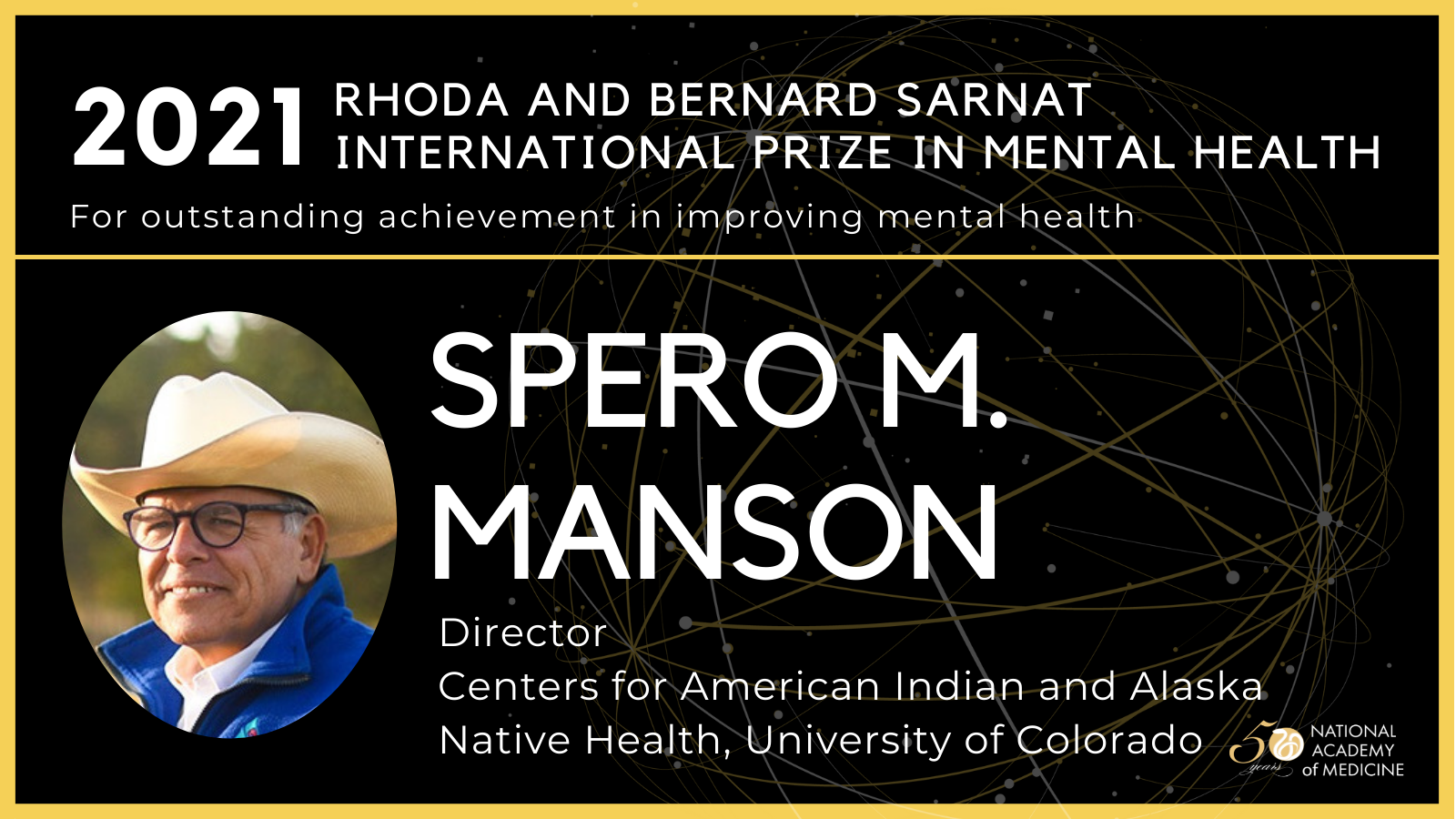 2021
Spero M. Manson, PhD
Director
Centers for American Indian and Alaska Native Health
University of Colorado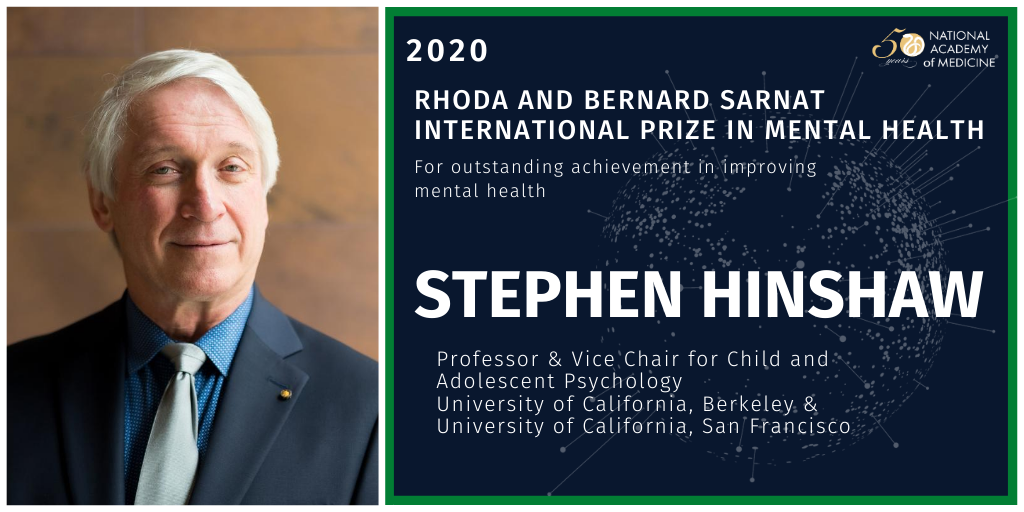 2020
Stephen Hinshaw, PhD
Professor
University of California, Berkeley
Vice Chair for Child and Adolescent Psychology
University of California, San Francisco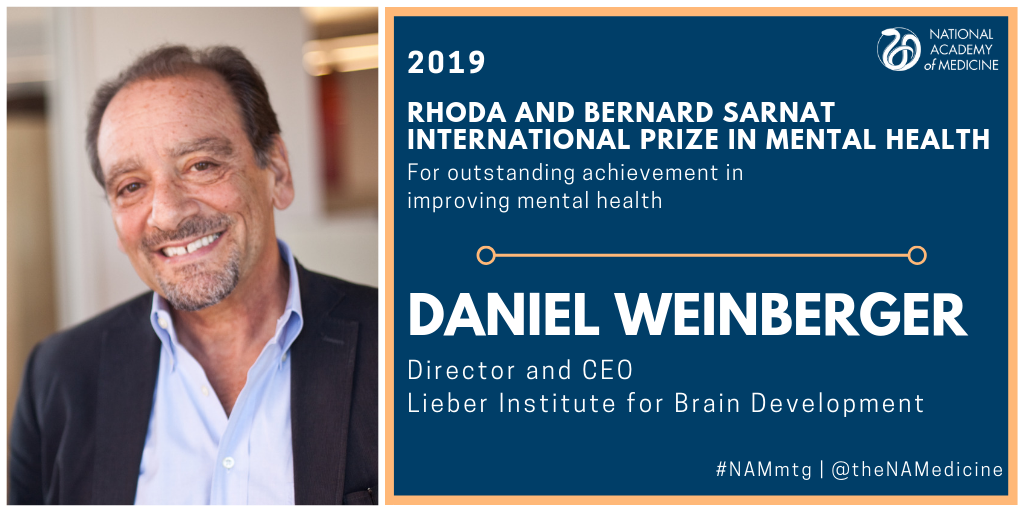 2019
Daniel Weinberger, M.D.
Director and CEO
Lieber Institute for Brain Development
Professor, Departments of Psychiatry, Neurology, Neuroscience, and Genetics
Johns Hopkins University School of Medicine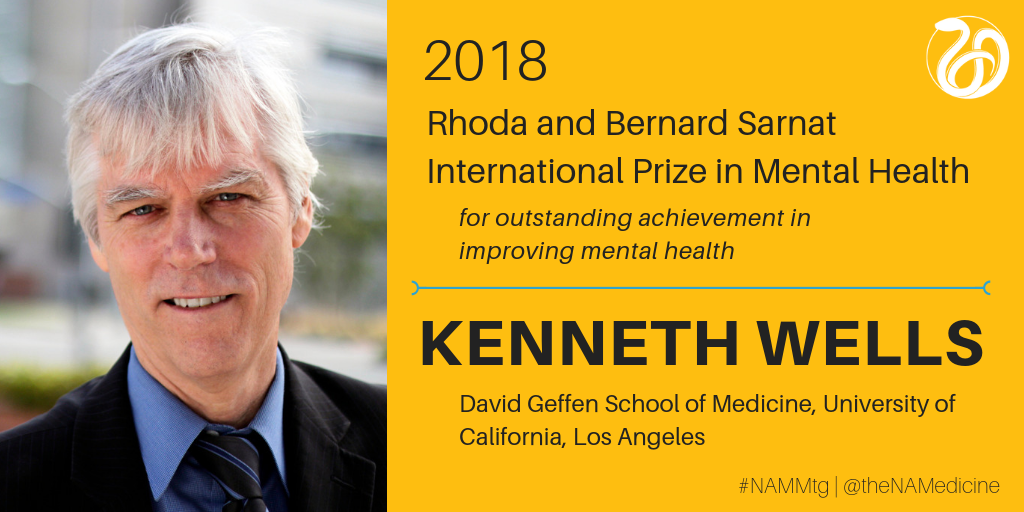 2018
Kenneth B. Wells, MD, MPH
Professor-in-Residence
Department of Psychiatry and Biobehavioral Sciences
UCLA David Geffen School of Medicine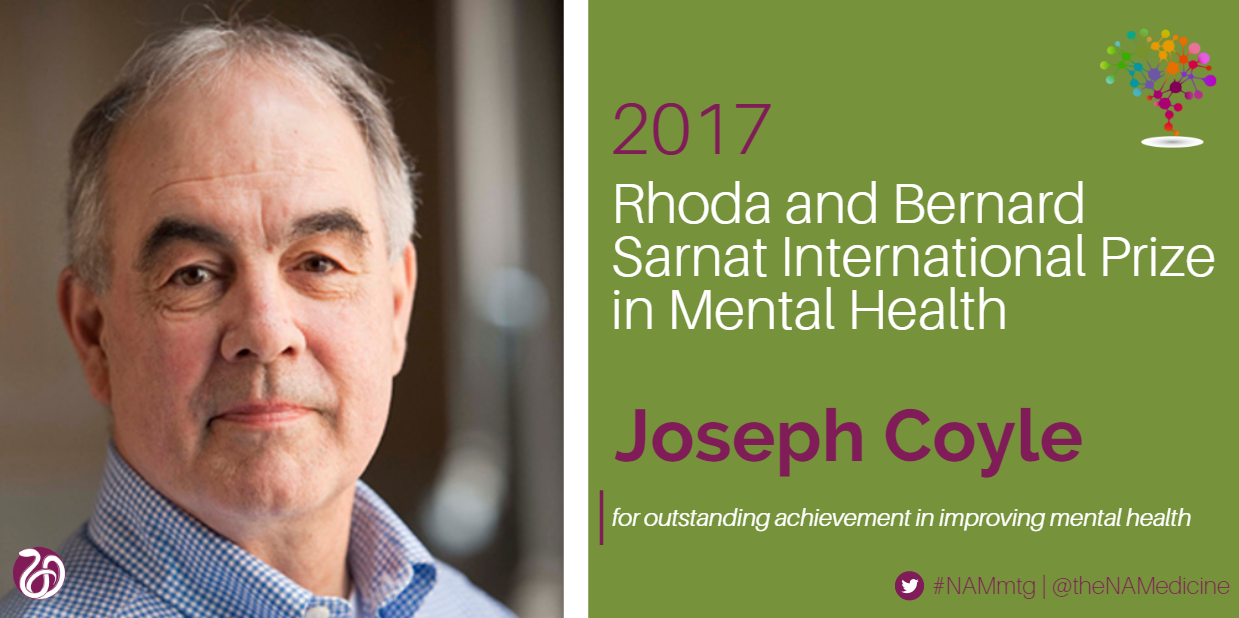 2017
Joseph T. Coyle, MD
Eben S. Draper Professor of Psychiatry and Neuroscience
Harvard Medical School and McLean Hospital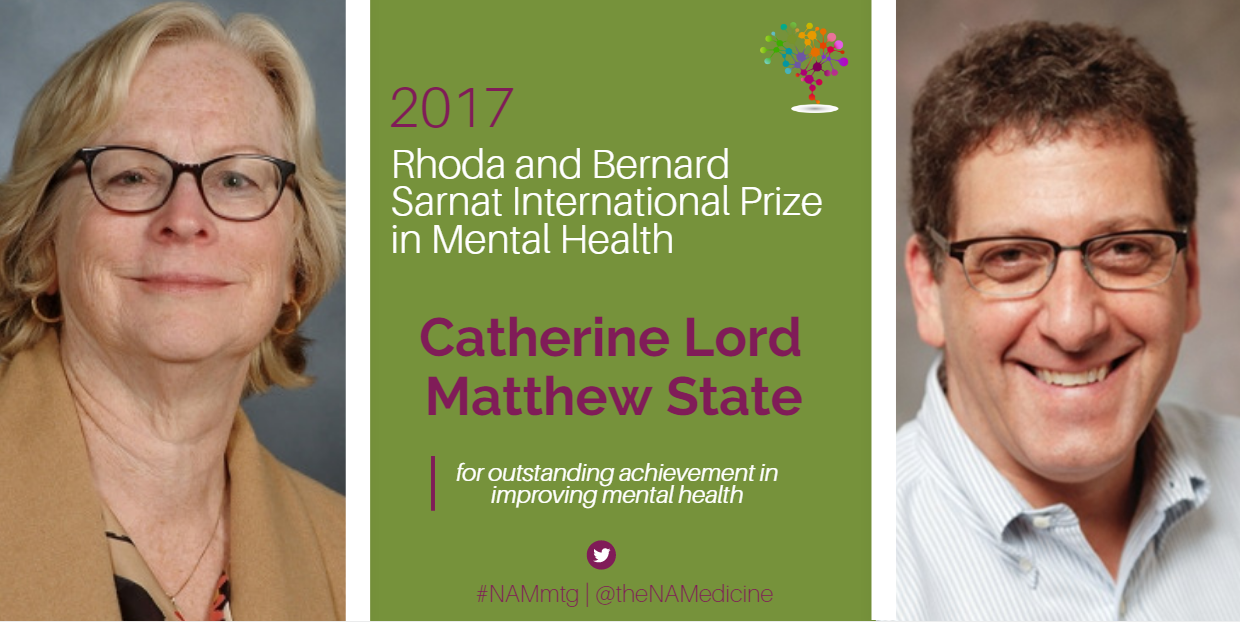 2017
The team of Catherine Lord and Matthew State
Catherine Lord, PhD
Director, Center for Autism and the Developing Brain
Professor of Psychology in Psychiatry and Pediatrics
Weill Cornell Medicine
Matthew State, MD, PhD
Oberndorf Family Distinguished Professor
Chair of Psychiatry
Member, Weill Institute for Neurosciences
University of California, San Francisco
2016
Robin Murray, FRS
Professor of Psychiatric Research
King's College London
2015
Kay Redfield Jamison, PhD
Dalio Family Professor in Mood Disorders
Professor of Psychiatry, Johns Hopkins University School of Medicine
Co-Director, Johns Hopkins Mood Disorders Center
Kenneth S. Kendler, MD
Rachel Brown Banks Distinguished Professor of Psychiatry
Director, Virginia Institute for Psychiatric and Behavioral Genetics
2014
Vikram Patel, FMedSci
Wellcome Trust Senior Research Fellow
London School of Hygiene and Tropical Medicine
Public Health Foundation of India
2013
William T. Carpenter, MD
Professor of Psychiatry and Pharmacology, University of Maryland School of Medicine
Maryland Psychiatric Research Center
2012
Huda Akil, PhD
Stanley J. Watson, MD, PhD
Co-Directors
Molecular and Behavioral Neuroscience Institute, University of Michigan, Ann Arbor
2011
William E. Bunney, MD
Distinguished Professor, Department of Psychiatry and Human Behavior
University of California, Irvine, School of Medicine
Ellen Frank, PhD
Distinguished Professor of Psychiatry
Professor of Psychology
Department of Psychiatry, University of Pittsburgh School of Medicine
2010
Eric J. Nestler, MD, PhD
Nash Family Professor of Neuroscience and Chair, Department of Neuroscience
Director, Friedman Brain Institute
Mount Sinai School of Medicine
Charles P. O'Brien, MD, PhD
Kenneth Appel Professor
Vice Chair of Psychiatry, University of Pennsylvania School of Medicine
2009
David Mechanic, PhD
University Professor and René Dubos Professor of Behavioral Sciences
Director, Institute for Health, Health Care Policy, and Aging Research
Rutgers University
2008
Paul R. McHugh, MD
University Distinguished Service Professor of Psychiatry, Johns Hopkins School of Medicine
Professor of Mental Health, Johns Hopkins Bloomberg School of Public Health
2007
Beatrix Hamburg, MD
David Hamburg, MD
DeWitt Wallace Distinguished Scholars, Department of Psychiatry
Weill Cornell Medical College
2006
Jack D. Barchas, MD
Chairman, Department of Psychiatry
Weill Cornell Medical College
2005
Floyd E. Bloom, MD
Chairman, CEO, and Chief Scientific Officer
Neurome, Inc.
2004
Albert J. Stunkard, MD
Professor of Psychiatry Emeritus
University of Pennsylvania
2003
Aaron T. Beck, MD
University Professor of Psychiatry
University of Pennsylvania
2002
David Satcher, MD, PhD
Director, National Center for Primary Care
Morehouse School of Medicine
2001
Michael L. Rutter, MD
Professor of Developmental Psychopathology
MRC Social, Genetic & Developmental Psychiatry Centre
Institute of Psychiatry, King's College London
Solomon H. Snyder, MD
Professor of Neuroscience, Pharmacology, and Psychiatry, Department of Neuroscience
Johns Hopkins University School of Medicine
2000
Rosalynn Carter
Vice Chair, Board of Trustees
The Carter Center
1999
Nancy C. Andreasen, MD, PhD
Andrew H. Woods Chair of Psychiatry
Director, Mental Health Clinical Research Center
University of Iowa Hospitals and Clinics
1998
David Kupfer, MD
Professor and Chairman, Department of Psychiatry
University of Pittsburgh School of Medicine
Director of Research, Western Psychiatric Institute and Clinic
University of Pittsburgh Medical Center
1997
Herbert Pardes, MD
Vice President for Health Sciences, Columbia University
Dean, Faculty of Medicine, Columbia University College of Physicians and Surgeons
1996
Leon Eisenberg, MD
Professor of Social Medicine, Department of Social Medicine
Harvard Medical School
1995
Samuel B. Guze, MD
Spencer T. Olin Professor of Psychiatry
Washington University in St. Louis School of Medicine
Psychiatrist-in-Chief, Barnes and Renard Hospital
1994
Myrna Weissman, PhD
Professor of Epidemiology in Psychiatry
Columbia University College of Physicians and Surgeons
Gerald Klerman, MD
Professor of Psychiatry and Associate Chairman for Research, Department of Psychiatry
Cornell University Medical College
1993
Seymour S. Kety, MD
Senior Scientist, National Institutes of Mental Health
Professor of Neuroscience Emeritus, Harvard Medical School
1992
Daniel X. Freedman, MD
Judson Braun Professor of Psychiatry and Pharmacology
Department of Psychiatry and Biobehavioral Science
University of California, Los Angeles, School of Medicine