Ongoing Consensus Studies from 

the
Culture of Health Program 

---
Recently Released Report – The Promise of Adolescence: Realizing Opportunity for All Youth
The Promise of Adolescence: Realizing Opportunity for All Youth, the second in a series of consensus reports from the National Academy of Medicine's Culture of Health Program, is now available as a free PDF download.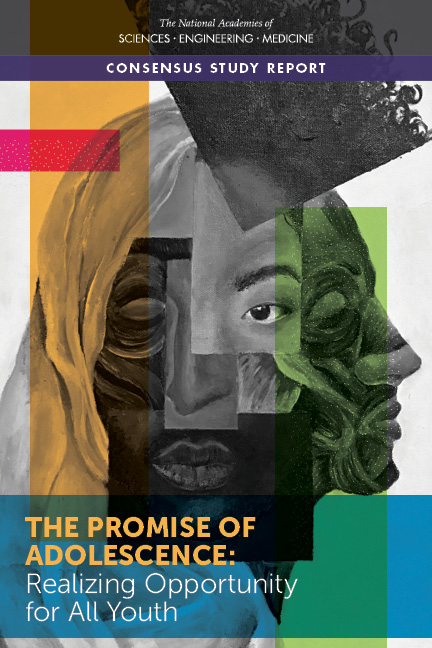 The report finds ample evidence that changes in brain structure and connectivity that happen in adolescence present young people with unique opportunities for positive, life-shaping development, and for recovery from past adversity.
The report provides multiple recommendations for policy and practice that capitalize on these developmental opportunities and that address inequities – such as in health care and education – that undermine the well-being of many adolescents and leave them less able to take advantage of the promise offered by this stage of life. 
---
Applying Neurobiological and Socio-behavioral Sciences from Prenatal through Early Childhood Development: A Health Equity Approach
Neurobiological and socio-behavioral research indicate that early life conditions, including social support and adversity, shape prenatal and early childhood development. These exposures unfold through education, housing, physical and social environment (the social determinants of health). However, programs and policies designed to mitigate these adverse conditions have not always had the positive effects intended for the majority of recipients of these programs. The goals of this study are to provide a brief overview of stressors that affect brain development and health; identify promising models and opportunities for translation of the science to action; identify outcome measures; develop a roadmap to apply the science to tailored interventions; and provide recommendations in the areas formerly listed.
Meeting 2
August 6, 2018
Washington, DC 
Meeting 3
October 1, 2018
Irvine, CA
Recorded videos coming soon
Meeting 4
November 15-16, 2018
Washington, DC
Closed committee meeting 
Meeting 5

February 19-20, 2019 
Irvine, CA
Closed committee meeting
---
Integrating Social Needs Care into the Delivery of Health Care to Improve the Nation's Health
This study will examine the potential for integrating services addressing social needs and the social determinants of health into the delivery of health care to achieve better health outcomes and to address major challenges facing the U.S. health care system. The committee will discuss approaches currently being taken by health care providers and systems, and new or emerging approaches and opportunities; current roles of different disciplines and organizations, and new or emerging roles and types of providers; and current and emerging efforts to inform the design of an effective and efficient care system that improves the nation's health and reduces health inequities.
Meeting 1
July 16-17, 2018
Washington, DC 
Meeting 2
September 24, 2018
Washington, DC 
Public Webconference
November 13, 2018
Webconference
Meeting 3 
December 17-18, 2018
Washington, DC 
Closed committee meeting 
Meeting 4 
April 2-3, 2019
Washington, DC 
Closed committee meeting