First, Do No Harm
       

Marshaling Clinician Leadership to Counter the Opioid Epidemic
A Special Publication from the National Academy of Medicine
  Download the Special Publication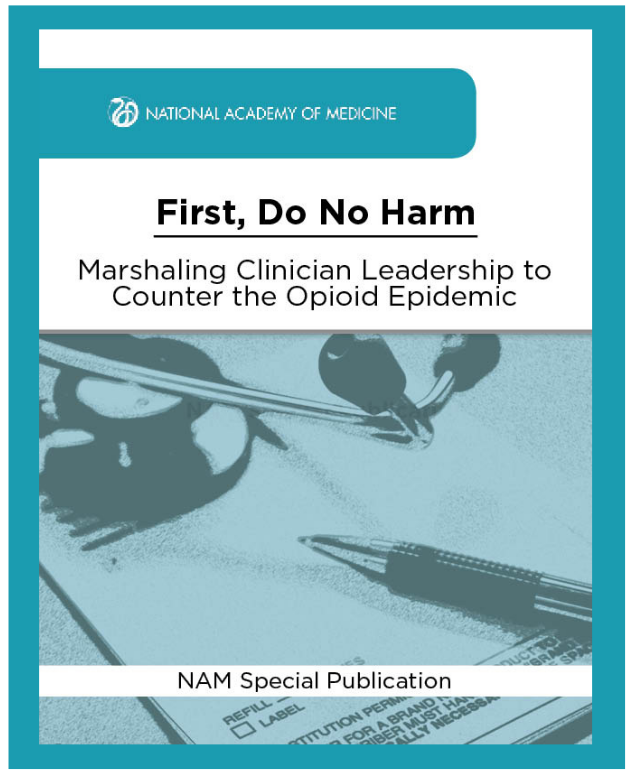 There is no question that opioid use disorder has become the fastest growing, serious, and far-reaching public health crisis facing our nation today. The growing and unprecedented opioid epidemic is a critical issue for public health and medical care throughout the country. Provisional estimates suggest that nearly 65,000 Americans died from a drug overdose in 2016, a 21% increase from the previous year and at a level higher than occurred during the peak years for deaths from HIV infection and automobile fatalities. 
Nearly half of opioid overdose deaths are related to medications obtained legally by prescription, sparking deep concern among leaders in the health care sector. The need is clear for clinicians, as the "gatekeepers" of opioid prescriptions, and as the front line in facilitating access to treatment for addiction, to work together with state and community leaders to reduce the impact of opioid misuse on American communities.
At the request of the National Governors Association, the National Academy of Medicine convened a group of experts and field leaders to explore clinicians' roles in addressing opioid misuse and addiction. The resulting special publication is informed by, and builds on, initiatives and guidelines that have been stewarded by various stakeholder organizations providing leadership in addressing these issues. In the midst of evolving understanding of and experience in pain management and substance abuse, the authors offer to clinicians a set of axioms applicable both to responsible, appropriate opioid prescribing practices, and to recognition and treatment of substance use disorder. Also underscored are actions that clinicians can take to improve their skills and effectiveness in the face of the growing need, including leadership engagement to ensure that communities have the resources and tools that clinicians require to fulfill their responsibilities.  
Download the Special Publication  
Authors 
Susan M. Adams, Professor of Nursing, Vanderbilt University
Carlos Blanco, Director, Division of Epidemiology, National Institute on Drug Abuse
Humayun J. Chaudhry, President and Chief Executive Officer, Federation of State Medical Boards
Harry Chen, Commissioner, Vermont Department of Health (former)
Roger Chou, Professor of Medicine, Oregon Health and Science University
Melissa L.D. Christopher, National Director, Academic Detailing, Department Veterans Affairs
Patrice A. Harris, Chair, Task Force to Reduce Rx Opioid Abuse, American Medical Association
Saul M. Levin, Chief Executive Officer and Medical Director, American Psychiatric Association
Sean Mackey, Director, Stanford Systems Neuroscience and Pain Lab
Elinore McCance-Katz, Chief Medical Officer, Rhode Island Department of Behavioral Healthcare (now Assistant Secretary for Mental Health and Substance Abuse, U.S. Department of Health and Human Services, Washington, DC)
Paul A. Moore, Professor, School of Dental Medicine, University of Pittsburgh
James P. Rathmell, Chair, Department of Anesthesiology, Perioperative, and Pain Medicine, Brigham and Women's Hospital and Professor of Anesthesia, Harvard Medical School
Travis N. Rieder, Assistant Director for Education Initiatives, Berman Institute of Bioethics, Johns Hopkins University
Bob Tillman, Executive Director, Academy of Integrative Pain Management