Event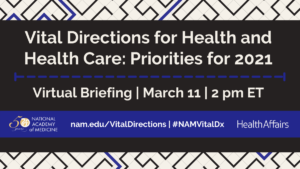 In 2016, the National Academy of Medicine (NAM) established the Vital Directions for Health & Health Care initiative, which aims to provide the U.S. presidential administration, as well as other policymakers, opinion leaders, and the public, with trusted, nonpartisan, evidence-based analysis of the most compelling opportunities and priorities in health, health care, and biomedical science. The resulting 2017 NAM Vital Directions publication marshaled the expertise of over 150 leading experts to provide guidance on 19 priority areas that could immediately and substantively improve health and health care for all Americans.
Since that seminal publication, much has happened in health and health care, underscoring concerns about the nation's persistent challenges related to maternal mortality, the opioid crisis, and pervasive health inequities, among others. In anticipation of the 2020 presidential election, the NAM completed an updated assessment on key priorities and issues of urgent attention for the next administration. In collaboration with Health Affairs, the NAM published a collection of articles in Health Affairs that addresses five high priority issues which have a particularly compelling need for attention from policymakers and decision-makers.
Join us on Thursday, March 11, 2021 from 2:00 p.m. to 4:00 p.m. ET for a virtual two hour briefing on Vital Directions 2021 with Victor Dzau, President of the NAM, and Alan Weil, Editor-in-Chief of Health Affairs. The briefing will feature a panel discussion on the key policy recommendations across the articles, to be moderated by Alan Weil. Confirmed speakers are forthcoming.  
Agenda
2:00 pm ET | Opening Remarks
Alan Weil, JD, MPP, Editor-in-Chief, Health Affairs
Victor J. Dzau, MD, President, National Academy of Medicine
2:05 pm | Keynote Presentation
2:20 pm | Vital Directions for Health and Health Care: Priorities for 2021
J. Michael McGinnis, MD, MPP, Executive Officer, National Academy of Medicine
2:25 pm | Stakeholder Perspectives on Priorities for 2021 & Audience Q&A
Moderator: Alan Weil, JD, MPP, Editor-in-Chief, Health Affairs
Senator William H. Frist, MD, former U.S. Senate Majority Leader; Special Partner, Cressey & Co; and founder/partner, Frist-Cressey Ventures
Garth Graham, MD, MPH, Director and Global Head of Healthcare and Public Health at Google/YouTube
Aletha Maybank, MD, MPH, Chief Health Equity Officer and Group Vice President, American Medical Association
LaQuandra S. Nesbitt, MD, MPH, Director, District of Columbia Department of Health
Mark D. Smith, MD, MBA, former Chief Executive Officer of the California Health Care Foundation
3:40 pm | Closing remarks on Health Equity: Where do we go from here?
3:55 pm ET | Closing Remarks
Alan Weil, JD, MPP, Editor-in-Chief, Health Affairs
Victor J. Dzau, MD, President, National Academy of Medicine
4:00 pm | Adjourn