Artificial Intelligence in Health Care:
The Hope, the Hype, the Promise, the Peril
A Special Publication from the National Academy of Medicine
The emergence of artificial intelligence (AI) in health care offers unprecedented opportunities to improve patient and clinical team outcomes, reduce costs, and impact population health. While there have been a number of promising examples of AI applications in health care, it is imperative to proceed with caution or risk the potential of user disillusionment, another AI winter, or futher exacerbation of existing health- and technology-driven disparities.
This Special Publication synthesizes current knowledge to offer a reference document for relevant health care stakeholders. It outlines the current and near-term AI solutions; highlights the challenges, limitations, and best practices for AI development, adoption, and maintenance; offers an overview of the legal and regulatory landscape for AI tools designed for health care application; prioritizes the need for equity, inclusion, and a human rights lens for this work; and outlines key considerations for moving forward. 
AI is poised to make transformative and disruptive advances in health care, but it is prudent to balance the need for thoughtful, inclusive health care AI that plans for and actively manages and reduces potential unintended consequences, while not yielding to marketing hype and profit motives.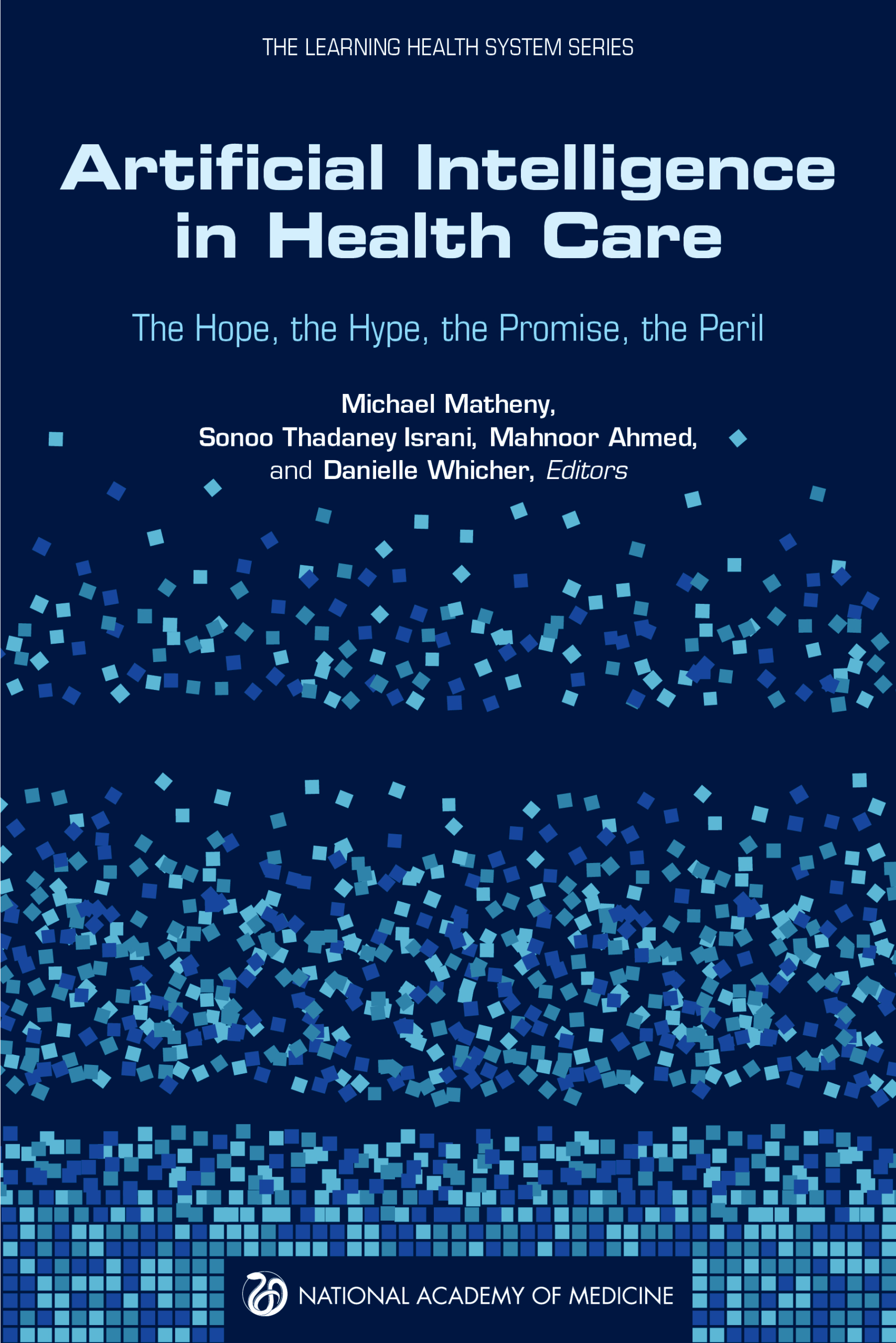 Authors
Michael Matheny (Co-Chair), Vanderbilt University Medical Center and the Department of Veterans Affairs
Sonoo Thadaney Israni (Co-Chair), Stanford University
Andrew Auerbach, University of California, San Francisco
Andrew Beam, Harvard University
Paul Bleicher, OptumLabs
Wendy Chapman, University of Melbourne
Jonathan Chen, Stanford University
Guilherme Del Fiol, University of Utah
Hossein Estiri, Harvard Medical School
James Fackler, Johns Hopkins School of Medicine
Stephan Fihn, University of Washington
Anna Goldenberg, University of Toronto
Seth Hain, Epic
Jaimee Heffner, Fred Hutchinson Cancer Research Center
Edmund Jackson, Hospital Corporation of America
Jeffrey Klann, Harvard Medical School and Massachusetts General Hospital
Rita Kukafka, Columbia Unversity
Hongfang Liu, Mayo Clinic
Douglas McNair, Bill & Melinda Gates Foundation
Eneida Mendonça, Regenstrief Institute
Joni Pierce, University of Utah
W. Nicholson Price II, University of Michigan
Joachim Roski, Booz Allen Hamilton
Suchi Saria, Johns Hopkins University
Nigam Shah, Stanford University
Ranak Trivedi, Stanford University
Jenna Wiens, University of Michigan

Read a JAMA Viewpoint about the future of artificial intelligence in health care and the NAM Special Publication, authored by Michael Matheny, Sonoo Thadaney Israni, and Danielle Whicher.