This week, Modern Healthcare recognized National Academy of Medicine (NAM) President Victor J. Dzau and 20 other NAM members as the 50 Most Influential Physician Executives and Leaders.
The 50 Most Influential Physician Executives and Leaders honors physicians working in the health care industry who are deemed by their peers and an expert panel to be the most influential in terms of demonstrating leadership and impact. These physician leaders are innovators, excel in community services, and demonstrate reputable executive authority. Modern Healthcare readers, as well as Modern Healthcare's editorial staff, had the opportunity to vote on the top 50 most influential physician executives. Nominees must currently work as a physician executive or leader (MD or DO) within the health care industry. [space height="10″]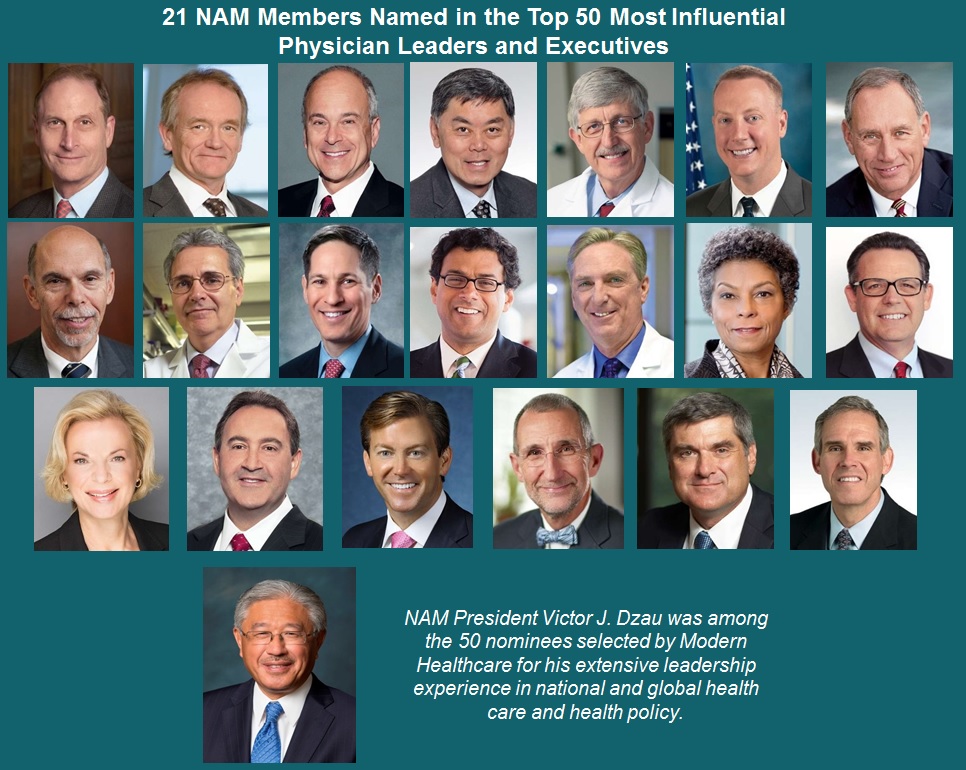 NAM Members who made the Top 50 list include:
David Blumenthal, President | Commonwealth Fund
Troyen Brennan, EVP and chief health officer | CVS Health
Mark Chassin, President and CEO | Joint Commission
Benjamin Chu, Incoming president and CEO | Memorial Hermann
Francis Collins, Director | National Institutes of Health
Patrick Conway, Deputy administrator for innovation and quality, chief medical officer | CMS
Toby Cosgrove, President and CEO | Cleveleland Clinic
Kenneth Davis, President and CEO | Mount Sinai Health System
Ronald DePhinho, President | MD Anderson Cancer Center
Victor Dzau, President | National Academy of Medicine
Thomas Friedman, Director | Centers for Disease Control and Prevention
Atul Gawande, Surgeon, professor, writer, researcher | Harvard Medical School and Havard School of Public Health
Gary Kaplan, Chairman and CEO | Virginia Mason Health System
Risa Lavizzo-Mourey, President and CEO | Robert Wood Johnson Foundation
Mario Molina, President and CEO | Molina Healthcare
Elizabeth Nabel, President | Brigham and Women's Health Care
Jonathan Perlin, President of clinical services and chief medical officer | HCA
Peter Pronovost, Director | Armstrong Institute for Patient Safety and Quality; Senior VP for patient safety and quality | Johns Hopkins Medicine
William Roper, CEO | UNC Health Care
Craig Thompson, President and CEO | Memorial Sloan Kettering Cancer Center
Eric Topol, Chief academic officer, director | Scripps Translational Science Institute and Scripps Health
To view the entire Top 50 list, please click here.