function OptanonWrapper() { }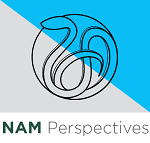 Perspectives
NAM Perspectives are expert commentaries and discussion papers by leading voices in health and health care.
Browse our latest Perspectives below and join the conversation online by using #NAMPerspectives!
ISSN 2578-6865
About NAM Perspectives >>

The National Academy of Medicine's Perspectives platform extends the National Academies' convening and advising functions by providing a venue for leading health, medical, science, and policy experts to reflect on issues and opportunities important to the advancement of health, health care, and biomedical science. Perspectives are individually-authored papers that do not reflect consensus positions of the NAM, the National Academies, or the authors' organizations. They are not reports of the National Academies.

Perspectives come in two forms: commentaries, or brief, op-ed-style opinion pieces; and discussion papers, lengthier peer-reviewed articles that present research, summarize literature, report on field activities, or consider approaches to progress. Authors are not paid, and submissions must be invited by the NAM.

Perspectives are intended to advance the field by spotlighting innovative ideas; sharing information, expertise, and best practices; and promoting dialogue and collaboration among stakeholders. They are frequently cited in media; referenced in academic publications; used as background documents for meetings; adopted in course materials or organizational toolkits; and used as position statements by stakeholder groups, among other outcomes. They are the #1 driver of traffic to NAM.edu.

For more information, contact Jenna Ogilvie at jogilvie@nas.edu.
Found 323 Results
Page 40 of 65

There once was a town in the heart of America where health seemed to come naturally for everyone. The town lay in the midst of a checkerboard of organic and wholesome farms. Fresh fruit and vegetables were plentiful and affordable. Within the town itself, recr ...
Authors: Andrew Pleasant
Tags: Children and Families, Coverage and Access, Health Equity, Longevity, Population Health
October 15, 2014
---

In 2013, the Institute of Medicine (IOM), in collaboration with faculty and students from Georgetown University (GU), launched the first annual District of Columbia (DC) Regional Public Health Case Challenge. The idea for this case challenge was born when repr ...
Authors: Emily Bien, Yaroslav Daniel Bodnar, Laura-Allison Bohannan Woods, David Brainerd, Zoya Butt, Desirée C. Bygrave, Stephanie Campbell, Leigh Carroll, Christine A. Clarke, Nicolette Davis, Chandani Desai, Alexandra France, Ariel Gaines, Aapta Garg, Adam Hammer, Jun Hu, Suzanne Keck Huszagh, Kara Ingraham, Iqra Javaid, Bridget B. Kelly, Claire Lang, Victoria Larsen, Erin Mack, Lindsey Miller, Aubrey L. Palmer, Darshana Prakasam, Megan Prior, Kristen Rankin, Chelsea Schifferle, Brandon Shumway, Karanpreet Takhar, Ariel Turner, Erika Vijh, Savannah Woodward
Tags: Diversity and Inclusion, Health Disparities, Health Equity, Population Health, Violence
October 07, 2014
---

In Shared Decision-Making Strategies for Best Care: Patient Decision Aids, the authors suggest concrete steps to fully integrate the ideals and practices of shared decision making (SDM) into routine clinical practice. The discussion paper, published by the Ins ...
Authors: Chuck Alston, Zackary Berger, Shannon Brownlee, Glyn Elwyn, Floyd J. Fowler Jr., Leslie Kelly Hall, Victor M. Montori, Ben Moulton, Lyn Paget, Brenna Haviland-Shebel, Richard Singerman, Jim Walker, Matthew K. Wynia, Diedtra Henderson
Tags: Coverage and Access, Digital Health, Electronic Health Records, Health Literacy, Health Policy and Regulation, Quality and Safety
September 18, 2014
---

Is there a more fertile setting to instill and advance continuous learning than in our nation's medical schools? After all, these schools are where ambitious, bright young minds assemble to begin the climb toward becoming a physician and hopefully obtain the i ...
Authors: James L. Madara
Tags: Clinician Well-Being, Health Policy and Regulation, Population Health, Workforce
September 12, 2014
---
---
Page 40 of 65