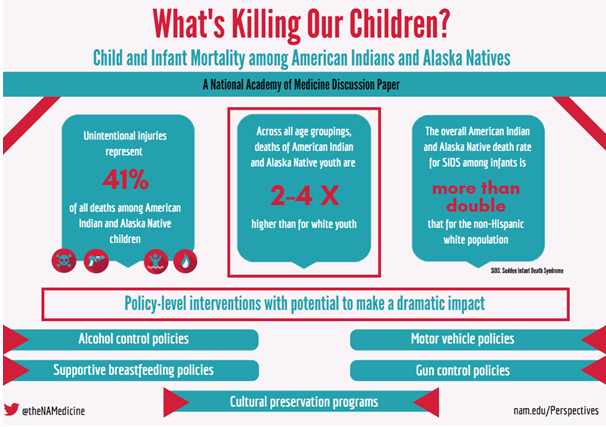 The very vulnerable demographic group of American Indian and Alaska Native (AIAN) youth face unique and important challenges. We need to hear from native stakeholders and experts in American Indian health about the contextual factors (poverty, low educational attainment, and substance abuse) that represent a threat to native communities in this country. To begin to mitigate that threat, researchers, opinion leaders, human services providers, and the general population need to begin to understand what is killing native children.
In this paper we use the lens of infant and childhood mortality as a tool to recognize opportunities for action that could have an impact on this perhaps most critical indicator of the health of this population. We attempt to extract some lessons from the lived experiences of too many reservation and urban Indian communities and turn these tragic stories into useful tools for broader policy and health system change.
Public health has long used such mortality statistics to create a picture of the health of the community. In a recent article, Wong et al. (2014) used a novel technique—data linkage—to create a unique dataset matching Indian Health Service (IHS)-eligible participants with vital statistics for AIAN child and infant mortality rates by region. By reducing racial misclassification through this method, the authors present the patterns of AIAN infant and child mortality experienced by AIAN as compared to white infants and children, creating a frightening picture of problems affecting AIAN children, families, and communities.