by Stephanie Miceli
You can find a nurse navigating city streets, on her way to a home visit. Or, maybe he is recording educational videos on preventing ear infections. She might even be running for city council.
Nurses are taking on new and expanded roles in health care, a prominent theme at the National Academy of Medicine's (NAM) three regional town halls this summer on the future of nursing. As health care becomes more complex and stretches beyond traditional settings, nurses are charting new paths in areas such as health system leadership, clinical research, and digital health.
The three town halls, held in Philadelphia, Chicago, and Seattle, will inform NAM's Future of Nursing 2020-2030 study, which is looking at the opportunities and challenges facing the profession in the next decade. Nurses who attended discussed how an aging population, emerging technologies, and evolving curriculum and continuing education opportunities are inherently changing their profession.
However, some things remain the same — nurses are one of the first lines of defense for addressing many of the social and economic stressors that can impact people's health, whether that's food insecurity, homelessness, or transportation barriers.
Making Nurses Lifelong Learners
Understanding how social determinants affect health outcomes should be standard curriculum for nursing education, said panelists at the June 7 Chicago town hall. But that's not always the case.
Susan Swider, a professor in the Department of Community, Systems and Mental Health Nursing at Rush University, encouraged attendees to be lifelong learners. "We need more robust continuing education. Once you reach a Ph.D., you can't be 'pinnacled out,'" she said.
She and other attendees emphasized the urgency of revising curriculum now — not three or four years from now — to be agile and responsive to the fast-changing world of population health.
"I envision a nurse researcher working for the Department of Housing and Urban Development, evaluating the health outcomes of affordable and stable housing. Or working with their city council to help them integrate a health-in-all-policies approach to decision-making," said Janice Phillips, director of nursing research and health equity at Rush University. 
Moving Beyond Clinical Care
During the July 24 town hall in Philadelphia, Antonia Villarruel, dean of the University of Pennsylvania School of Nursing, shared nurse-led community health initiatives from around the country that focused on the health of migrant workers, firearm violence prevention, and the heart health of formerly incarcerated black men. "Nurses have to work at all levels, not just clinical care," said Villarruel.
It's critical that nurses are able to practice to the highest level of their education and training, working as a team with medical providers, social workers, and public health professionals, attendees said.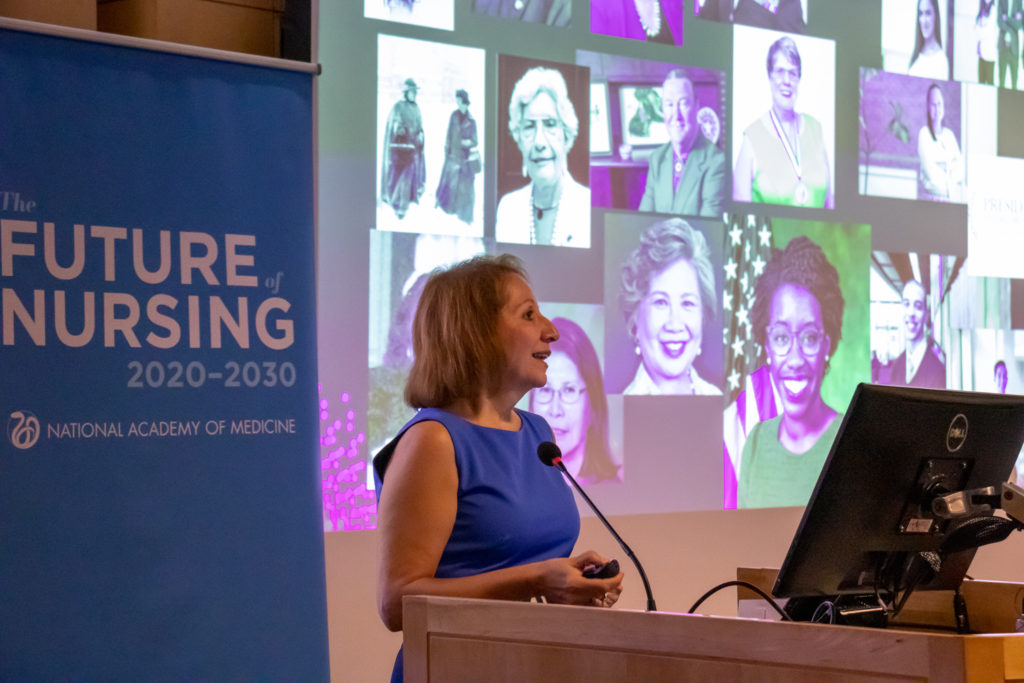 University of Pennsylvania School of Nursing Dean Antonia Villarruel shows Philadelphia town hall attendees the many faces of nursing. Credit: Michael Fisher

Balancing High-Tech with the Human Touch
Nurses should embrace their role as "cross-sector data sharing champions," said Eli Kern, an epidemiologist at the King County Department of Public Health, during the August 7 town hall in Seattle. When data remains in silos, "we reach incomplete conclusions, and those incomplete conclusions could lead us to incomplete priority areas – which drives funding."
Molly McCarthy, national director, U.S. provider industry and Chief Nursing Officer at Microsoft, applauds this new wave of digitally savvy nurses who are interpreting data, creating apps, and even starting their own tech companies. For example, at Providence Health System in Seattle, nurses created an app that helped reduce unnecessary C-sections.
"Digital transformation doesn't always mean using the latest and greatest tech. It could mean taking information that was in a binder and digitizing it," said McCarthy. "As nurses, we are critical in this digital transformation, whether you work at a hospital, in the home, in industry, or you see patients virtually."
Imagining Future Roles for Nurses
While technology is promising, it is not a panacea or a magic wand that can remove structural inequities in health care.
Whether it's through volunteer work, serving on boards, or assuming leadership roles in research and administration, nurses can become advocates for social change, said Chicago town hall speaker Coletta Barrett, vice president of mission at Our Lady of the Lake Regional Medical Center, and chair of the Baton Rouge Mayor's Task Force on Health and Well-Being.
"There are 3.9 million nurses in the U.S. Imagine the future if you can unlock and harness the passion in each of us," Barrett said. "We have to always remember why we got into this, and give people equal opportunity to act on their 'why.'"
From the Office of News and Public Information at the National Academies of Sciences, Engineering, and Medicine