Engaging Allies in the Culture of Health Movement
November 10, 2017 Meeting Summary
Table of Contents
Click below to read section summaries
Visualize Health Equity  |  Advances Toward Health Equity  |  Successful Movements in Recent History  |  Social Determinants of Health Definitions, Challenges, and Solutions to Achieving Health Equity in Communities Across the U.S. Communicating Health Equity  |  Communities Driving Health Equity Video Series Policy and Systems Reform to Drive Health Equity in States and Communities  |  Closing Remarks
On November 10, 2017, the National Academy of Medicine (NAM), in partnership with the Robert Wood Johnson Foundation (RWJF), convened the second stakeholder meeting of its Culture of Health Program, entitled Engaging Allies in the Culture of Health Movement. The NAM Culture of Health Program is a multi-year collaborative effort funded by RWJF with the goal of building a nationwide movement to attain greater health equity in the United States through four aims: LEAD, TRANSLATE, IMPACT, and SUSTAIN. The objectives of this one-day stakeholder meeting were to:
Visualize health through the lens of art and communities;
Illustrate links across social determinants of health via established science and lived community experience;
Highlight recent movements that have resulted in positive change; and
Identify challenges and solutions in creating a culture of health.
  Below is a summary of the meeting.
Visualize Health Equity
Health equity means everyone has a fair shot at living the healthiest life possible. The NAM asked artists across the nation what health equity looks, feels, or sounds like to them – whether it's access to healthy food or safe neighborhoods, good education, a living age, clean drinking water, or affordable housing. We received over 100 inspiring pieces of visual art, poetry, spoken word, music, and performance art. View all of the art chosen for the exhibition at our permanent digital gallery>> The artists featured below were chosen for the art exhibition, as well as invited to present their artwork at this meeting. Click the name of the artwork below to learn more about the piece, enlarge the artwork, or watch the video.
Advances Toward Health Equity
In her keynote address,
Mindy Fullilove, Professor at The New School,
framed advances in health equity within a pervasive ecology of inequality that has persisted across the U.S. for decades. She told the story of her parents, an interracial couple who moved to Orange, New Jersey in the 1950s. After her father, a union leader for United Electrical, Radio, and Machine Workers of America lost his job, he turned his energies toward desegregating schools in Orange. He and his colleagues successfully desegregated the schools in just three months – a remarkable win for this underrepresented black community. Capitalizing on this momentum, the community organized a city-wide campaign to support a black candidate for city office. Dr. John Alexander's platform consisted of priorities that minority communities in Orange faced then and continue to face today:  gentrification, high rates of unemployment, lack of public transportation, an inadequate school system, pervasive racism, high rates of juvenile delinquency, and a lack of representative government. Fullilove drew upon the lessons of her father's efforts in Orange and her own work, encouraging those who are fostering a movement to run
for
an issue, rather than
against
one (or many). Fullilove also noted that because it is difficult for a minority interest group to take power by itself, organizers should build coalitions with a diverse group of allies. Fullilove and colleagues in Orange, NJ were awarded a research grant through the RWJF Culture of Health initiative to develop the
Healthy Orange project
. She and her colleagues are focusing on the contribution of education to health, with the goal of increasing connectivity among otherwise isolated people, resources, and learning communities. Fullilove highlighted the essential tenets of a successful movement, which she reminds her colleagues of often:
Celebrate every accomplishment, however small, because this work is long and hard;
Tell the story of every successful movement;
Identify the stories that bestow both sorrow and hope, as both are necessary;
Pass the onus of leadership onto up-and-coming leaders and engage youth in the process;
Take time to remember the past and to envision a future that does not leave anyone out.
  Fullilove concluded by reminding participants that we share a common story. We should all learn, understand, and actively reflect upon our stories and the stories of others as we continue the forward momentum toward a culture of health. Antonia Villarruel, Professor and Dean of Nursing at the University of Pennsylvania, noted that the culture of health movement is not starting from the ground up, but is building upon existing efforts. To address the root causes of health inequity – poverty, structural racism, and discrimination – and to successfully embed a culture of health in all of our communities, she encouraged participants to identify the elements that contribute to a successful movement and learn from the lessons of earlier efforts. Only with a clear understanding of barriers and opportunities can movements progress.    
Dr. Fullilove's father, Ernie Thompson, with the President of United Electrical, Radio, and Machine Workers of America at one of the conferences they organized for women's rights in the workplace
Watch Dr. Fullilove's keynote address
Successful Movements in Recent History
Velma McBride Murry, Professor at Vanderbilt University, moderated a reactionary panel on successful social movements in recent history. The panel highlighted the challenges and opportunities facing three social movements: civil rights, LGBTQ rights, and Aloha 'Aina (return to native traditions). Murry acknowledged that efforts to promote social justice and a culture of health are very similar. She stated that today's movements are actually vestiges of what has happened in our past, which means that this history is a part of both our present and our future.
Mobilization around critical issues ignites a process through which a group of people comes together to create change. However, amidst the struggles within a movement, a weathering phenomenon often occurs in which the continued fight for social justice weighs on individuals as they witness the perpetuation of negative outcomes, poor conditions, and unfair treatment. In these circumstances, Murry said, it becomes easy to be consumed by individual struggles, and with little evidence of progress, energy that drives movements begins to fade. However, now more than ever, is the time when leveraging partnerships between movements is critical to keeping the vision of social change and social justice alive. To this point, Murry recognized the complimentary comments raised by each panelist when they spoke about the importance of interconnectivity as a reminder that none of the work to create a culture of health can be done in isolation.
Civil Rights
Michael Curry, Immediate Past President of the National Association for the Advancement of Colored People (NAACP) National Board of Directors, reflected on his experience of being cast as William Monroe Trotter in the film Birth of a Movement. Birth of a Movement remembers William Monroe Trotter's campaign against the release of Birth of a Nation in 1915, an extremely racist and divisive film that was used as a recruiting tool for the Ku Klux Klan after its release. Trotter was involved with the National Negro Committee, which would eventually become the NAACP, and he, along with the Boston NAACP and 10,000-plus individuals, challenged the release of Birth of a Nation. Unfortunately, Trotter's campaign to ban the film was unsuccessful. With Trotter's campaign against Birth of a Nation as the backdrop, Curry noted that 70% of the NAACP's activities occur behind the scenes, receiving none of the notoriety that the otherwise very public initiatives of the organization garner. He noted that every movement of the NAACP, public or not, included a struggle to answer five key questions:
What needs to be done?
How should it be done?
What should the messaging be?
Who should be involved?
What should the tone of the organization's advocacy be?
  The NAACP has many civic pursuits, including addressing gentrification and the rising rate of evictions, amongst many others. For Curry, engaging young people and shaping them into leaders is among the most significant pursuits of the NAACP. He spoke about the power of connecting with people who live civic challenges on a daily basis and delivering first-hand the messages that resonate with individuals. It is here, Curry said, where the movement begins.
LGBTQ Rights
Harper Jean Tobin, Policy Director for the National Center for Transgender Equality (NCTE), expressed that until recently, LGBTQ people were outsiders to society and the law, in that being LGBTQ was considered both a disease and a crime. Tobin aligned the early LGBTQ rights movement in the U.S. with the Black Freedom movement, the feminist movement, and specifically highlighted advocates such as Harvey Milk. With the onset of the AIDS epidemic, and what Tobin referred to as "government neglect of the AIDS community," institutions and support networks emerged to address the needs of this community. Tobin and NCTE's efforts are dedicated to ensuring the full inclusion of the LGBTQ community across all of society via the protection of civil rights laws. This includes building support and recognition within families, workplaces, professional institutions, faith communities, and schools and campuses, as well as leveraging opportunities through the growing body of elected state and local LGBTQ office-holders across the country. Tobin acknowledged that efforts to mainstream inclusionary infrastructure and practices still have a way to go. For example, population surveys could use enumeration to better understand the LGBTQ experiences of poverty, unemployment, homelessness, violence, incarceration, substance abuse, cancer, HIV, depression, anxiety, and suicidal ideation. However, there are signs of progress, with more LGBTQ individuals than ever embracing their identities. Tobin concluded by encouraging the LGBTQ movement to be one that is intersectional and inclusive of all sources of inequality that exist today. In doing so, the movement can assist in promoting health equity and well-being for all.
Aloha 'Aina
Puni Jackson, Ho'oulu 'Aina Coordinator for Kokua Kalihi Valley Comprehensive Family Services, introduced Aloha 'Aina as a civil rights movement about loving the land. Aloha 'Aina translates to: "I love, I will protect, I will die for that which feeds us generationally." The movement can be traced back to 1893 when the U.S. government overthrew Queen Lili'uokalan, occupied Hawaii, and transformed it into a militarized space. Jackson lamented that within the span of a century, Aloha 'Aina had been eroded to the point that most Hawaiians had lost the native Hawaiian language. Looking to the civil rights movement led by African Americans on the U.S. mainland in the 1950s and '60s, so too was this movement started to take back resources, language, and an identity that had been lost. Today, the Aloha 'Aina movement has been formalized through the creation of a non-profit organization that reclaims a cultural heritage and teaches the promise of a sustainable future for generations to come. (Watch a short documentary video about Kokua Kalihi Valley's work.)
Social Determinants of Health
Anna Ricklin, Manager of the Planning and Community Health Center at the American Planning Association, moderated a panel that brought together community leaders and leaders in research who are working across the issues of incarceration, criminal justice, and community health; children and youth; and housing and community issues to understand what influences these issues have at the neighborhood level and how these community leaders are working to transform change.
Incarceration, Criminal Justice, and Community Health
Reverend Juard Barnes, Community Organizer for Indianapolis Congregational Action Network (IndyCAN), introduced the work of IndyCAN by emphasizing how important community relationships are. IndyCAN is part of the People Improving Communities through Organizing (PICO) National Network and addresses criminal justice reform in parallel with violence reduction by forging relationships with city officials, social agencies, and neighborhoods across Indianapolis. Rev. Barnes emphasized the importance of building relational power in a community and noted that those who can act should, on behalf of their neighbors who cannot. Rev. Barnes cited voter turnout figures from Indianapolis, noting that 88% of midterm election voters were white and over the age of 65. Rev. Barnes explained that since the vast majority of voters were not representative of the communities IndyCAN engages with, he and his colleagues needed to create new relationships and ensure that these voters understood the struggles of their neighbors. Building upon this understanding, IndyCAN engaged 164,000 people over the course of a 5-week period to educate them about the issues of mass incarceration and criminal justice reform. The conversation was eventually elevated to include the Mayor of Indianapolis and a majority of the city council members. This wave of community engagement led to the shuttering of a proposal for a $1.75 billion prison facility. In its place, investments were made in mental health services, mental health facilities, and training for police officers to help them identify people who are in mental health crises and provide alternative crisis interventions to detainment and arrest. (Watch a short documentary video about IndyCAN's work.) Rufus Williams, President and CEO for BBF Family Services, formerly Better Boys Foundation, spoke about his organization, which is located in the North Lawndale neighborhood of Chicago, IL. North Lawndale was historically known as an ethnically diverse neighborhood with robust employment opportunities until the 1980s when the majority of large businesses moved elsewhere. Today, the area struggles with low-performing schools, poor educational outcomes, intra-generational poverty, and high rates of unemployment. Williams noted the increasingly large police presence in North Lawndale, which contributes to rising incarceration rates for young men from the community. Speaking in regards to health equity, Williams stated that the average life expectancy in North Lawndale is 72 which is 15% shorter than the national average of 85. Williams went on to say that both quality and length of life in North Lawndale is directly impacted by systemic issues of poverty and incarceration. Better Boys Foundation is addressing these issues by offering opportunities for employment, education, youth services, family services, health and wellness services, and mentoring to vulnerable individuals. Providing these basic needs can be transformative, and can empower members of the community to become more engaged. Williams reminded the audience that despite the success of such programs, which do reflect significant progress, the real power lies in policy. He urged meeting participants to advocate for policy changes that will, in turn, impact laws.
Children and Youth
Sam Joo, Director for Magnolia Community Initiative (MCI), introduced MCI as a hub that shares community-generated data, analyzes that data into actionable information, and guides new and innovative strategies that can impact the community in a sustainable manner. MCI launched in 2008 in East Los Angeles, servicing a 500-block area that is home to over 110,000 individuals. Joo acknowledged that the area MCI serves faces challenges with lower educational achievement; high rates of poverty, crime, and childhood obesity; and a lack of green spaces. Despite these challenges, the cross-sector partnerships created through MCI have engaged diverse expertise to enhance child and family well-being. Central to these efforts is maintaining a set of data that serves this neighborhood at a granular level, since publically-accessible L.A. county data is not specific enough to be actionable. Joo explained that data is generated by canvassing the 500-block area and speaking with residents. This information informs dialogue between partner organizations and local residents to create sustainable change in their neighborhood. Vesna Kutlesic, Director of the Office of Global Health for Eunice Kennedy Shriver National Institute of Child Health and Human Development, discussed the Institute's focus on research to optimize children's developmental outcomes as an integral part of broader research on human development across the lifespan. Kutlesic emphasized the value of research in systematically observing, especially at the community level, social determinants that contribute to challenges and identifying where change and impact are possible. Kutlesic envisions their research as a process that can learn from past collective experiences and make improvements in future community programs and policies. Kutlesic suggested that learning and change can also occur by sharing research findings, which sometimes can be adapted for new communities. Kutlesic also acknowledged the importance of utilizing multidisciplinary teams when developing community research and program goals, milestones, outcomes, and evaluation plans prior to and throughout implementation.
Housing and Neighborhood
Aaron Bartley, Co-Founder and Executive Director for People United for Sustainable Housing (PUSH) Buffalo, discussed PUSH Buffalo's approach to creating healthy housing, which starts with community power and building a base for a larger movement. Using community meetings as a platform, PUSH Buffalo deconstructs community challenges at the neighborhood level, block-by-block and then parcel-by-parcel, to gather community members around a reimagined future. Utilizing existing ownership structures like land tenure, Bartley illustrated how collective or individual ownership of land can stave off gentrification, displacement, disconnection from services, and disruptions to community bonds, all of which are trends in unhealthy cities today. Gaining community control of land can then allow the community to plan for the land and their future potential, as well as benefit from the economic opportunities embedded in community systems, including self-management of food, energy systems and structures, and water. Bartley reinforced that all of these things, centered around community ownership and choice, is critical to building a culture of health. (Watch a short documentary video about PUSH Buffalo's work.) Patrick Sharkey, Professor and Chair of Sociology at New York University, explored the connection between marginalized neighborhoods and violence, stating that communities cannot succeed if they are unsafe. Sharkey noted that cities across the nation are experiencing a spike in violence, despite an overall 25-year decline during which overall rates of violence have been cut in half. Sharkey noted, however, that this long-term drop in violence presents an opportunity to transform cities. In cities where violence has declined, children are performing better in school, life expectancy is rising, there is less economic segregation, and children have greater potential to rise out of poverty. Sharkey noted the role that local organizations are playing in declining rates of violence. Sharkey stated that the sheer presence of these community organizations sends a message of accountability and stewardship, reinforcing that there is an entity advocating for the community. Sharkey suggested that such organizations need to be connectors, linking people with institutions to counteract a sense of neglect in communities, which can lead to violence. High-functioning institutions, strong community organizations, and residents who are willing to address common challenges together, are the foundation of a strong community. But when resources are not embedded in community's foundation, community cohesion tends to fade, and it is much less likely that people will unite in shared beneficial endeavors, trust each other, and be willing to work together.
Definitions, Challenges, and Solutions to Achieving Health Equity in Communities Across the U.S.
In summer 2017, the Culture of Health program staff conducted a "Listen and Learn Tour", visiting 11 communities across the U.S. The goals of the tour were to identify communities that have successfully advanced their health equity agendas and determine if there are common principles among the communities that can be applied to other locations. For example, common themes around leadership, measurement, and sustainability arose in many conversations. The next phase of this work is to develop a "Communities in Action Network", a platform for shared learning, networking, and capacity strengthening to advance a culture of health across the United States. In parallel to the Communities in Action Network, the NAM will host a number of workshops to help communities draft plans to implement recommendations from the Communities in Action: Pathways to Health Equity consensus report.

Charlee Alexander, Program Officer at the National Academy of Medicine, moderated a panel of community representatives from Taos Pueblo, New Mexico; Williamson, West Virginia; and Brownsville, Texas to learn how these communities define health, health equity, and health disparities; discuss the principles that are used to guide their efforts in addressing the social determinants of health; and highlight approaches that are transferrable across communities and which are unique to specific locations. Alexander emphasized that solutions are most successful when they are developed and driven by the community and when implementers capitalize on the knowledge and experience of the individuals who live where the challenges exist. This theme was echoed among the panelists who expressed the importance of integrating feedback from community voices to better understand what impacts health and how to drive change.
Ezra Bayles, Division Director for Taos Pueblo Health and Community Services, introduced the program he oversees in rural northern New Mexico. Taos Pueblo is one of 568 federally recognized tribes in the United States. Designated a World Heritage Site, Taos Pueblo is one of the oldest continuously inhabited communities in the United States.
Bayles described how, historically, the Bureau of Indian Affairs provided health care through tribal program implementation. More often than not, these programs were administered to tribes rather than being implemented with tribes. In 2007, Taos Pueblo assumed the responsibilities previously provided by the federal government as a way of alleviating this tension and thus allowing tribes to design and implement their own programs from a culturally-situated perspective. Bayles noted that situating the provision of health care back at the community level now meant that the tribal council must seek community input in the decision-making process. This ensures that residents are involved in their own health care choices. Health care priorities are now identified using information collected from surveys, home and service-center visits, and one-on-one conversations, where community members have the chance to articulate issues and point to improvements they are seeking. Bayles and his staff then synthesize this feedback and identify priorities that inform programs, functions, and services provided to the people of Taos Pueblo. Bayles acknowledged that because the community is small, community engagement is possible and functional for them, and has worked well in producing health care that is informed by the needs of the community. Taos Pueblo received the RWJF Culture of Health Prize in 2014 for their work.
Darrin McCormick, Community Liaison for Williamson Health and Wellness Center in Williamson, West Virginia, described the impact the dwindling coal industry has had on his community over the last 30 years. The community is experiencing extremely high levels of unemployment, population decline, and an increase in properties owned by absentee companies. These absentee companies do not invest in the issues that plague Appalachia or help diversify the economy away from extractive industries.
In 2007, the Federal Home Loan Bank of Pittsburgh and the Benedum Foundation designated Williamson as a Blueprint Community. Blueprint Communities provides training, technical assistance, coaching, and financial support to organizations or individuals who seek to develop and implement plans that will revitalize their communities. McCormick and his colleagues knew that the community was experiencing negative health outcomes, and a strategic planning process reinforced the truth of their assumption. One of the early programs, supported by funding obtained by McCormick and his colleagues, was the Southeastern Diabetes Initiative, which employed education to change behaviors that were leading to poor health outcomes. The early success of the initiative led to Williamson Health and Wellness Center receiving a designation in 2013 as a federally qualified health clinic. This designation allowed them to increase access to health care and generate revenue, which in turn paid salaries for key individuals who had, up until that point, been volunteers. McCormick considers himself an ambassador for the RWJF Culture of Health Prize, which Williamson won in 2014, and seizes the opportunity to talk about the positive impact receiving the prize has had on the town and the state of West Virginia.
Lisa Mitchell-Bennett, Project Manager at the University of Texas School of Public Health in Brownsville, Texas, characterized her community as fast-growing, bicultural, young, and low-income with a high burden of chronic disease. Located at the U.S. – Mexico border, Mitchell-Bennett noted that Brownsville is the poorest metro area in the United States. Health outcomes are equally poor. Obesity and diabetes rates are among the highest in the country and Brownsville experiences the highest uninsured population. Despite the region boasting 1.4 million people on the U.S. side alone, there is no public hospital. Free medical care clinics have up to a two-year waiting list for new patients.
Referencing the weathering effect that Velma McBride Murry described earlier, Mitchell-Bennett acknowledged that her community includes a hardworking population that is accustomed to being ill and burdened with high rates of depression and anxiety. Geopolitical stressors, such as the increasing presence of both the military and law enforcement, as well as increasingly aggressive immigration policies that divide families, further tax an already under-resourced area. Despite these complex conditions, Mitchell-Bennett highlighted the community's rich biculturalism, unique natural beauty and climate, and strong commitment to family. When asked how the Brownsville community defines health, Mitchell-Bennett answered: "Hope for the future of our children."
Mitchell-Bennett described a university, municipal, and community partnership that created a representative advisory group to address the local data about these health and economic challenges. This collaborative was awarded the RWJF Culture of Health Prize in 2014, which created an opportunity to transfer successful policy, environment, and system change efforts from Brownsville to nine additional municipalities in the region.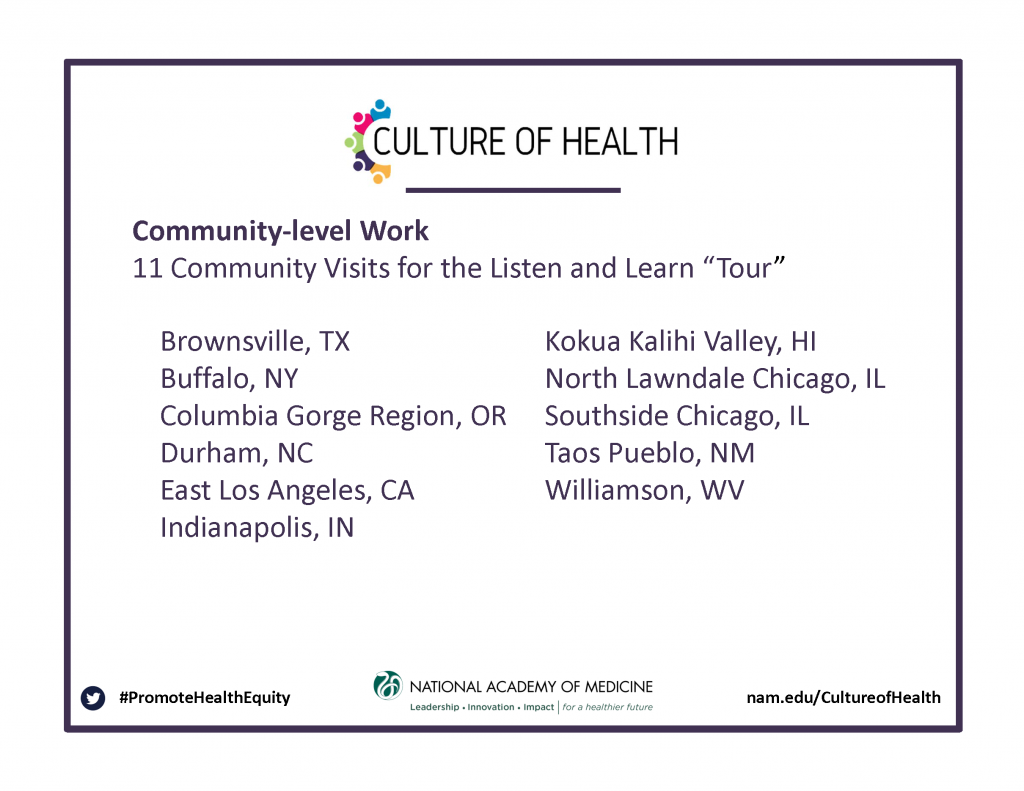 Watch the panel summarized in this section
Communicating Health Equity
Sarah Klein, Director of Red Glass Pictures, moderated a panel of communications experts from RWJF and NAM to discuss challenges and opportunities for communicating health equity and equity research. Klein encouraged those in the audience to be personal, narrative-led, and story-based in communicating about health equity and health disparities.
Nicole Bronzan, Senior Communications Officer at RWJF, echoed Klein by acknowledging that storytelling is essential to communicating about health equity. Bronzan highlighted the importance of formulating definitions, noting that "health equity" has both a definition for measurement and for actionable solutions. Conversations can become confused if participants don't understand terms in the same way.  Health is not just about sickness, medical care, or genetics; health is about everything we do and everything in our lives that affects our health. Bronzan defined equity as fair and just opportunities, a definition that must allow for the measurement of progress.
Bronzan differentiated equity from equality by way of a graphic (shown to the left) and discussed various ways to talk about health equity with different stakeholders. Bronzan also cautioned against only talking about disparities, and encouraged the audience to focus on solutions, opportunities, and hope.
Laura DeStefano, Director of Communications at NAM, discussed the role of the National Academies in talking about health equity, and the focus the National Academies has on translating the science and sustaining the conversation. To help translate the science and evidence from the Communities in Action consensus report, the National Academies created a Health Equity Hub. The Hub contains a wealth of information in a variety of formats and from a number of different perspectives to create opportunities for other communities to extract principles that could apply to their own work. DeStefano acknowledged that substantial work will need to be done in order to educate the public about the role of social determinants of health and health equity. The National Academies is furthering this conversation through the Community Health Heroes' interview series, a collection of essays on the intersection of health equity and social determinants of health, the Visualize Health Equity art show, Communities Driving Health Equity video series, and ongoing use of #PromoteHealthEquity on various social media channels.
Dwayne Proctor, Senior Adviser to the President and Director of Achieving Health Equity Portfolio at RWJF, discussed the partnership between RWJF, Harvard's T. H. Chan School of Public Health, and National Public Radio (NPR) to conduct a poll that spoke to nationally representative samples of African Americans, Latinxs, Asian Americans, Native Americans, whites, men, women, and LGBTQ adults. The poll sought to understand perceived discrimination and how discrimination might impact health outcomes. Proctor emphasized the need to eliminate health disparities and achieve health equity to truly achieve a culture of health. The findings of this study have since been released and are accessible here.
Communities Driving Health Equity Video Series
The National Academies consensus report Communities in Action: Pathways to Health Equity profiled nine communities that are working to advance health equity by addressing the social determinants of health. The report highlighted three principles that lead to successful community action, which include:
Making healthy equity a shared vision and value
Increasing capacity in communities
Working across sectors
The NAM visited three of the communities profiled in the Communities in Action report and developed short documentary videos, embedded below, about their inspiring work to promote health equity in their communities. Read more about the communities>>
People United for Sustainable Housing (PUSH) Buffalo
Indianapolis Congregation Action Network (IndyCAN) – now, Faith in Indiana
Kokua Kalihi Valley Comprehensive Family Services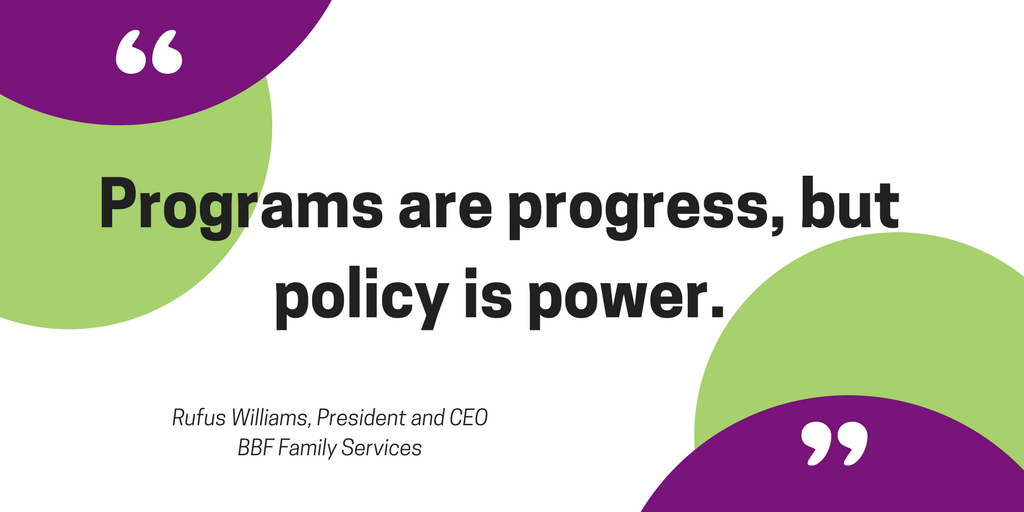 Policy and Systems Reform to Drive Health Equity in States and Communities 
Hortensia Amaro, Dean's Professor of Social Work and Professor of Preventative Medicine at the University of Southern California, moderated a two-part discussion focused on policy and systems reform that can be enacted to drive health equity. She highlighted the need for partnerships across sectors to achieve policy and systems change. Amaro underscored the importance of understanding the interconnectedness of issues surrounding health equity. To do this, she encouraged participants to uplift each other and ensure that the histories of all at the table are both visible and well-undestood.
Catalyzing Innovative Reform in Communities
Marissa Mortiboy, Program Coordinator for Durham County Department of Public Health, introduced the Partnership for a Healthy Durham, a community coalition that includes representatives from nonprofit organizations, health care, education, transportation, local government and other sectors, collaborating to improve the mental, physical, and social health and well-being of Durham County residents. The Partnership takes a community-based approach, in which program staff and volunteers go door-to-door to conduct surveys and understand the needs of the community, as well as how residents envision the Partnership could help address those issues. The Partnership's top priorities are increasing access to health care, improving mental health, and reducing rates of HIV/STIs, obesity, chronic illness, and substance abuse. The Partnership recognizes the reduction of poverty, equitable access to quality education, and achieving racial equity as integral to achieving community-level health. The Durham County government, in partnership with the Department of Public Health, conducts routine workshops on racial equity, focusing on systems-level racial inequities, why certain populations do not fare as well as others, and institutional racism. These workshops provide a chance to standardize language around racial equity so that metrics can be developed and data can be collected, allowing for participants to collectively work on actionable steps to eliminating racism.
Kristen Dillon, Director of the Columbia Gorge Coordinated Care Organization*, characterized the demographics of the rural Columbia Gorge region, which spans the states of Oregon and Washington, as Latinx and white, with significant Native American and Japanese American populations. A large portion of the population in this region are undocumented immigrants, and many families are blended, including some U.S. citizens, some naturalized citizens, and some undocumented immigrants. Dillon shared that for every dollar spent in the U.S. on social services, education, and welfare, two dollars are spent on health care, which is an inverse ratio to other wealthier nations, who spend less on health care and more on social services. Dillon highlighted several initiatives in the region that are connecting and bridging health care and social resources. These include a community health assessment and improvement plan; home visiting connection hub; health IT infrastructure for social service and health care, fully funded with savings from the region's Medicaid program; and the Bridges to Health Pathways Hub, which is a coordination and funding structure for community health workers.
*The Coordinated Care Organization is Oregon only. The community self-defines and does health improvement work across both Oregon and Washington.
Sue Polis, Director of Health and Wellness at the National League of Cities (NLC), began by acknowledging the organization's long history of working with mayors and city leaders to address social determinants of health. Polis described a process through which mayors and civic leaders reviewed maps depicting great disparities in their cities. While presenting these maps, the NLC explained to municipal leaders that health encompasses much more than just health care and provided them with a framework to take action using limited city budgets. The NLC is convening a series of "mayor institutes" to facilitate a peer-to-peer dialogue between mayors around the social determinants of health. These conversations include strategies to leverage innovative financing mechanisms within health systems.
Catalyzing Innovative Reform in States
Hemi Tewarson, Director of the Health Division of the National Governor's Association (NGA), highlighted the importance of focusing on social determinants and of understanding that what happens at the community level can inform what is occurring at the state level. Tewarson emphasized NGA's role as a bipartisan organization that supports governors in building their policy platforms. Tewarson works to determine how social determinants of health fit into a broader state policy platform that can be both funded and scaled up or down as necessary. In an era when there is no uniform way of thinking about health care, Tewarson leverages the platforms and actions of governors to increase funding for health care nationwide. Tewarson works to fund efforts that include health care coverage, ensuring workforce robustness, health system transformation, improved data analytics, supporting public and behavioral health, and social determinants of health. Tewarson spoke about the Complex Care Project, which reviewed 5% of Medicaid populations in 10 states and one territory and assisted states in identifying and implementing strategies to address the needs of this population. Data across these populations revealed that housing and behavioral health were two significant needs. Based on this information, NGA facilitated building programs at the state level to address these priorities by linking community providers to the Medicaid program more effectively.
A roadmap published by the National Governors Association contains the results of this initiative for the participating states and territory.
Alexander Billioux is the Director of the Division of Population Health Incentives and Infrastructure for the Center for Medicare and Medical Innovation, which focuses on designing and testing new models of care delivery and payment. Billioux seeks opportunities within the health care system to realign incentives to reduce cost and improve quality of care for patients. Billioux leverages preventative care and population health to improve overall health. Billioux cited figures on preventable hospitalizations, including that 20% would be reduced by directly improving the health care system while 40-60% of people are hospitalized for social and behavioral reasons and their hospitalizations would be reduced only by changing their environment. Billioux also leads the Accountable Health Communities Model, which works in 32 communities across the U.S. and focuses on upstream determinants of health across five core areas: housing instability, food insecurity, transportation and utility assistance needs, and interpersonal violence. The model also funds a bridge organization that links the clinical environment with community service providers and community organizations to address community needs.

Closing Remarks
In his closing remarks, Otho Kerr, Partner at Encourage Capital, highlighted the potential of minoritarian leadership, which he described as the process by which lines of difference and lines of resistance are crossed to create allies and come together around collective change. Kerr encouraged the audience to identify investable opportunities for health equity. These opportunities must have an identifiable cash flow, which may come from the sale of products, the sale of services, or from savings.
Beyond opportunities for investment, Kerr grappled with messaging the culture of health movement. Should it be inspirational to those already participating in the movement or should it reach across lines of difference? Kerr emphasized that not only is the message important, discovering how messages resonate across audiences will be of equal importance. He closed the meeting by urging all participants to think about creating a message about health equity that is broad, loud, short, personal, and inclusive.
 Follow our Culture of Health Movement by visiting our Culture of Health homepage and subscribing to our mailing list.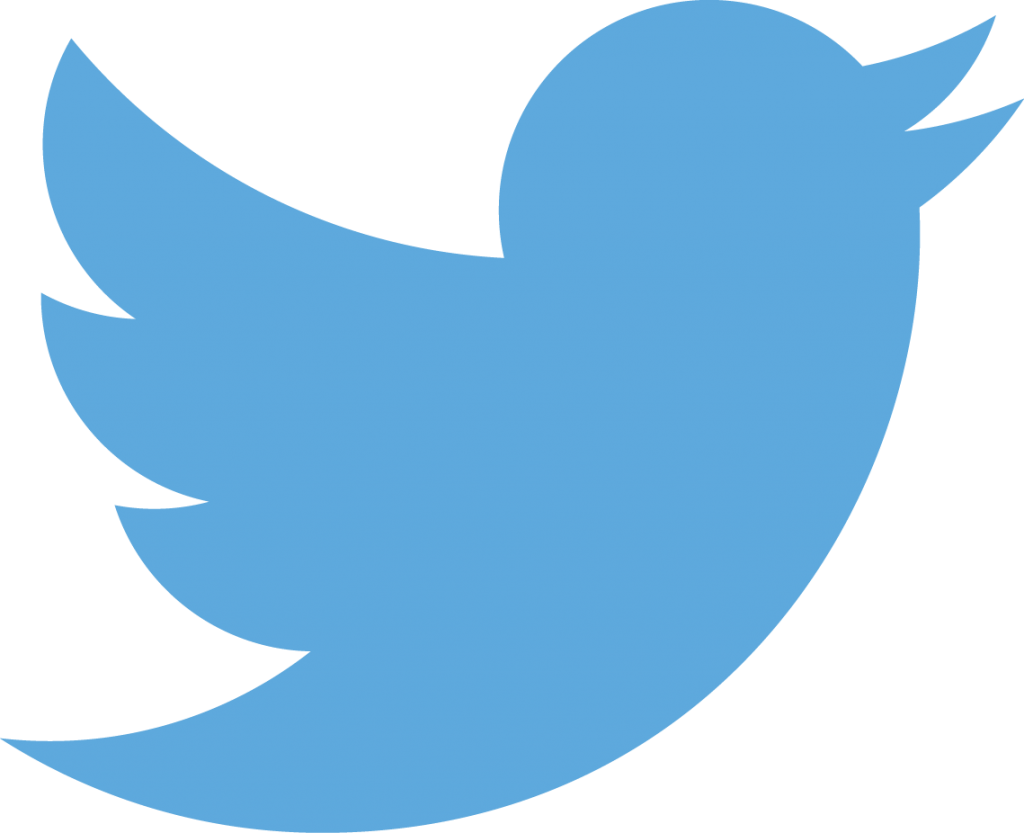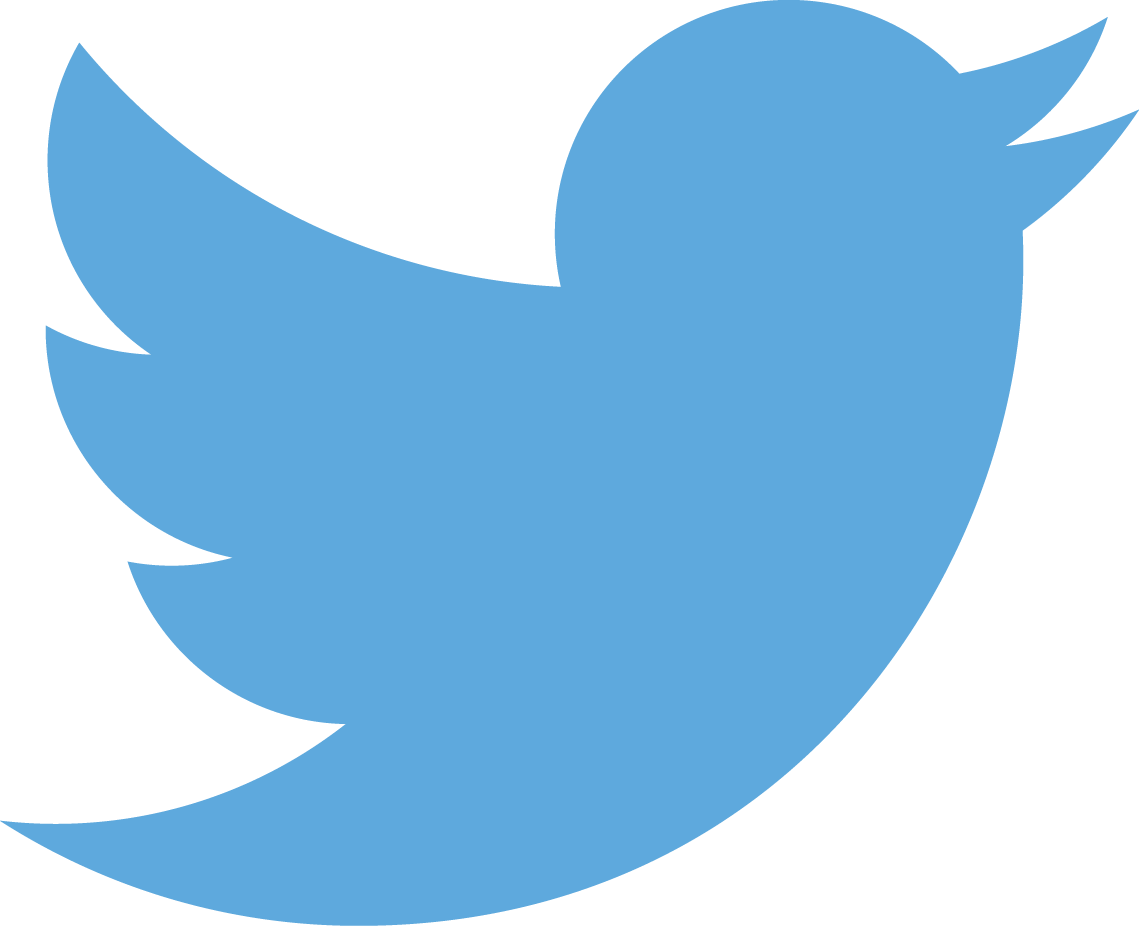 #PromoteHealthEquity