WE ACT for Environmental Justice: West Harlem, NY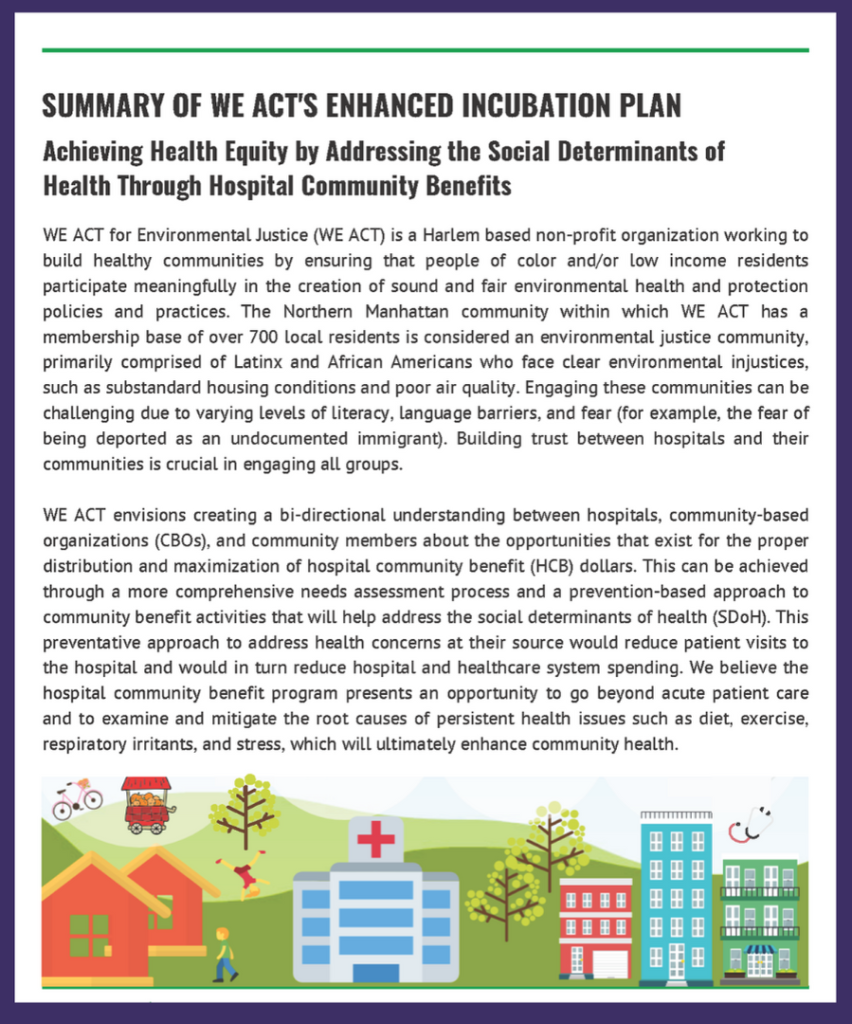 WE ACT for Environmental Justice (WE ACT), located in West Harlem, New York, developed a Community-Driven Health Equity Action Plan to create a bi-directional understanding between hospitals, community-based organizations, and community members about opportunities for distributing and maximizing hospital community benefit (HCB) dollars to better serve community needs.
Vision and Goals Excerpt
WE ACT envisions a more comprehensive needs assessment process and a more prevention-based approach to community benefit activities. Some of the benefits that WE ACT hopes to see as a result of this work are activities that address the social determinants of health (SDoH) such as poor housing, poor environmental conditions, and lack of access to healthy food, health education, and health care. This broader, preventative approach to health care will reduce patient visits to the hospital and therefore reduce hospital and health care system spending.
For communities, WE ACT envisions that community members will have an understanding of what the HCB program is and the types of benefits that are provided by local hospitals in Northern Manhattan. Community members, particularly low-income individuals and people of color, are often left out of the conversation when it comes to the distribution of resources, and the planning and implementation of programs that directly affect them. It is imperative that community members understand and know how to advocate for their proactive, as opposed to reactive, involvement in the creation and execution of health benefit activities.
For hospitals, WE ACT envisions improved benefit activities that go beyond acute patient care to examine and mitigate the root causes of persistent health issues such as diet, exercise, respiratory irritants, and stress.
The goal that will help reach the vision is to address the SDoH through HCB so that they may truly serve community needs. 
Community Context Excerpt
WE ACT is a 31-year-old community based non-profit organization headquartered in Harlem, NY, with a federal policy office in Washington, DC. WE ACT has a membership base comprised of over 700 local residents whom it actively engages, and these members help reach the broader community of Northern Manhattan to ensure that all people, regardless of varying education levels, economic status, age, race, and ethnicity, participate meaningfully in the creation of equitable health protection policies and practices.
Through its advocacy efforts, WE ACT also has close relationships with local elected officials and policymakers who can serve as key influencers in highlighting the work it is doing as it relates to planning and implementation of the state and federally mandated community health needs assessment (CHNA) process and HCB program.
In May 2018, WE ACT facilitated a dialogue through which many local residents and other stakeholders, including hospital representatives and administrators, expert researchers, policymakers, elected officials, and other community-based organizations (CBOs), contributed their ideas for improving the HCB program. Through that dialogue, WE ACT created a Community Benefits Guidebook (Guidebook) and Hospital Report of Recommendations. The purpose of the Guidebook is to help community members and CBOs understand what a CHNA is, what the HCB program is, and how these dollars have been distributed in the state of New York. The purpose of the Hospital Report of Recommendations is to provide guidelines on how hospitals can better respond to the federal guidance that HCB dollars address community issues and needs. WE ACT hopes to continue soliciting these ideas and to incorporate them into future iterations of the Guidebook and Report of Recommendations. The goal of distributing these publications will be not only for the ongoing education of the community, but also for hospitals to begin adopting the recommendations to better serve our communities most in need of HCB dollars. WE ACT continues to build on its work to engage a wide variety of stakeholders and nurture these relationships as it moves forward with this work.
Learn more about WE ACT at www.weact.org/campaigns/hospital-community-benefits. 
Disclaimer: Community teams own all aspects of Community-Driven Health Equity Action Plans. While this plan was created using
the National Academy of Medicine (NAM) model for developing Community-Driven Health Equity Action Plans in collaboration with
the NAM Culture of Health Program, it is solely a product of WE ACT for Environmental Justice.