United Way of San Antonio and Bexar County: San Antonio, TX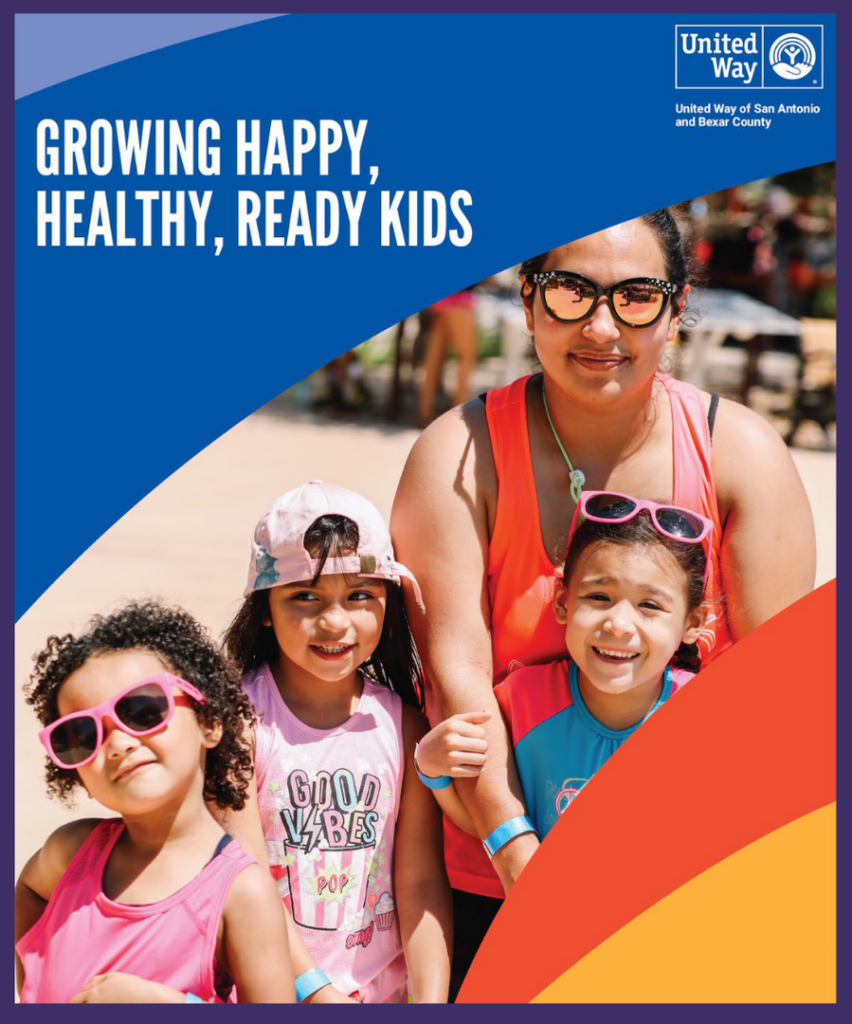 The United Way of San Antonio and Bexar County (UWSA), located in San Antonio, Texas, developed a Community-Driven Health Equity Action Plan to work with multisector partners to improve the well-being of children ages 0 to 8, specifically by preventing child abuse and increasing access to prenatal care. 
Vision and Goals Excerpt
ReadyKidSA (RKSA) is a collaboration of early childhood education professionals, child development advocates, health professionals, community members, parents, and civic leaders. The RKSA coalition is external to the United Way and represents a county-wide collective impact approach.
The Ready Children Impact Council (RCIC) works to reduce child abuse and increase access to prenatal care. RCIC is internal to United Way and is comprised of a multisector group of volunteers, combined with a group of partner agencies who are funded to implement programs and activities focused on early childhood.
The collective impact work of RKSA and RCIC are aligned with UWSA's mission to increase the organized capacity of people to care for one another. To that end, UWSA will continue to serve as the backbone support for both RKSA and RCIC to impact two primary areas to improve the well-being of children ages 0 to 8: 1) preventing child abuse and 2) increasing access to prenatal care. No one entity can tackle these larger issues; therefore, UWSA is relying on its ability to collaborate and convene partners to address these areas.
Three goals will help reach UWSA's vision:
Facilitating a collective impact process that supports the RCIC to manage the administration of funds and implementation of programming for the next five years.
Deepening the use of the Results Based Accountability (RBA) framework to inform the direction of UWSA funding strategies. The RBA framework is a facilitation tool that can be used to facilitate a data-driven, decision-making process.
Embedding the knowledge of the social determinants of health (SDoH) into the collective impact approach, used by both RCIC and RKSA, by ensuring that partners have a strong understanding of the root causes of child abuse and lack of access to prenatal care.
To reach maximum impact in these priority areas, collaborative efforts must be rooted in a strong understanding of the SDoH and how these determinants directly impact a family's ability to provide a safe and nurturing environment for their children. 
Community Context Excerpt
RKSA identified the following top three social change issues negatively impacting young children and families in San Antonio: (1) the lack of safety and stability for children, (2) the poor health and well-being of young children, and (3) the lack of quality early childhood education opportunities. These issues informed RKSA's vision: "to grow happy, healthy, and ready children."
Happy: Safety and Stability
The safety and stability of all children remains a priority concern in San Antonio. Household stressors such as persistent poverty, lack of childcare, domestic violence, and substance abuse impair a family's ability to nurture and protect their children. Nearly one out of four children (23.4%) are food insecure. An estimated 11% of families with children ages 0 to 17 experience employment instability, and that figure doubles for female-headed households. 
Healthy: Health and Well-Being
With regard to the health and well-being of young children, an estimated 36.6% of pregnancies in Bexar County receive late or no prenatal care. Lack of education, insurance constraints, and transportation issues are key contributing factors. Problems with consistency of health insurance coverage due to benefit cliffs, lack of transportation, and co-pay costs for prescriptions disrupt the quality of healthcare that children in Bexar County receive. An estimated 8.4% of kindergartners in San Antonio are "vulnerable" in the emotional maturity domain.
Ready: Quality Early Childhood Opportunities and School Readiness
To launch children onto a path that will allow them to achieve their full potential, it is critical that children have access to enriching early childhood experiences. Only 24% of children in San Antonio are considered "very ready" for kindergarten. Less than half of all 3- and 4-year-olds in San Antonio are enrolled in a public or private early childhood education program.
Learn more about UWSA at:
Disclaimer: Community teams own all aspects of Community-Driven Health Equity Action Plans. While this plan was created using
the National Academy of Medicine (NAM) model for developing Community-Driven Health Equity Action Plans in collaboration with
the NAM Culture of Health Program, it is solely a product of the United Way of San Antonio and Bexar County.