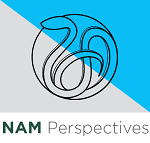 Perspectives
NAM Perspectives are expert commentaries and discussion papers by leading voices in health and health care.
Browse our latest Perspectives below.
About NAM Perspectives >>

The National Academy of Medicine's Perspectives platform extends the National Academies' convening and advising functions by providing a venue for leading health, medical, science, and policy experts to share information and identify opportunities for collaboration. Perspectives are individually-authored papers that do not reflect consensus positions of the NAM, the National Academies, or the authors' organizations. They are not reports of the National Academies.

Perspectives come in two forms: commentaries, or brief, op-ed style opinion pieces; and discussion papers, lengthier articles that present research or report on field activities. Authors are not paid, and submissions must be invited by the NAM.

Perspectives impact the field by spotlighting innovative ideas, sharing expertise and best practices, and promoting dialogue and collaboration among stakeholders. They are frequently cited in media and academic publications, are often adopted in course materials or organizational toolkits, and are the #1 driver of traffic to NAM.edu.

For more information, contact Molly Doyle at mdoyle@nas.edu.
Found 1 Results
Page 1 of 1

Elder abuse is a global public health and human rights issue. Elder abuse includes physical, sexual, and emotional abuse, neglect (both caregiver and self-neglect), and financial exploitation. Despite the evidence suggesting that elder abuse is associated with ...
Authors: XinQi Dong
Tags: Global Health, Public Health
October 04, 2012
---
Page 1 of 1