NAM Perspectives associated with the Global Forum on Innovation in Health Professional Education
The following is a list of individually authored NAM Perspectives associated with activities of the Global Forum on Innovation in Health Professional Education of the National Academies of Sciences, Engineering, and Medicine
Breaking Silence, Breaking Stigma
By Jasleen Salwan and Sandeep P. Kishore | July 5, 2017
In a late March issue of the New England Journal of Medicine (NEJM), the dean of my medical school published a beautiful essay on the tragic death of one of my classmates. Kathryn had committed suicide last August. Earnest and humble, Dr. Muller's piece demonstrates his ongoing commitment to promoting wellness among medical trainees in a way that is not reactionary but rather proactive and sustained. With student input, he and his colleagues are studying ways to enhance work-life balance, relieving the pressure to perform according to unforgiving metrics, and expanding access to mental health resources. As I read his thoughtful words, a gnawing question formed in my mind: Why has a medical school community with deeply compassionate leadership seen two trainee suicides in one year? More broadly, if Hippocrates's words are true that those who love medicine also love humanity, how does profound suffering pass unnoticed among our own? Perhaps we residents can play a role in bringing that suffering out into the open. While continuing to expect confidential mental health services, we should at the same time foster a culture that embraces open conversation about experiences with depression and other mental illnesses. Read more >>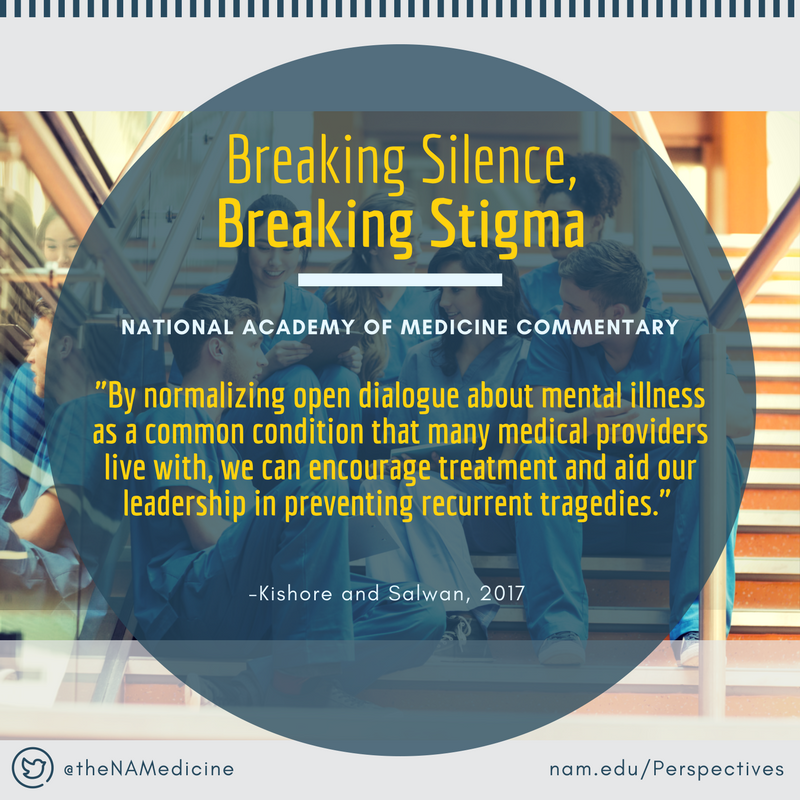 Stress-induced Eating Behaviors of Health Professionals: A Registered Dietitian Nutritionist Perspective
By Kathrin Eliot and Kathryn M. Kolasa | March 24, 2017
For health professionals, stress and eating often combine in unhealthy ways. The stress comes early in their training and lingers throughout their careers. Anyone who has worked or trained in a hospital knows all too well the cycle of workplace stress leading some individuals to overeat and gain excess weight, which in turn leads to physical and mental stress due to the weight gain itself. Others react to stress by eating less and losing weight, which can similarly have negative consequences. Often stress comes with unhealthy food choices such as skipping meals, reliance on fast food, restricting fluid intake, or choosing foods high in sugars and fats and low in nutrients. Skipping meals and drinking too little fluid have not been shown to increase medical errors, but they do contribute to "burn-out" and jeopardize weight and nutritional status. Read more >>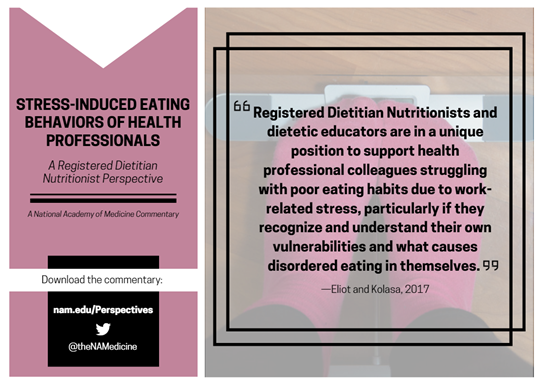 Promoting Well-Being in Psychology Graduate Students at the Individual and Systems Level 
By Catherine L. Grus, Kimberly E. Bodner, Justine Kallaugher, Suzanne H. Lease, Rebecca A. Schwartz-Mette, David Shen-Miller, and Nadine Kaslow | March 24, 2017
More than 70 percent of psychology doctoral students report experiencing stressors that can affect their ability to fully function. Common stressors include academic responsibilities, debt, anxiety, and poor work–life balance. Lack of support from faculty, poor relationships with faculty, and cohort tension are sources of stress and negatively affect both personal and professional functioning while serving as barriers to effective coping. This can result in trainees who have difficulty developing and exhibiting the proper degree of professional competence (termed as problems with professional competence.)  These problems with professional competence can be manifested in difficulties attaining identity as a psychologist, self-awareness, and reliable clinical judgment and reflection skills, as well as developing the ability to have effective interpersonal interactions. Once competency problems emerge, they demand immediate attention in order to ensure patient safety and effective care. A proactive and preventive strategy involves implementing both individual- and systems-level approaches designed to increase self-care. Read more >>
Burnout, Stress, and Compassion Fatigue in Occupational Therapy Practice and Education: A Call for Mindful, Self-Care Protocols
By Emily A. Zeman and Neil Harvison | March 24, 2017
Now more than ever is the time for occupational therapy educators, students, and practitioners to invest in strategies to combat burnout and stress. Current health care practice requires occupational therapy practitioners to manage many dimensions of patient care. Combining professional and educational duties with the emotional energy required for patient encounters and managing one's personal life can create the potential for burnout and compassion fatigue and an imbalanced professional quality of life. Yuen (1990) called upon occupational therapy fieldwork educators to put more time in their formal training toward teaching experiences with their students, and to recognize potential for burnout by increasing self-awareness. Read more >>
Addressing Burnout, Depression, and Suicidal Ideation in the Osteopathic Profession: An Approach that Spans the Physician Life Cycle
By Robert G. G. Piccinini, Kenya D. McRae, John W. Becher, Anna Z. Hayden, Caleb B. Hentges, Angela Kalcec, Pooja Kinkhabwala, Vanessa W. Halvorsen, Adrienne White-Faines, and David Escobar | March 24, 2017
Burnout, depression, and suicidal ideation are key areas of concern because of the consequences they can have on physicians as well as the patients for whom they care. The level of burnout in the medical profession has increased at an alarming rate in the past decade. Statistics reveal that about 54 percent of all physicians are burnt out (30–40 percent of employed physicians and 55–60 percent of self-employed physicians). Students, interns, and residents also factor into the equation as reports indicate they experience burnout at a rate of 20–40 percent. According to the International Classification of Diseases, Tenth Edition (ICD-10), burnout is defined as "a state of vital exhaustion." It manifests as emotional exhaustion that affects a person's passion for work; ability to relate to others; sense of accomplishment or purpose; judgment; productivity; emotions; and overall health. Read more >>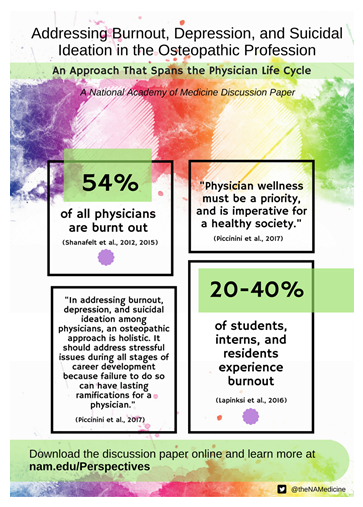 A Multifaceted Systems Approach to Addressing Stress in Health Professions Education and Beyond
By Darla Spence Coffey, Kathrin Eliot, Elizabeth Goldblatt, Catherine Grus, Sandeep P. Kishore, Mary E. (Beth) Mancini, Richard Valachovic, and Patricia Hinton Walker | January 30, 2017
There are unique stressors faced by health professionals that begin during the educational process and continue throughout training and into practice. While stress is expected owing to the intense nature of the work in health care, the systems in which faculty and health professionals work often intensifies this already stressful environment and can lead to negative mental and physical effects. Stress takes a major toll on individuals and has been reported to increase absenteeism, errors, burnout, and substance use, and it can even lead to individuals quitting the health professions altogether.
While it is indisputable that the nature of the work in health care causes stress, organizations also bear responsibility for accepting and even creating an institutional culture where stress can be worsened by outdated or negative policies and behavioral patterns. Moral distress can be experienced when there is difficulty obtaining appropriate interventions or care to support patients and families. Read more >>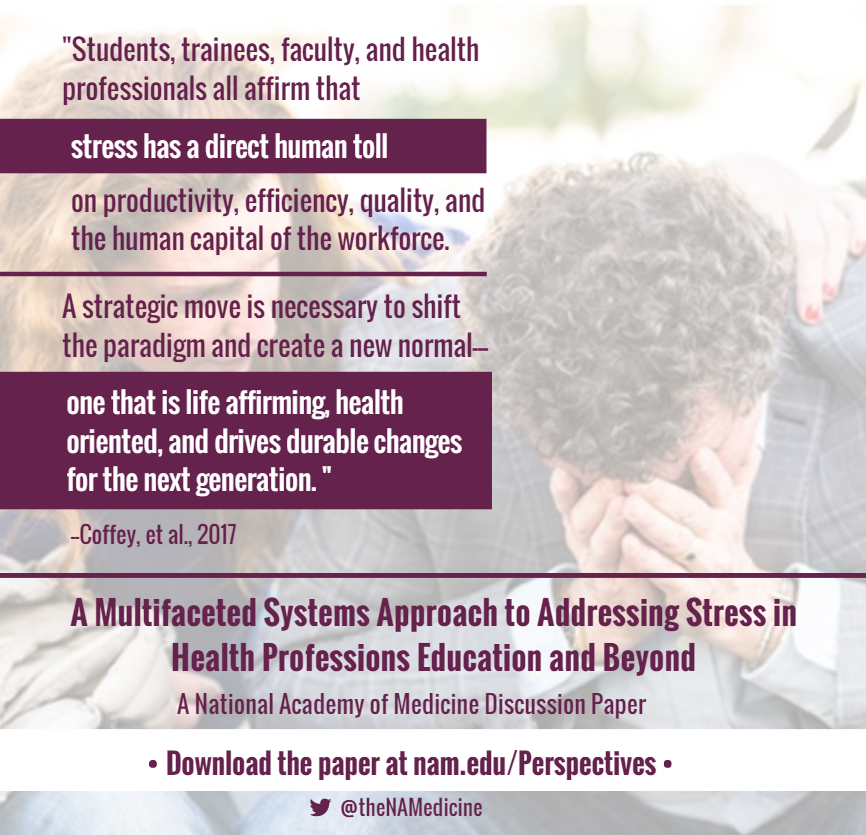 100 Days of Rain: A Reflection on the Limits of Physician Resilience
By Miguel Paniagua | January 30, 2017
By January 1999, it rained, they say, for over 100 days in a row; Seattle has a reputation for precipitation, which I have to believe could lead to higher rates of seasonal affective disorder and the need for strong coffee. It was during this month that I can say I may have reached my low point. I was a young, insecure, and nervous intern in the Harborview Medical Center intensive care unit that month—one in which our attending physician later admitted was the busiest of his long career. Myself and my senior resident, Phil, came to expect the admission of more than 10 critically ill patients every fourth night.
The idea of caps on resident duty hours has been studied and discussed since the early 1970s, and even in 1999 the 80-hour workweek was implemented, if not necessarily followed. But caps were not a term we used on-call—they were what our surgical colleagues wore in the OR (operating room), and what I wore on the rare off day I could attend a Mariners game. Despite a deep-seated feeling that I was an imposter in such a well-regarded training program, I was always a relatively happy-go-lucky guy, who tended to be a shoulder to cry on rather than the one who might suffer from burnout. Read more >>
Defining Community-Engaged Health Professional Education: A Step Toward Building the Evidence
By Zohray Talib, Bjorg Palsdottir, Marion Briggs, Amy Clithero, Nadia Miniclier Cobb, Brahmaputra Marjadi, Robyn Preston, and Sara Willems | January 4, 2017
The Global Strategy for Health Workforce 2030 (WHO, 2016) outlines a set of milestones and strategies to expand and strengthen the health workforce that could better position countries to achieve universal health coverage and relevant sustainable development goals (SDGs). The Strategy underscores a need to counter the global shortage of health workers (expected to be 17 million by 2030) and ensure the workforce is appropriately trained to address the evolving health needs of the population. This training would ideally produce health professionals who are responsive to the population, socially accountable, both person- and population-centered, and supportive of empowered and engaged communities. Community-engaged health professional education is a mechanism for learning how to work in and with communities while obtaining the attributes just listed. Developing socially accountable individuals and institutions within a health system is key to improving the health and well-being of present and future societies. Read more >>
I Felt Alone but I Wasn't: Depression is Rampant Among Doctors in Traning
By Elisabeth Poorman and Sandeep P. Kishore | October 4, 2016
Dr. Elisabeth Poorman, a primary care doctor and a former resident at Cambridge Health Alliance, answered the call and agreed to reprint her entry in WBUR's CommonHealth blog, published in August 2016. This piece is Dr. Poorman's personal reflection on the rampant depression experienced by doctors and doctors in training, and is found below.
As with any challenge, the first step is to identify the problem so solutions can be formed jointly by those most affected. Read more >>
Breaking the Culture of Silence on Physician Suicide
By Sandeep Kishore, Douglas E. Dandurand, Angela Mathew, and David Rothenberger | June 3, 2016
Every year an estimated 400 U.S. physicians take their lives. Numerous global studies involving every medical and surgical specialty indicate that approximately 1 in 3 physicians is experiencing burnout at any given time. Medical students appear to be at an equal or higher risk of burnout, depression, substance abuse, and suicide.  Because of the perceived and real risks associated with seeking help for such problems, many students, trainees, and doctors, and health care organizations fail to recognize, report, discuss, or pursue treatment for these conditions. The purpose of this paper is to shine a spotlight on this culture of silence, to understand the scope and complexity of the underlying issues, and to drive changes to deliver individual, organizational, and societal interventions that preserve and promote the physical and emotional health of care givers. Read more >>
The views expressed in this Perspective are those of the authors and not necessarily of the authors' organizations, the National Academy of Medicine (NAM), or the National Academies of Sciences, Engineering, and Medicine (the National Academies). The Perspective is intended to help inform and stimulate discussion. It has not been subjected to the review procedures of, nor is it a report of, the NAM or the National Academies. Copyright by the National Academy of Sciences. All rights reserved.