The National Academy of Medicine (NAM) has selected three outstanding health professionals for the class of 2016 NAM Fellows.  The fellows were chosen based on their professional qualifications, reputations as scholars, professional accomplishments, and relevance of current field expertise to the work of the NAM and the Health and Medicine Division of the National Academies of Sciences, Engineering, and Medicine.  The fellows will collaborate with eminent researchers, policy experts, and clinicians from across the country.  They will help facilitate initiatives convened by the Academies to provide nonpartisan, evidence-based guidance to national, state, and local policymakers, academic leaders, health care administrators, and the public.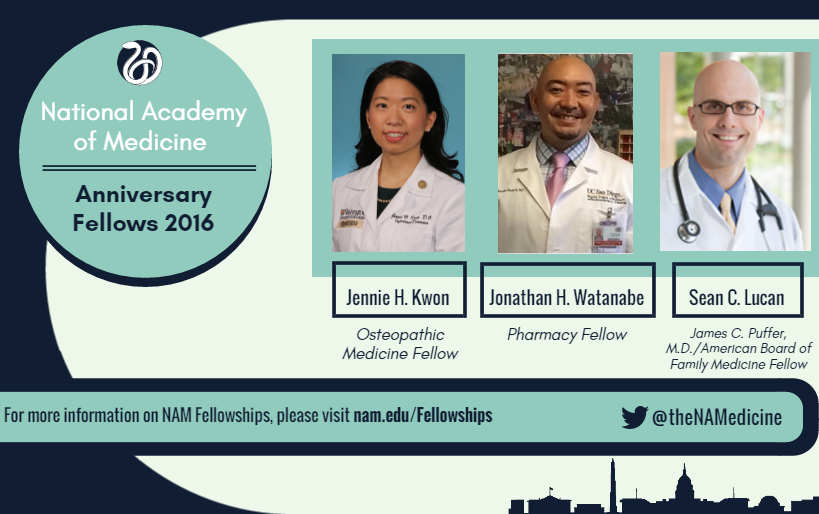 The class of 2016 NAM Fellows is:
Osteopathic Medicine Fellow: Jennie H. Kwon, D.O., instructor of medicine, infectious diseases, Washington University School of Medicine; and associate hospital epidemiologist, Barnes-Jewish Hospital, St. Louis
Pharmacy Fellow: Jonathan H. Watanabe, Pharm.D., Ph.D., assistant professor of clinical pharmacy, Skaggs School of Pharmacy and Pharmaceutical Sciences, University of California, San Diego
James C. Puffer, M.D./American Board of Family Medicine (ABFM) Fellow: Sean C. Lucan, M.D., M.P.H., M.S., associate professor of clinical family and social medicine, department of family and social medicine, Albert Einstein College of Medicine, Bronx, N.Y.
Each fellow will continue in his or her primary academic post while engaging part time over a two-year period in the Academies' health and science policy work.  Each will work with an expert study committee or roundtable related to his or her professional interests, including contributing to its reports or other products.  A flexible research stipend of $25,000 will be awarded to every fellow.
The overall purpose of the NAM Fellowship program is to enable talented, early career health science scholars to participate actively in the work of the Academies and to further their careers as future leaders in the field.
To read more about the NAM's health policy educational programs and fellowships, please click here.