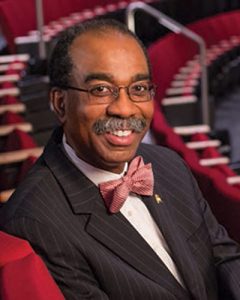 The National Academy of Medicine (NAM) is pleased to announce the appointment of E. Albert Reece, MD, PhD, MBA, as Visiting Scholar-in-Residence. Reece was elected to the NAM in 1998 and has served in numerous leadership roles, including as a member of the NAM Council and executive committee as well as on several panels, committees, and groups.
As the academy's Visiting Scholar-in-Residence, Reece will lead work on a project focused on the state of the U.S. biomedical research enterprise. During a one-year term, his project will identify trends, challenges, and solutions, culminating in a timely publication on the topic. Reece will also contribute his expertise to ongoing NAM programs on climate change and culture of health, as well as related roundtables and projects across the National Academies.
Reece is Professor of obstetrics and gynecology, medicine, and biochemistry and molecular biology at the University of Maryland School of Medicine where he also served as Dean from 2006 to 2022. He is the former Executive Vice President for Medical Affairs at the University of Maryland Baltimore. Originally from Jamaica, Reece earned a BS (Magna Cum Laude) from Long Island University; an MD from New York University School of Medicine; a PhD in biochemistry from the University of the West Indies, Kingston, Jamaica; and an MBA from the Fox School of Business and Management at Temple University. He completed his internship and residency in obstetrics and gynecology at Columbia University Medical Center and a postdoctoral fellowship at Yale University School of Medicine, where he remained on the full-time faculty for nearly a decade.