Victor J. Dzau, President of the National Academy of Medicine, has been named an Honorary Citizen of Singapore for his valuable contributions to the country. Singaporean President Halimah Yacob conferred the award on Professor Dzau and Professor Sir John O'Reilly today at a ceremony held at the Istana, the executive state house of Singapore.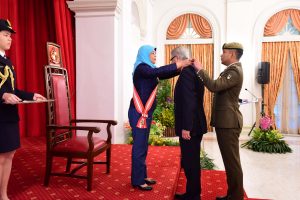 The award is the highest form of recognition bestowed by the government of Singapore for outstanding contributions by individuals to the country's growth and development. It is conferred to those who have made a significant impact in the areas of business, science and technology, information communications, education, health, arts and culture, sports, tourism, community services, or security.
Established in 2003, the award is administered by the Ministry of Manpower, which invites all government agencies to submit nominations for the award each year. The nominations are then considered and endorsed by the Cabinet. A maximum of two nominees are made honorary citizens each year and the award is conferred by the President.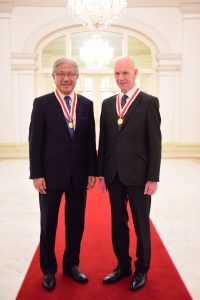 Dzau has been involved with efforts to advance medical education, research, and industry in Singapore for more than a decade. In 2005, as the President and CEO of Duke University Health System, he helped to establish the Duke-NUS (National University of Singapore) Medical School, the only graduate medical school in Singapore that provides post-graduate opportunities for those who are pursuing a medical research career. Dzau later served as Duke's senior representative on the Duke-NUS Medical School governing board, contributing to strategic direction and oversight on the development and management of the school to advance its objectives in medical education and research.
Dzau also served on the Board of Directors of Singapore Health Services Pte Ltd (singHealth) from 2008 to 2018. In this role, he guided the academic medicine partnership between SingHealth and Duke-NUS Medical School, building on the collective clinical strengths of SingHealth health care institutions and Duke-NUS' research and education capabilities. Under his leadership, the SingHealth Duke-NUS Academic Medical Centre has actively undertaken local and regional studies on health care models and diseases of concern.
Dzau has been a member of Singapore's Health and Biomedical Sciences International Advisory Council since 2014, in which role he helps to guide the strategic development of Singapore's health and biomedical sciences research and industry sectors.