Through a groundbreaking series of inducement awards and prizes, the Healthy Longevity Global Competition aims to stimulate innovation, attract breakthrough ideas, and transform the field of healthy longevity globally. The competition offers an expedited mechanism for innovators, scientists, and entrepreneurs to leapfrog existing barriers and jumpstart new solutions — with the goal of propelling the field of aging research and creating new industries devoted to extending the human healthspan. This international, open-innovation competition will allow for teams and individuals from any background — including science, medicine, health, policy, technology, finance, social engineering, and beyond — to collaborate, compete, and, ultimately, achieve a breakthrough.
The competition will launch around the world in October 2019. Join the Healthy Longevity listserv for updates.
The Healthy Longevity Global Competition is part of the NAM's Healthy Longevity Global Grand Challenge.

The Healthy Longevity Global Competition is a multiyear, multi-million-dollar international competition hosted jointly by the NAM and Global Collaborator organizations. Inspired by the Bill & Melinda Gates Foundation's Grand Challenge Exploration Awards, the Longitude Prize, and the work of the X-PRIZE Foundation, the competition follows a unique model built on a foundation of catalyst and proof-of-concept awards to attract bold, audacious ideas and to advance successful pilots and prototypes, followed by major inducement prizes for breakthrough innovations. The model includes:
Catalyst Awards to recognize bold new ideas

Accelerator Awards to reward proof-of-concept

One or more Grand Prizes for a breakthrough innovation with demonstrated efficacy in humans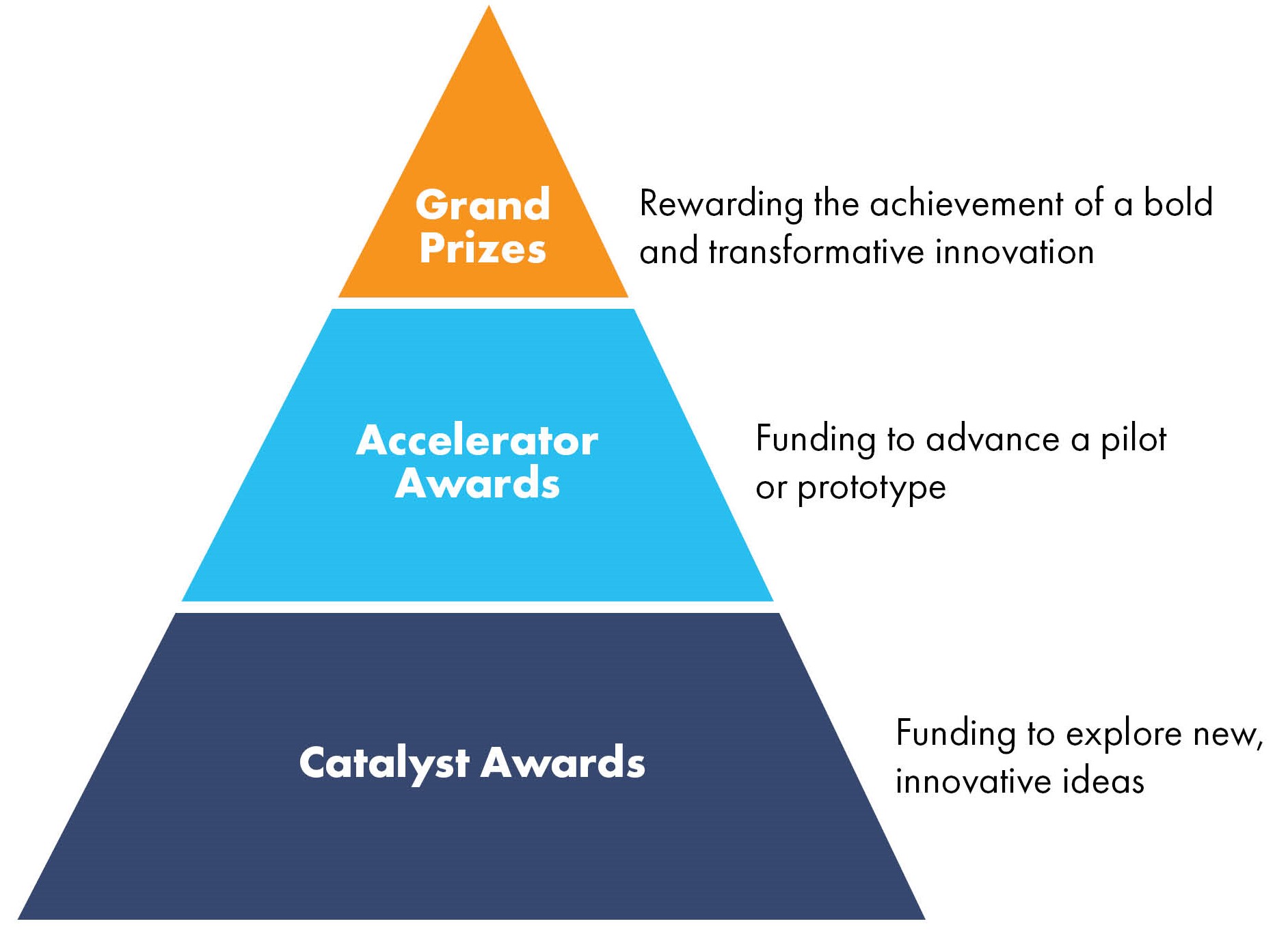 Additional details about the competition, including the funding available, participating countries and territories, and application instructions, will be announced in October. Subscribe to the Healthy Longevity listserv for updates.
Competition Design Committee
Tachi Yamada, MD, Chair, Frazier Healthcare Partners
H. Robert Horvitz, PhD, Co-Chair, Massachusetts Institute of Technology
Mark C. Fishman, MD, Co-Chair, Harvard University
Nancy E. Adler, PhD, University of California, San Francisco
Diane E. Griffin, MD, PhD, Johns Hopkins Bloomberg School of Public Health
Marc Hodosh, Hodosh Productions
Edward W. Holmes, MD, Sanford Consortium for Regenerative Medicine
Roderic Pettigrew, MD, PhD, Texas A&M University
Keith Powers, Engaged Partners
John (Jack) Rowe, MD, Columbia University Mailman School of Public Health
Mark Walport, FRS, FRCP, FRCPath, FMedSci, UK Research and Innovation
Joon Yun, MD, Palo Alto Investors, LLC
Staff
Elizabeth Finkelman, MPP, Director
Vacant, Program Officer
Jarrett Nguyen, Program Specialist
Laura DeStefano, Director of Communications
Olivia Ramirez, MPH, Communications Officer