In the face of the unprecedented challenges created by the COVID-19 pandemic and the accompanying global public health emergency, the National Academy of Medicine's Action Collaborative on Clinician Well-Being and Resilience is giving its attention to this issue.
Even before the COVID-19 outbreak, many clinicians already faced burnout, as well as stress, anxiety, depression, substance abuse, and even suicidality. Now this crisis is presenting clinicians with even greater workplace hardships and moral dilemmas that are very likely to exacerbate existing levels of burnout and related mental health problems.
The following resources offer more information on how to support the health and well-being of clinicians during public health emergencies, including the COVID-19 response. 
Ensuring Clinician Well-Being in an Age of Uncertainty Virtual Meeting
The National Academy of Medicine Action Collaborative on Clinician Well-Being and Resilience will host a virtual meeting, Ensuring Clinician Well-Being in an Age of Uncertainty: Emerging Lessons from the COVID-19 Pandemic and a Systems Approach for the Future, on October 28-29, 2020 to elevate the urgency of national action and map efforts needed to coordinate the long-term health and well-being of clinicians through COVID-19 and beyond this pandemic.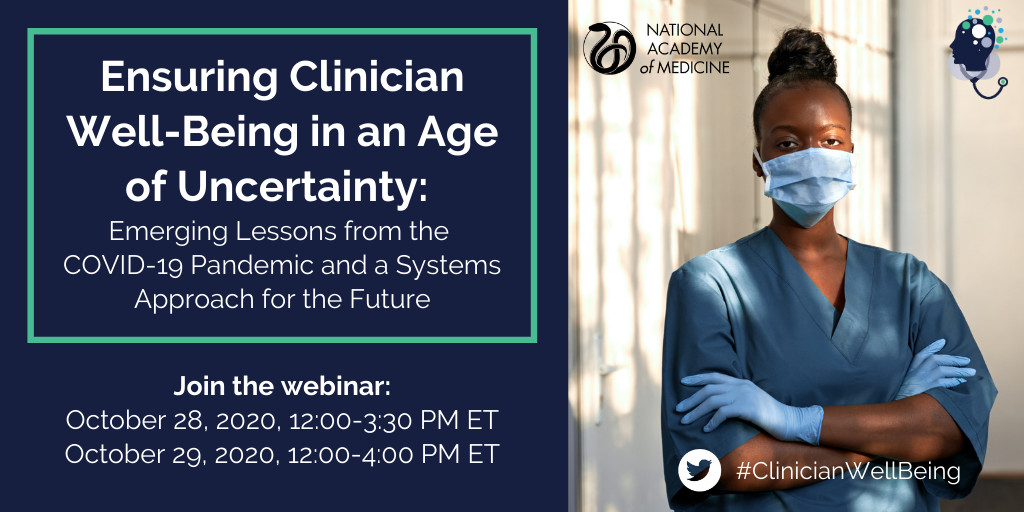 Stigma Compounds the Consequences of Clinician Burnout During COVID-19: A Call to Action to Break the Culture of Silence
Dr. Lorna Breen was the head of the Emergency Department at New York-Presbyterian Allen Hospital in New York City. She dedicated her career to helping others and tirelessly treated patients with COVID-19 at the height of the outbreak, eventually contracting COVID-19 herself. Dr. Breen died by suicide after telling her family that she was reluctant to seek help or ask for assistance for overwhelming work-related stress because she feared that she would lose her medical license or be ostracized by her colleagues. Dr. Breen's sister and brother-in-law reflect on the final weeks of their sister's life and work and make an impassioned call to break the culture of silence that surrounds mental health support and assistance for clinicians.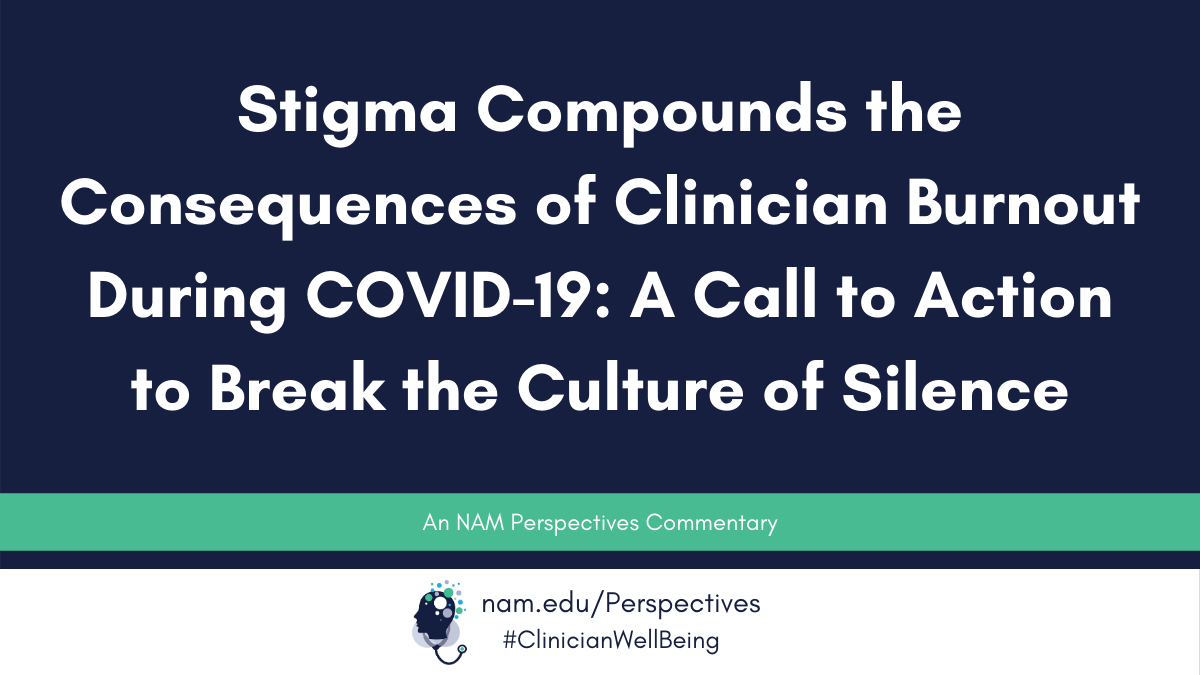 Preventing a Parallel Pandemic – A National Strategy to Protect Clinicians' Well-Being
Like those who flooded into Manhattan after the September 11 attacks and volunteers who responded to other past national public health emergencies, the health care professionals working on the front lines of the COVID-19 pandemic will be remembered by history as heroes. Just as the nation rallied to care for September 11 first responders who suffered long-term health effects, we must take responsibility for the mental and emotional well-being of clinician first responders to COVID-19 – now and in the long run. The NAM Clinician Well-Being Collaborative calls for several immediate actions to lay the groundwork for a clear and accountable national strategy to safeguard the health and well-being of our clinician workforce.