[column col="1/4″]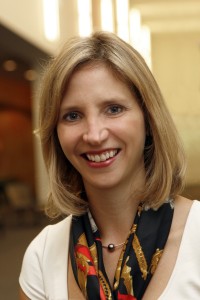 [/column]
Gov.-elect John Bel Edwards has named the NAM's inaugural Norman F. Gant/American Board of Obstetrics and Gynecology Fellow, Dr. Rebekah Gee, as his Louisiana Department of Health and Hospitals secretary.
Previously, Gee served as Louisiana's Medicaid medical director. In her new role, she will oversee the expansion of Louisiana's Medicaid program–a move that will allow health insurance to as many as 300,000 of Louisiana's working poor.
In remarks following her appointment, Gee pledged to use her skills as a physician, patient, parent, and policymaker to do everything she can to improve the lives and health of people in Louisiana.
Dr. Gee completed a Robert Wood Johnson Clinical Scholars program at the University of Pennsylvania and there received a Master of Science in Health Policy Research.  She studied history and obtained an M.P.H. at Columbia University in Health Policy and Management, obtained her medical degree at Cornell, and trained in Obstetrics and Gynecology at Harvard at the Brigham and Women's and Massachusetts General Hospitals.
She is the recipient of the Association of Maternal and Child Health Programs 2012 State Leadership in Maternal and Child Health award. In 2014, Dr. Gee received the Woman of the Year award from New Orleans City Business, was recognized as a "40 under 40" leader for New Orleans, a new Orleans "Healthcare Hero" and received the American Medical Student Association "Women in Leadership" award.
Dr. Rebekah Gee is the inaugural recipient of a two-year Norman F. Gant/American Board of Obstetrics and Gynecology (ABOG) Fellowship at the National Academy of Medicine, formerly the Institute of Medicine (IOM).  In her role as a Gant/ABOG Fellow, she served on national committees for women's health research and preventive services for women.  She also actively contributed to the development of national reports and recommendations on women's health.  Dr. Gee currently serves as a member of the IOM's Board on Health Care Services.