Event
EVENT POSTPONED
As the number of cases of Novel Coronavirus Disease (COVID-19) continues to grow, both within the United States and abroad, the number of speakers and attendees who are unable to attend the symposium has also grown. Accordingly, we have decided to postpone the symposium until a date at which full participation is possible. We will be back in touch as plans for rescheduling are made. We apologize for any inconvenience and appreciate your understanding during this rapidly evolving situation. 
When:
April 7, 2020 | 9:30 am to 5:15 pm
Where:
Gladstone Institutes (adjacent to the UCSF Mission Bay campus)
1650 Owens Street
San Francisco, CA 94158
Live webcast available!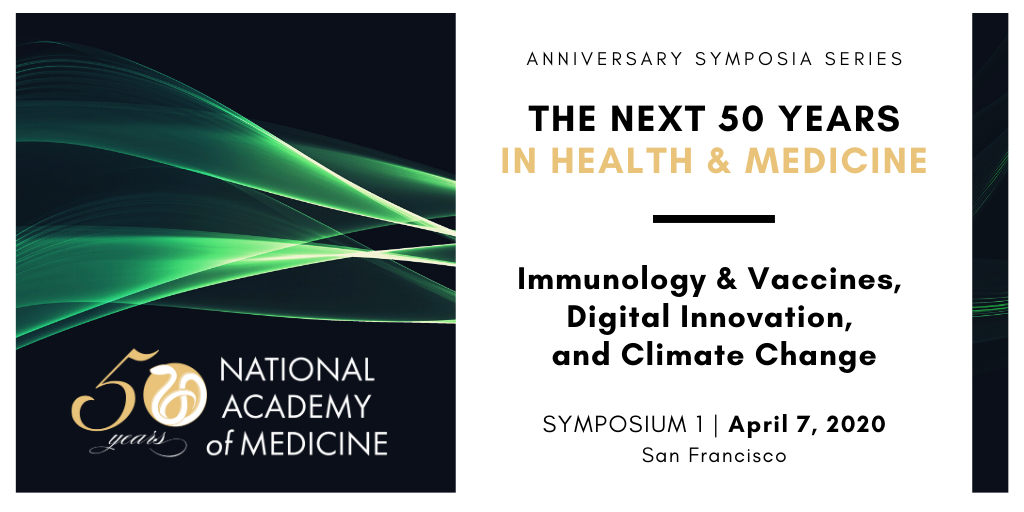 About This Event
With generous support from the Richard and Hinda Rosenthal Foundation, the NAM will host three regional scientific symposia exploring "The Next 50 Years in Health and Medicine," leading up to our 50th Annual Meeting in Washington, DC. The Western U.S. regional symposium will focus on immunology & vaccines, digital innovation, and climate change.
Register to attend in person or via webcast >>
---
Agenda
The symposium will feature a keynote presentation from Dr. Abraham Verghese, the Linda R. Meier and Joan F. Lane Provostial Professor and Vice Chair for the Theory and Practice of Medicine at Stanford University, and the following three panels:
Panel 1: The interface of immunology and vaccines
Session keynote speaker: Ira Mellman, Ph.D., Vice President, Cancer Immunology, Genentech
Panelist: Ann Arvin, M.D., Lucile Salter Packard Professor of Pediatrics and Professor of Microbiology and Immunology, Stanford University
Other speakers forthcoming
Panel 2: The promise of digital innovation to improve quality and access and reduce costs
Session keynote speaker: Peter Lee, Ph.D., Corporate Vice President, Microsoft Healthcare
Moderator: Eric Topol, M.D., Gary & Mary West Endowed Chair of Innovative Medicine and Executive VP, Scripps Research
Panelist: Joann Elmore, M.D., Professor of Medicine at the David Geffen School of Medicine at UCLA and Director of the UCLA National Clinician Scholars Program
Panelist: Sanjeev Arora, M.D., Distinguished Professor of Medicine in the Department of Internal Medicine at the University of New Mexico and Director, Project ECHO®
Panelist: Julia Adler-Milstein, Ph.D., Associate Professor and Director of the Center for Clinical Informatics and Improvement Research, UCSF
Panel 3: Climate change impacts on health
Session keynote speaker: V. 'Ram' Ramanathan, Ph.D., Distinguished Professor of Atmospheric and Climate Sciences, Scripps Institution of Oceanography, University of California, San Diego
Moderator: Michele Barry, M.D., FACP, Director of the Center for Innovation in Global Health and Senior Associate Dean of Global Health, Stanford University
Panelist: Kristie Ebi, M.S., M.P.H., Ph.D., Professor, Global Health and Professor, Environmental and Occupational Health Sciences, University of Washington
Panelist: Heidi Brown, Ph.D., M.P.H., Associate Professor, Epidemiology and Biostatistics Department, University of Arizona
Panelist: Marcelo Suárez-Orozco, Ph.D., Wasserman Dean and Distinguished Professor of Education, UCLA Graduate School of Education & Information Studies, University of California, Los Angeles
Please note: Due to room constraints, seating is limited. However, a live webcast will be available and a recording of the symposium will be posted after the meeting concludes.
More information: Jessica Marx
---
Host Committee 
Sam Hawgood | University of California, San Francisco
Gary S. May | University of California, Davis
Lloyd B. Minor | Stanford University
Program Planning Committee
Kelsey C. Martin (Co-Chair) | University of California, Los Angeles
Paul G. Ramsey (Co-Chair) | University of Washington
Jack Dixon | University of California, San Diego
Sam Hawgood | University of California, San Francisco
Danny O. Jacobs | Oregon Health Sciences University
Lloyd B. Minor | Stanford University
Thomas L. Schwenk | University of Nevada, Reno